Your bathroom mirror may require something more to stand out, so learning to decorate a basic bathroom mirror will assist you in giving your bathroom a new, stylish look.
They may change the appearance of any room by reflecting beautiful views, making it appear lighter and brighter, and serving as decorative statements.
In addition to their most obvious role of assisting you in determining whether you're properly dressed for the party you're attending!
The bathroom mirror you choose should never be a postscript.
By using the mirror creatively in your bathroom décor, you can transform even the most basic bathroom into a design spectacular.
There are also a lot of approaches.
We have demonstrated several ideas to decorate a bathroom mirror, check the mirror collection and use these great ideas to bring flair and beauty to your bathroom!
So, Let's Begin!
14 Ways to Decorate Your Bathroom Mirror:
1. Gold and glitter: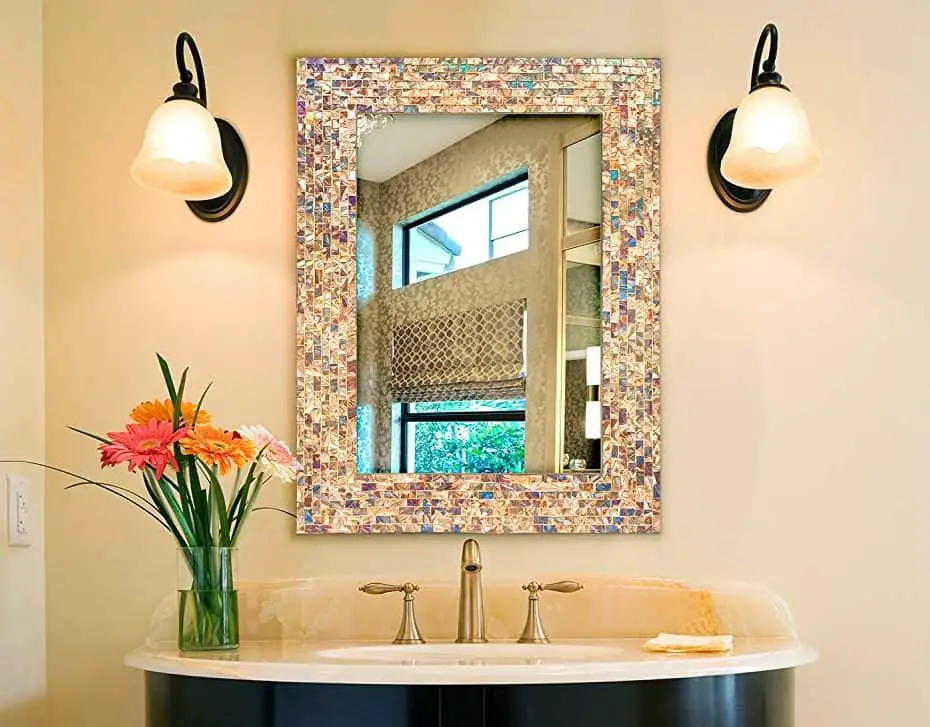 Make a statement with this magnificent black and gold bathroom, a timeless combination!
 The round mirror framed in thin gold is the focal point of the space, perfectly adding the polished gold circular sink and brass embellishments on the countertop.
Luxe Italian marble with gold flecks on the walls and counter makes a beautiful stylistic statement.
2. Pick an Unusual Shape:
The alternative to updating a bathroom mirror is to simply replace it.
However, this idea avoids replacing mirrors with the typical rectangular shapes present in most bathrooms.
Instead of a rectangle, try something else like a circular or arching mirror.
Mirrors in odd artistic shapes that violate geometric identification standards are also available.
As it is the centre point, choose different shapes to add interest to decorate the bathroom mirror.
3. Use Lighting Creatively: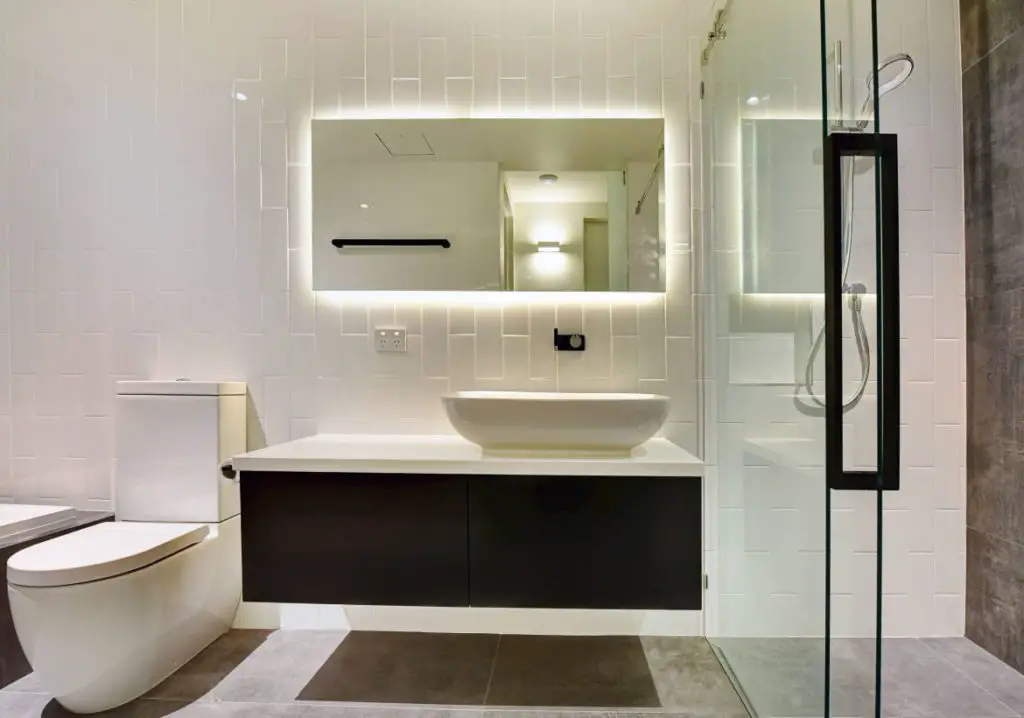 This idea is to beautify a bathroom mirror with lighting than it is about the mirror itself.
A common addition is to install flexible strip lights behind the mirror to provide it with a silhouette or around the edges to give it an outline.
 For a bold and intriguing look, replace the light fittings above or alongside the mirror.
If you have a his-and-hers sink with matching mirrors, consider placing wall sconces beside and middle of the mirrors.
Depending on the decor of your bathroom, you might choose modern sconces or something more traditional that mimics the sight of candlelight.
4. Charming vintage:
With this gorgeous ornately framed gilt mirror, you can bring your bathroom back in time.
It goes perfectly with the mother-of-pearl chandelier and antique clawfoot tub.
A vintage dresser beneath the mirror houses a collection of lotions and cosmetics jars.
5. Mirror with Silver Edging:
With this slick rectangle mirror with silver glow lights that reflect light everywhere, crank up the drama!
Instead of simply above the mirror, this designer uses an LED strip as a border on all four sides of the mirror.
A beautiful impression is created by the floor's hexagonal tiles and the walls' simple grey tiles.
6. Enhance the value of your mirror: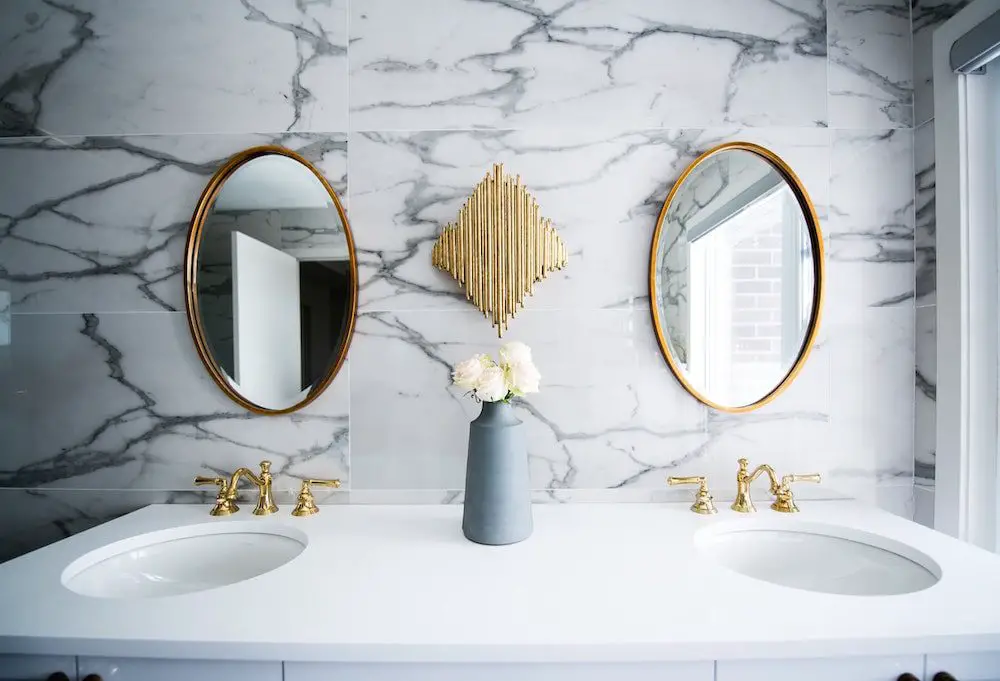 You need two views if you've ever had to squint in the bathroom mirror at six in the morning to do your close-up grooming.
You need a close-up glance from a standing mirror and a wide-angle view to decorate your general appearance in the bathroom mirror.
But the countertop is cluttered with stand mirrors.
Along with your standard mirror, wall-attach mini convex mirrors on retractable arms.
Select a mirror with a lovely frame and arm to complement the design of your mirror while also providing the required magnification without adding to the clutter on your countertop.
7. Make a Corner Mirror:
When the vanity is in the corner of a small bathroom, the mirror must be there as well.
This strategy allows you to take advantage of the unique placement: Obtain two matching mirrors in any shape with at least one straight edge such as rectangular, arched, or any other shape, and hang them so that they wrap around the corner.
This is the ideal approach to transforming an unattractive corner mirror into an eclectic statement.
8. Twinning It:
Twin rectangular mirrors are framed in the same wood as the vanity and lit from both sides by wall sconces serve to underline the chic beauty of this contemporary bathroom.
There will be no more cramming in front of the mirror each morning.
The cabinets beneath the twin sinks are stocked with beautifully crisp, clean towels.
9. Mirror on the Wall: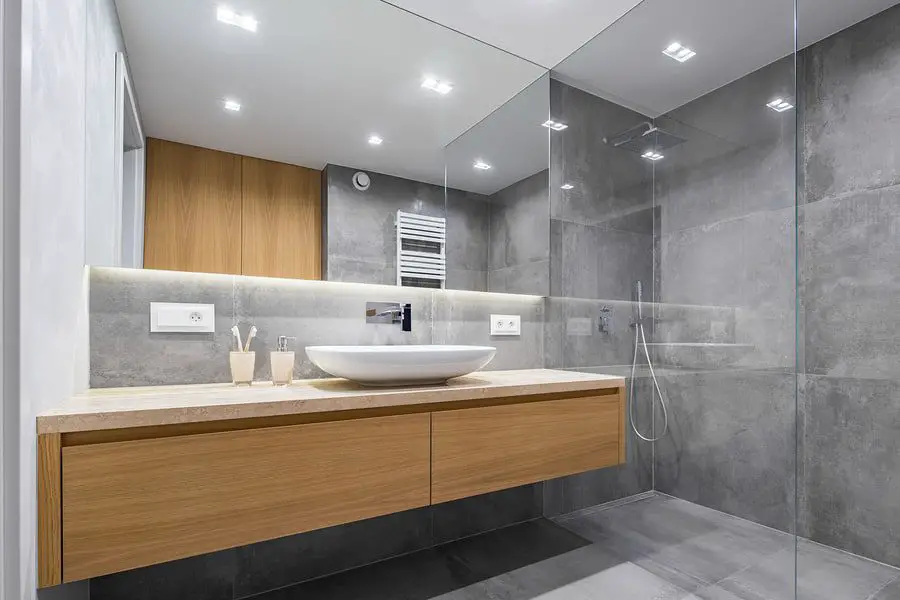 This lovely oval mirror has a detailed gold frame, seems like it belongs in a Disney princess film, and it perfectly matches the lovely small antique brass bowl sink that is below!
Brass accents and natural stone tiles are used throughout the rest of the bathroom to decorate the mirror.
10. Design a Frame: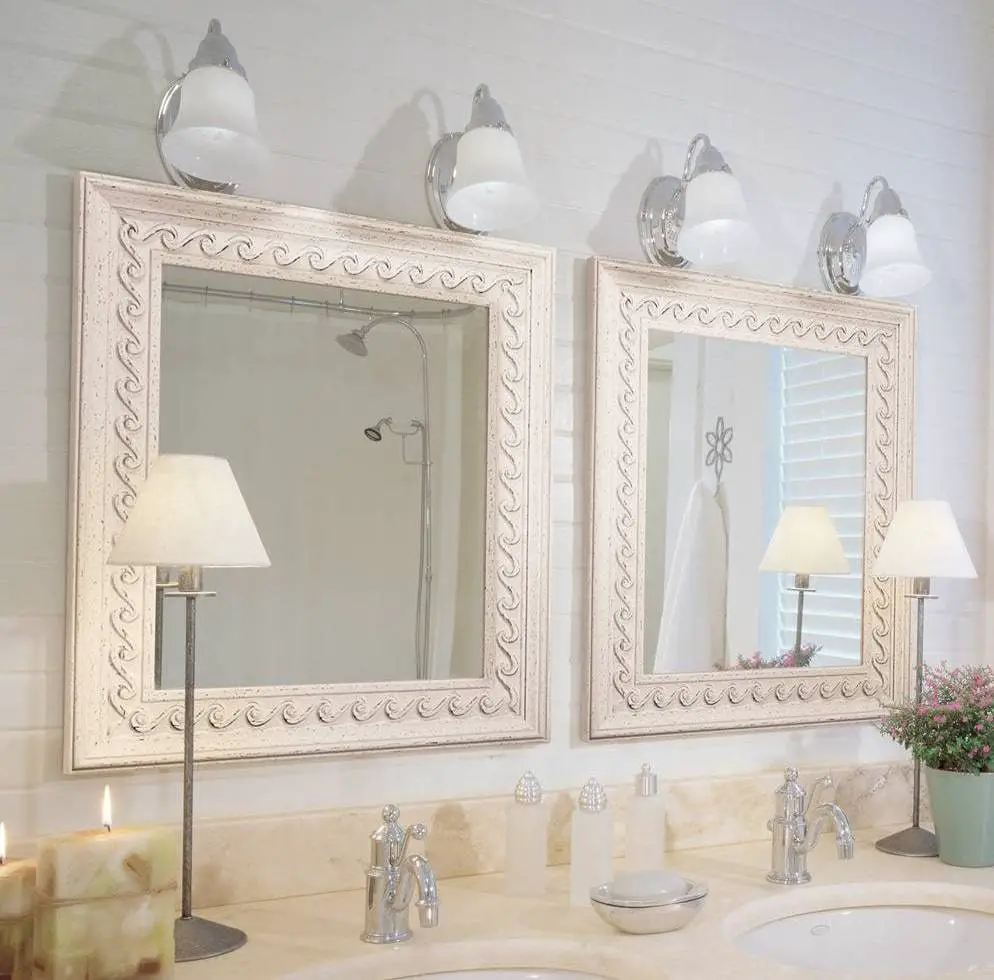 As the frames can be costly, the larger the mirror, the more probable it is to be frameless but it's quite simple to create your frame.
Select some trim that matches the style you want, cut it to size, finish it with paint or another finish, and hang it around the mirror like a picture frame.
11. Mirrors with Storage:
With storage shutters behind the counter and between the mirrors, this double sink, double mirror set offers plenty of space for shampoos and other bathroom necessities.
The appeal of the room is enhanced by the mirror frame, which is painted the same silky cream as the cabinets.
12. Select Out of the Ordinary mirror:
Instead of focusing on symmetry and geometric designs, think outside the box and choose an unusual shape!
This unusual and fascinating mirror is neon backlit to provide a touch of luxury to this small bathroom.
13. Make Use of Craft Supplies: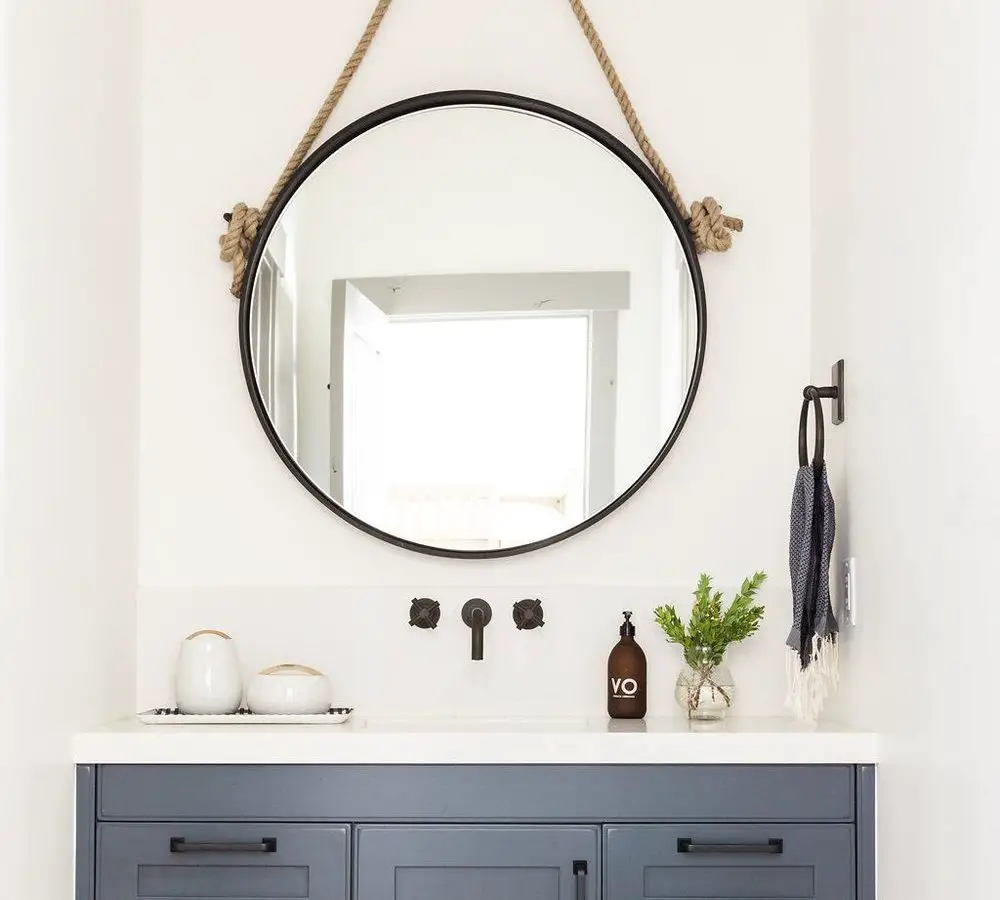 With sufficient craft supplies, the sky is the limit.
Make a beautiful border around the borders of the mirror with acrylic craft paints.
The best feature of this process is to scrape and repaint the embellishments whenever you want.
You may also wreathe your mirror with foliage and blooms using imitation flowers, vines, and little hooks.
Additionally, vinyl decals can be used to decorate.
Decorating a plain bathroom mirror is simple, and there are various solutions to assist you to get the desired effect.
If you want to replace the mirror before you decorate, a modern bathroom has a large selection of sizes and styles.
14. Large Illuminated Circle:
Look beyond the vanity and extend the mirror almost to the floor, adding a new dimension to your bathroom space.
 This one-of-a-kind half-circular mirror features a huge storage container in white laminate on one side.
The LED backlighting contrasts with the dark tiling on the walls and emphasizes the circular shape.
Tips for Maintaining and Cleaning Your Bathroom Mirror:
If you believe that wiping down a hot mirror after your bath would keep it clean, think again.
Most of the time, this causes the mirror to become dry and streaky, making it appear worse and ineffective if wiping it down with a balled-up newspaper.
Today's print ink leaves a residue, and your mirror will be covered in unsightly blue-black markings.
Here are some suggestions for maintaining and cleaning your bathroom mirror as follows:
To begin, dust your mirror and frame using a dry microfiber cloth, If there are any stains, dried hairspray spatter or other filth, wipe them away vigorously.
On the surface of the mirror, apply an organic glass cleaner or a blend of white vinegar and water in a 50/50 ratio, then wipe down with a clean flat-weave microfiber cloth once more.
Leave no spot undisturbed as you make your way along the mirror starting at one end.
Use a tiny circular motion when wiping to prevent streaks.
Do this cleaning chore once a week at the very least.
When filth accumulates, it becomes more difficult to clean the mirror.
There are anti-fog bathroom mirrors available that don't fog up even after the dampest of baths, it should be noted.
FAQ-How to Decorate a Bathroom Mirror:
Q1. How should a frameless bathroom mirror be decorated?
A frameless bathroom wall mirror can be decorated for a low cost.
Paint graphics or a border right onto the mirror with acrylic craft paint.
Use small hooks or adhesive to attach silk flowers and plants such as ivy, around the mirror, stickers, tiles, and wood.
Q2. What is the best way to frame an existing bathroom mirror?
Cut the frame casing.
The mirror's length and width should be increased by 2 inches.
Apply glue to the joints.
Fill in the Missing Pieces and Paint the Frame.
Apply glue to the Mirror and the Frame.
Q 3. What is the best way to utilize clips to frame a bathroom mirror?
Take the mirror's exterior dimensions.
Cut the wood to the 45-degree angle measurements.
Put the piece of wood up against the mirror and mark the clips' locations with a pen or pencil.
The back of the wood should be painted or stained together with the front of the frame.
Before attaching the frame parts to the mirror, apply Liquid Nails to their backs.
Conclusion:
If you want to decorate quick and inexpensive renovations to your bathroom mirror.
There are many trendy and decorative mirror design choices available in the market that can complement your current colour scheme and tile pattern.
If you want to go a step further, make sure the mirror frame fits with other features in the room such as towel racks, cabinet hardware, or light fixtures.
 By following these room idea tips, you may bring a fresh look into your old bathroom without a lot of money.