Designing a lampshade is a terrific way to bring your own unique flair to your home decor, you can use a variety of materials, including wallpaper.
A drum shade may be customized by covering it with wallpaper or fabric, it is one of the most extensively used and simplest materials.
There are 50,000 professional interior designers, hence it's obvious that people enjoy adding a personal touch to their houses.
Creating a lampshade out of wallpaper is the ideal activity for anybody who enjoys DIY crafts.
It is easy and fun, and you can be as creative, however, utilizing it correctly is tough.
If you haven't done any DIY projects before, you should read this article, since I demonstrated to construct a lampshade out of wallpaper.
Let's Get Started!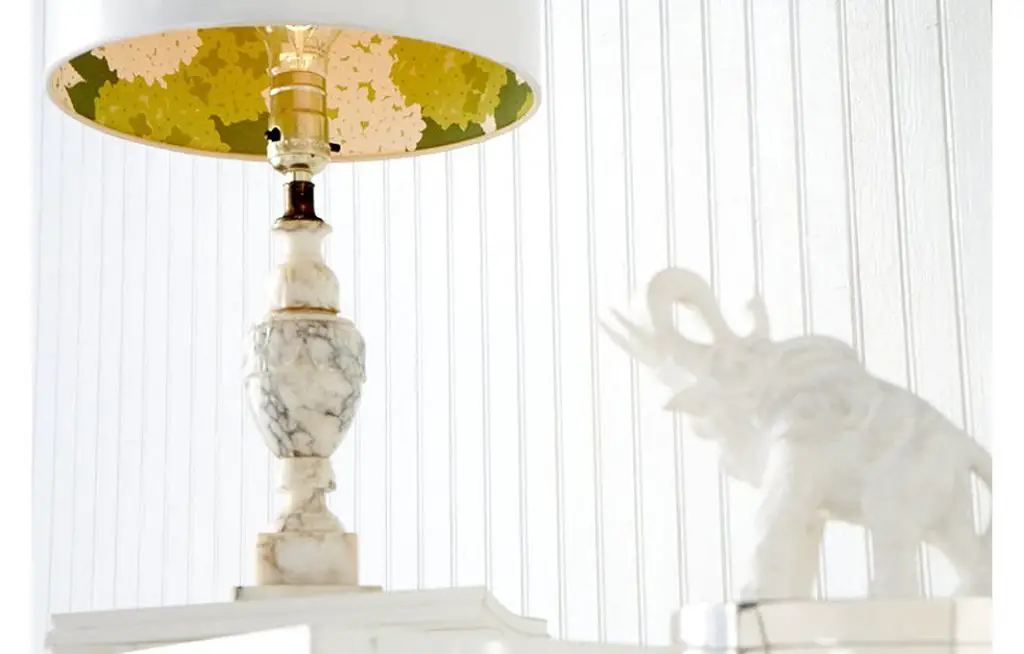 Step-by-Step Tutorial for Making a Lampshade Out of Wallpaper:
Making lampshades is a terrific way to repurpose old wallpaper and give your house a new appearance and it is a simple DIY project that anybody can complete!
Here's a step-by-step tutorial for designing your own wallpaper lampshade:
1. Choose the wallpaper you need to use:
Wallpaper is available in a variety of retailers both online and offline. When you've decided on the ideal design, it's time to get started on your task.
The first step is to choose a wallpaper for your lampshade. You may utilize leftover wallpaper from a prior project or buy fresh wallpaper just for this job.
If you're going to use leftover wallpaper, ensure that it is in good shape with no tears or damage.
You'll also want to make sure that the design is one you like and will go well with the rest of your home's decor.
So, what kind of wallpaper are you able to use?
You should choose heavyweight wallpaper for this task.
This style of wallpaper is more robust and will last longer, it is also less likely to rip or tear while working with it.
2. Trim It to The Required Size & Shape of Your Lampshade:
After you've decided on the wallpaper, it's necessary to cut it to size.
Begin by measuring the circumference of your lampshade and adding a few inches to that figure.
Then, cut the wallpaper to the required width with a straight edge.
The wallpaper should be clipped to the appropriate length, and the length of your lampshade will be determined by its size and form.
If you're unsure how long the wallpaper should be, start by cutting it a few inches longer than you think you'll need.
If required, you may easily clip it down afterwards and if you want to be extra cautious, split the wallpaper in half and work with one side at a time.
But be careful not to trim the wallpaper too small!
You don't want to end up with a lampshade that is too tiny hence it is best to take a little bit of caution and cut the wallpaper a bit longer than necessary.
3. Apply a thin coat of Mod Podge:
Mod Podge is a collage solution that may be used to glue paper to many different surfaces.
It's a glue that dries transparently and leaves a long-lasting, water-resistant finish.
Simply apply a coat of Mod Podge on the back of the wallpaper now.
Begin by dabbing some Mod Podge on one end of the wallpaper, and spread evenly it with your fingertips or a paintbrush.
Repeat this process until the whole back of the wallpaper is coated in a thin coating of Mod Podge, but the wallpaper will get excessively moist and crumpled.
As a result, the Mod Podge will take time to dry and it will be trickier to figure out.
4. Stick the wallpaper on the lamp shade frame: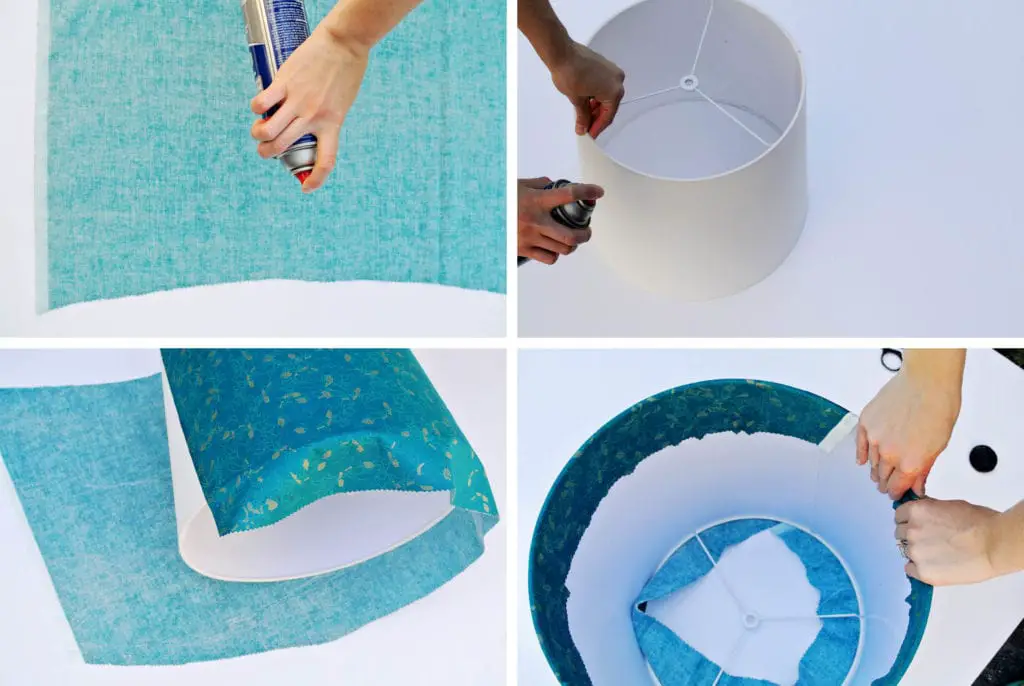 A lampshade frame is a fundamental framework on which your lampshade will be fixed.
There are other sorts of frames available, but you should utilize a wireframe.
It's time to place your wallpaper and lampshade frame altogether.
Start by applying a thin layer of glue on the backside of the wallpaper.
Make completely sure you cover the whole surface.
In order for the paper to adhere uniformly to the frame, gently put the wallpaper into the frame, smoothing out any bubbles with your fingertips.
As you're dealing with a curved surface, any bubbles will be more visible.
Give at least an hour or two for the entire frame to dry once it is sealed.
Allowing it to dry completely is critical to ensuring that your lampshade looks best.
If you're in a hurry, use a hairdryer to speed up the process, however, don't go overboard or you'll harm the wallpaper.
5. Remove any extra wallpaper: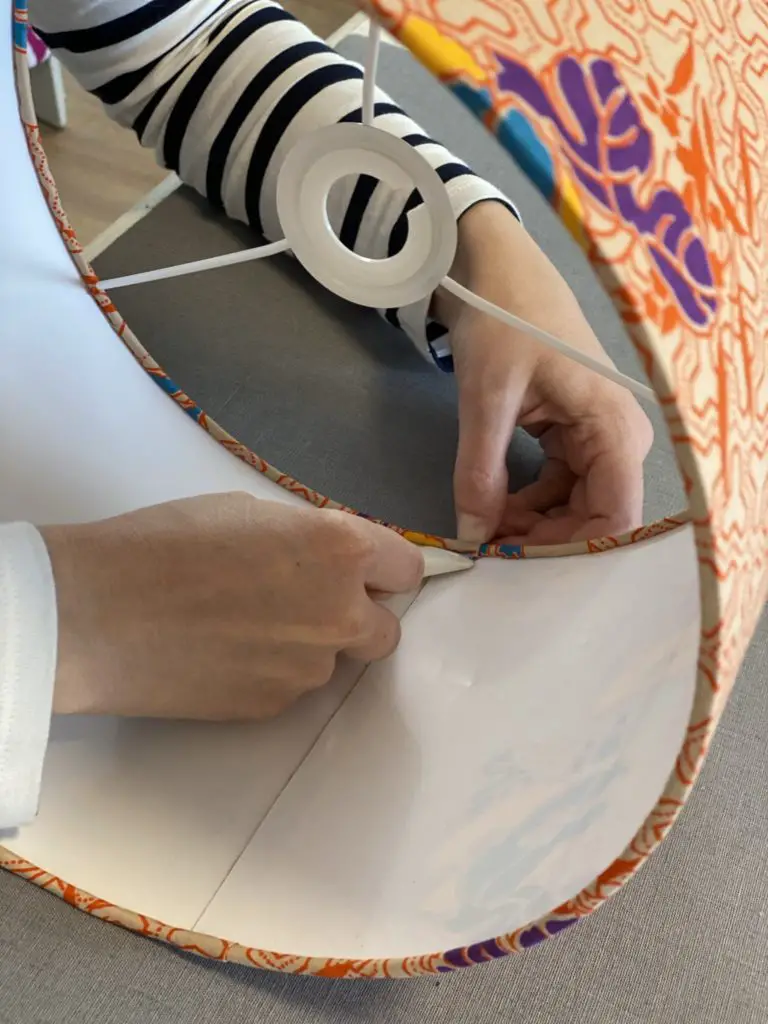 After the adhesive has cured, cut away any extra wallpaper, this may be accomplished using a sharp pair of scissors or a utility knife.
Just be cautious not to harm the frame.
While clipping extra wallpaper off a lampshade, there are various possible issues.
If you're not cautious, you could get uneven margins or even cuts in the wallpaper, take your time and be as precise as possible.
Rotate the lampshade over and inspect it once again and remove any loose threads or bits of wallpaper that are visible.
Check the leaks as well to ensure they are all securely glued. If not, you can fix them with glue or transparent tape.
Your lampshade is now prepared to use!
Simply replace the light bulb and enjoy your home's fresh look, however, there are a few things you should consider before proceeding.
The first step is to ensure that the lampshade is totally dry before inserting a light bulb.
6. Apply a coat or two of clear sealant spray to the surface:
Sealant spray is a spray solution that may be used to seal and protect a wide range of materials.
It comes in a number of formulas, so study the label carefully that is wallpaper-compatible.
As lampshades are frequently exposed to light, it is critical to protect the wallpaper to avoid fading over time.
Don't panic, most hardware stores sell transparent sealer spray.
Once you've selected the correct sealer spray, just apply two sprays to the whole surface of the lampshade.
This will assist to secure it from dirt, dust, and other potential harm, it is a smart option to use a sealant on the inside of the lampshade.
This will assist to protect the wallpaper from getting loose over time.
You'll need:
Drum shade.
Measuring tape made of cloth.
Fabric or wallpaper.
Scissors.
Craft glue in white.
Masking tape and a paintbrush.
Fabric skew tape.
DIY to Make a Lampshade with Wallpaper:
Making a lampshade out of wallpaper is a simple and entertaining way to decorate your house.
Here are 17 steps to assist you to make a one-of-a-kind and attractive wallpaper lampshade as follows:
1. Arrange the wallpaper on the floor or desk with the colour side facing out.
2. Draw a circle on the background using your round item.
3. Trim out the circle form.
4. Fold the round form in half, ensuring a good fold.
5. Repeat folding the circle, but this time to the opposite side.
6. Trim halfway through the round form on one of the folds.
7. To ensure that your lamp shade has equal folds, draw a pre-line halfway across each section before folding it (Fold a quarter of the circular in half).
8. Next, fold 1/8 of the circle in two.
9. Now that your pre-lines are complete, you may begin folding the circle.
10. Folding one side up, one side down, and so on until the 1/4 is finished.
11. Continue with the remaining 3/4 of the circle.
13. If you wish to alter the colour of the lamp wire, wrap two rows of printed tape around it.
14. Wrap the lampshade all-around light bulb and secure the two ends together using double-sided tape.
15. Apply glue to the back side of your wallpaper and smooth it thoroughly before attaching it to your lampshade frame.
16. Be patient as the glue may take some time to dry.
17. Your design-inspired paper lampshade is now complete!
How much it will cost to make a lampshade from wallpaper?
Wallpaper is a type of paper used to wrap and decorate walls often constructed of thin sheets of paper that are starched or pasted to the wall.
Hence creating Lampshade out of wallpaper is fantastic because it is a low-cost and simple approach to covering a vast area.
The cost of a lampshade made of wallpaper is determined by the size and design of the lampshade, and the type of wallpaper utilized.
In general, though, you should anticipate spending between $30 and $100 on supplies alone.
Paying someone for this process will be significantly more expensive.
Also read: How to Build a False Wall for TV and Fireplace?
FAQ: How to Make a Lampshade from Wallpaper?
Q1. How Do You Evaluate the Number of Wallpaper Required for a Lampshade?

To decide how much wallpaper you will need for a lampshade, first evaluate its circle and height.
If your shade has a circle of 30 inches and a height of 10 inches, you'll need a strip of wallpaper that's 29 inches wide by 9 1/2 inches tall.
Q2. What should my wallpaper be?
The wallpaper you use is entirely up to you.
You can use any wallpaper you like as much as it is not too thick or tough to deal with.
Self-adhesive vinyl wallpaper, fabric-backed vinyl wallpaper, and even traditional paper wallpaper are all viable possibilities.
Q3. What is the Simplest Way of Making a Lampshade from Wallpaper?
Self-adhesive vinyl wallpaper is the simplest technique to manufacture a lampshade out of wallpaper.
This type of wallpaper is easy to apply that can be found at most hardware stores.
Also read: How To Cover Glass Front Door for Privacy?
Conclusion:
Although creating a DIY lampshade from wallpaper may appear difficult, it is actually pretty simple that can be finished in just a few simple steps.
You can make a stunning and creative lampshade that will bring individuality and beauty to any area in your house with little time and work.
If you don't have the time or desire to create your own wallpaper lampshade, you may always buy a lampshade that has already been prepared.
In the market, there are many unique and enticing possibilities, but if you really want a one-of-a-kind lampshade, make your own!
We hope you enjoyed this instruction on how to construct a lampshade from wallpaper, leave your questions and thoughts in the comments section below.