Your mattress or box spring slats may eventually bend, sag, or collapse on the floor, therefore learning to make bed slats stronger is in your best interest.
A slatted platform will be your best choice when it comes to mattress support but that doesn't mean that fashion doesn't have flaws.
After all, who wants to feel their bed give way under their weight and experience the dread that goes with that?
So, let's look at what you can do to safeguard against that sensation.
Before we continue let's first discuss what makes slats different from other mattress systems.
Various platforms for Bed Frames Slats:
If you've ever thought about buying a new one, you've probably noticed that many bed frames are simple rectangles with legs.
Headboards and footboards can usually be used to upgrade these simple designs.
Those components are usually expected in higher price ranges; however, manufacturers frequently offer buyers a choice of mattress platforms.
They can often offer the inner rails needed to support the platform.
However, the kind of support you require will depend on the mattress you purchase to make bed slats stronger. So, let's talk briefly about the most well-liked platform subcategories.
1. Solid platform slats:
Solid slats can be made of metal or wood. Metallic slats are frequently made of aluminium, while wooden slats are frequently made of pine.
Solid slatted bed platform slats are dispersed uniformly over the width of the bed frame to provide a sturdy, supportive mattress platform.
To benefit from using firm slats, however, you must have a firm mattress. If not, bending is inevitable.
2. Sprung slatted platform: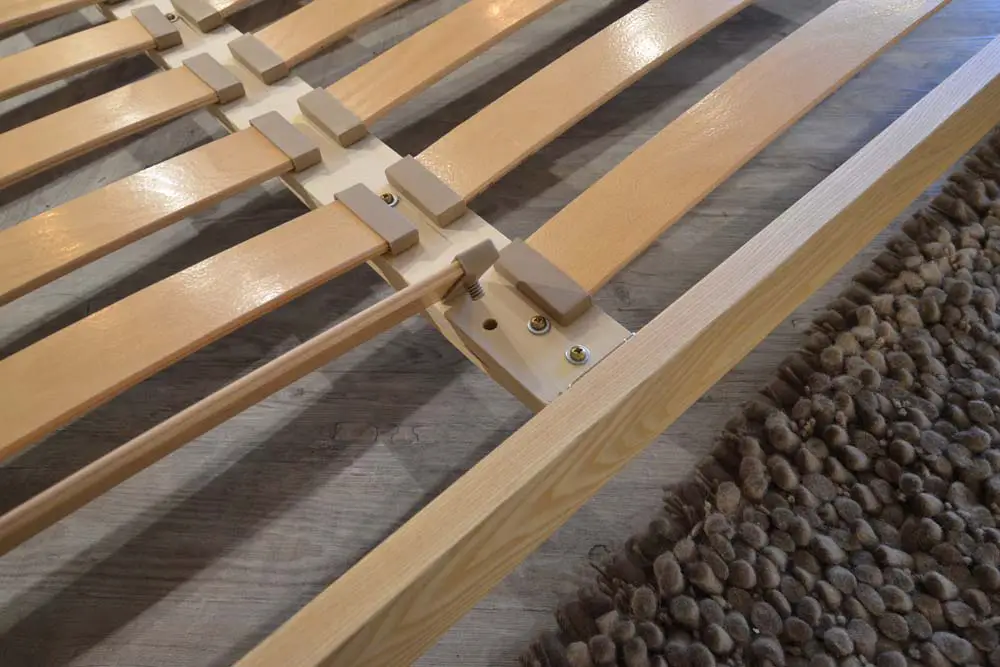 To prevent breakage and stress, sprung slats are made from flexible wood. Therefore, the beach is a common choice.
But more seriously, their form has a slight bend like an arch at the top.
As a result, they give your mattress a sprung surface. Sprung slatted beds have greater "bounce" and are more sensitive to the weight of the sleeper.
Additionally, a firm mattress is not required necessary because there is less chance of sagging.
7 Quick and Easy Ways to Make Bed Slats Stronger:
The current condition of your bed slats will ultimately determine how much time you have to devote to this project. So, let's look at your choices.
1. Cover the slats with a box spring or some plywood: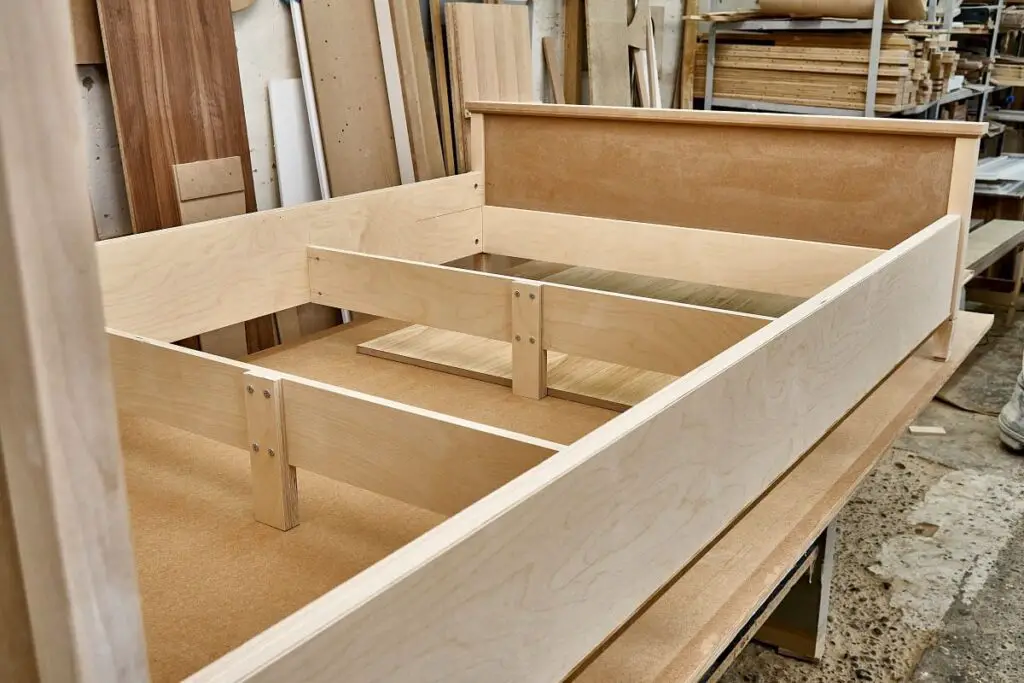 If you currently sleep with a mattress on slats, bring in a small box spring or perhaps some thick plywood.
Such an overlay should transfer the pressure you put on the mattress to all the slats, reducing their tendency to bend or sag.
You can also attach the plywood to the bed frame and slats with screws or nails for increased strength.
Just keep in mind that it must be at least three-quarters of an inch thick in order to withstand a strike.
2. Fix the slats to the bed frame:
You can think about attaching slats to the bed since we are already talking about using screws and nails.
It will work if you drill two screws through the ends of each slat. Of course, slats alone can damage your mattress, even if there are no metal pieces.
In this light you can countersink the screws or nails you use in the wood.
As an alternative, you can simply glue the slats to the support rails on the inside of the bed frame.
So, it is necessary to reduce the sagging and stop the slats from sliding.
3. Use slat spacers to prevent slats from moving:
So, you don't want to permanently attach the slats to the bed frame, considering that doing so makes the bed more difficult to remove.
In the same manner, you will avoid screwing the plywood to the slats. In that instance, using slat spacing is an additional method to maintain proper slat spacing.
Simple objects called slat spacers are inserted into existing slats to stop them from moving. You may either make it yourself or buy it online.
We advise creating your own slat spacers so that you can save time and money. Happily, slat spacers are simple to build and apply.
Get a wooden plank that is roughly the same width as the bed slats to make stronger.
Then, cut the pieces to the desired length for the space between your bed slats.
The slat spacers should now be mounted on the rails, sandwiched between the existing slats.
Once you've removed all the spacers and are satisfied with the look, apply wood glue to the bottom of each spacer, replace them, and push them firmly into place.
4. Add more slats/drag slats closer:
The first three recommendations make an effort to address the issue without altering the bed frame, slats, or slat design. But eventually, the slat framework becomes very weak and unstable.
A severely damaged bed slat system may not be able to be repaired by nailing, adding plywood, or adding spacers.
So, we have to think creatively. The rest of the suggestions on this list offers other approaches.
First, we suggest that you try to "help" the existing slots by adding more slots.
By adding new slats, the existing slat structure is strengthened and the slat network is spaced for equal weight distribution.
To begin, determine how many spaces are required. Generally, you need one more plank for every two you already have. Then, take measurements.
What should be their width and length? How thick should they be too? The new boards should be the same length and thickness as the old boards.
Finally, choose the wood you want. The most common material is pine. Then buy additional boards and fasten them to the existing slat framework.
5. Replace or strengthen sagging or weak centre beams: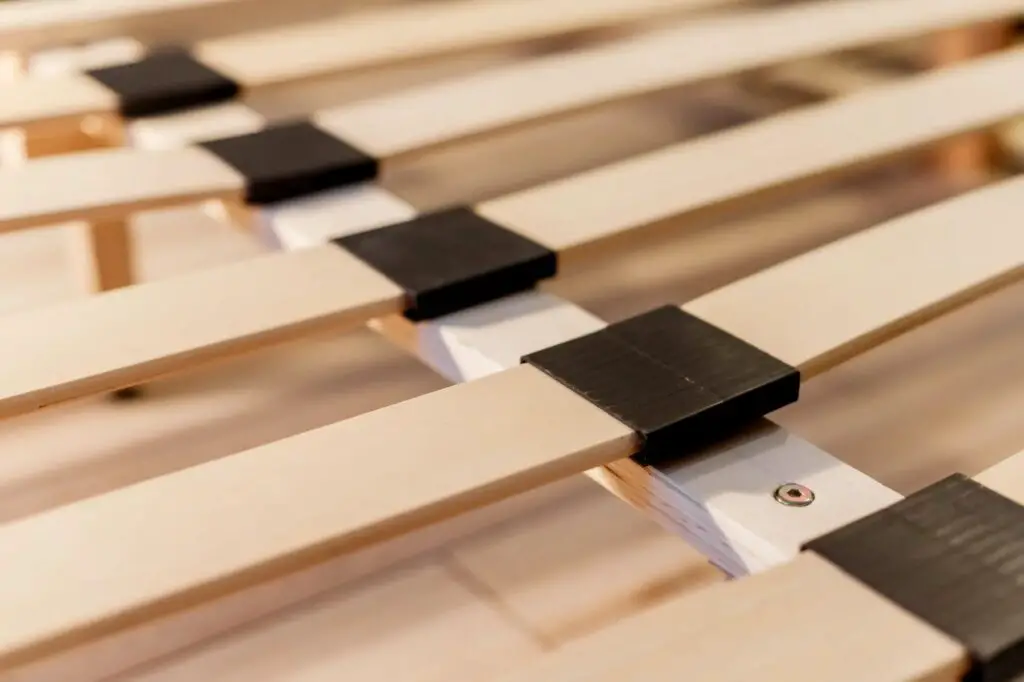 The stability and strength of the bed mainly depend on the central support beam. Additionally, it helps keep the slats from moving and prevents sagging.
Of course, not all beds are the same. However, a centre support beam is usually present in wider beds. A primary cause of sagging slats is a weak centre support beam.
What if, for instance, the beam is already sagging? Or even worse, your central beam might be broken. It's risky to apply too much pressure to a bed with a fractured centre beam.
Existing beams can either be strengthened or removed and replaced. When the beam is still strong but slightly bent, reinforcement is most effective.
Get a sturdy, four-inch-wide plank of wood, then screw it to the existing beam.
However, if the beam is damaged, it is advisable to replace it rather than strengthen it as doing so creates a potentially dangerous weak link.
6. Include a strong centre beam:
If your bed slats are sagging dangerously, you can also add a central support beam to a smaller bed to make bed slats stronger.
From top to bottom, the central beam runs the entire length of the bed, cutting across the middle of the slats.
For this project, you will need approximately 30 3-inch screws or nails and 8-10-inch 2×8 wood boards. Two posts are also required for support legs.
Lift the bed and turn it on its side when you're ready. Then, mark your 2×8 wood board with the measurement from the bottom to the topmost slat and cut it out.
After measuring there mark these locations 12 inches from the end of the beam. Next, attach the leg support posts at 90 degrees to the beam using screws or nails.
Do not forget to cut the support legs to match the length of the bed frame legs. The bed frame should then be placed on the joists and fastened to the frame with screws or nails.
You now have a bed slat framework that is significantly stronger.
7. Use thick wood instead of slats: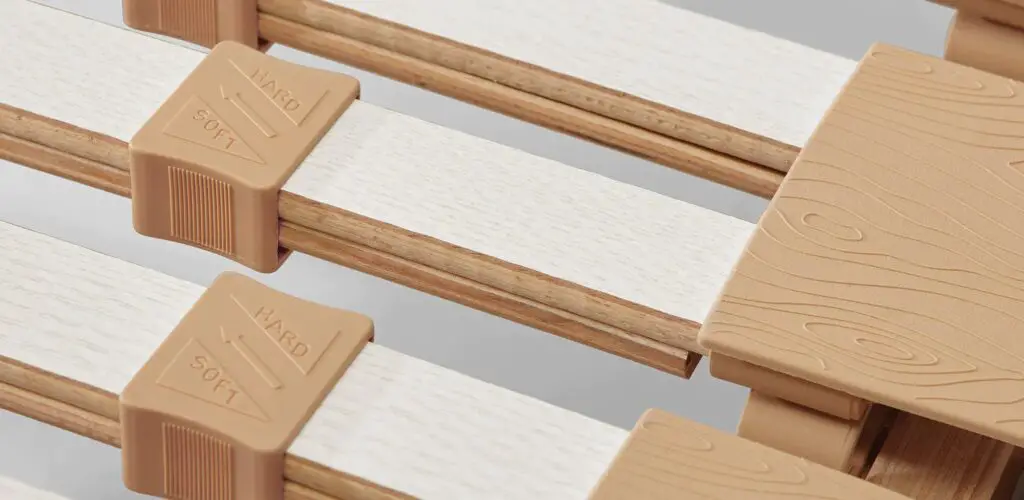 Slats can also be completely replaced for sagging or broken beds.
These activities can be expensive. But it is necessary, especially when working with damaged slats.
The only way to regain the strength and functionality of the bed frame is to replace the damaged slats. We advise doing two actions. First, think about switching out the slats for hardwood.
Second, consider strong wood. Most hardwoods will perform admirably. However, oak planks are undoubtedly the best choice as they are widely available and incredibly durable.
Determine how many slots you'll need. Alternatively, think about changing the whole slat framework.
The ideal choice is two-inch-thick 24 boards, although 2x8s and 2x10s are also fine.
Begin repairing broken or damaged slats and cut the wood to its original plank dimensions. You have the option of attaching the wooden planks to the bed frame with screws or nails.
Do not leave much or no space between the slats.
8. Replace wooden slats with metallic slats:
A significantly more durable alternative to wooden slats is metal slats. Of course, some hardwood varieties provide almost as much reliability.
However, these hardwoods can cost several hundred dollars to purchase because they are frequently very expensive.
Additionally, hardwoods may not even be available at neighbourhood hardware stores. Metallic slats are more affordable and widely available.
Once you've made up your mind, head to your neighbourhood hardware store or machine shop and purchase the necessary metallic tubing. The ideal metal tube is square.
Request that it be cut in the shop.
In every other situation, you'll need a grinder, hacksaw, or circular saw with a metal blade to size the metal tube.
To attach the metal tubes to the bed frame, drill pre-drilled holes in the tubes that correspond to the frame's specifications.
9. Buy a box spring:
In addition to replacing certain slats or inserting metal slats, it is advisable to take into account the box spring to make bed slats stronger.
Plywood and box springs are almost identical. They do the same, which acts as the platform or foundation of the mattress. A box spring differs from a mattress mainly in thickness, strength, and appearance.
A classic box spring, often known as a box spring mattress, is made up of a thin wooden or metal frame that is filled with fabric-wrapped metal springs or coils.
So it's like putting a thinner, more durable mattress under the actual mattress.
It's simple to attach a box spring to your bed frame. Bunky boards should be placed on the bed frame's base once the foam mattress has been removed.
Then, replace the foam mattress on top of the box spring. As an option, the Bunky board can also be placed on top of the box spring.
The biggest drawback of box springs is their higher cost compared to plywood underlayment.
Also read: Can You Put a Box Spring on Top of Slats?
FAQ- How to Make Bed Slats Stronger and Keep Them from Shifting:
Q1. How can I increase the weight capacity of my bed?
Adding slats will strengthen a simple, standard bed frame with only a perimeter and supporting centre beam, making it stronger and more supportive.
By doing this, you can prevent the mattress from sinking and increase the weight capacity of your bed frame.
Q2. How can I stop my bed slats from sagging?
To create a flat, flat surface for your mattress, it is easy and affordable to place some MDF sheets over the slats (sides) bridging the main support bars.
Q3. How can I strengthen the legs of the bed frame?
Start by securing loose joints. Leg stability is quickly affected by a wobbly bed, causing unusual noises and restless sleep.
Tightening loose joints will solve the problem. Second, reinforce the slat framework to better spread the weight.
Improved weight distribution promotes stability of the bed as a whole, including the legs.
Also read: Best Wood for Bed Slats
Conclusion:
As you may have noticed, the main goal of most of these techniques is to stop the slats from migrating.
Additionally, preventing them from bending will ultimately make the bed frame more durable. In that light, there are various strategies to make bed slats stronger.
On the one hand, you can fasten the slats to the inner rails using glue, screws, or nails so that they are attached directly to the bed frame.
They can also be kept from slipping off the rails by using slat spacers. So, the plank will not stop from sagging.
To accomplish that you need to create some sort of central support beam for the slats.