Have you ever missed a crucial call or text because the noise of the shower drowned out your phone?
Isn't it fantastic if you could use your phone in the shower in some way? As it happens, you can do it!
If your phone is waterproof, you can use it without any problems in the shower if you put it in a phone holder.
You'll need a means of protection for your phone if it isn't waterproof.
Using a pocketed shower curtain is the greatest method to keep your phone safe while you're in the shower.
A Ziploc bag is a fantastic alternative for protecting your phone.
There are times when using your phone while in the shower is significant to avoid damaging your phone the most effectively.
You must read this post entirely because I've included 7 handy methods for using your phone in the shower.
I've also discussed several risks associated with using your phone while in the shower as well as some advice.
So, let's get going!
Some of the Risks of Using Your Phone While Showering:
Although you might not think of using a phone while showering, there are certain risks involved, keep in mind the following:
Electricity and water don't mix:
If your phone is plugged in and you drop it in the water, you run the danger of being electrocuted.
Water conducts electricity, making it a potentially hazardous mixture. It's best to avoid using your phone while getting ready.
Your phone can tumble:
Even if you think you have a tight grip on your phone, while the shower or tub is wet and slippery, it could easily slip out of your hand and land on a hard surface.
This might harm your phone, and it might also put you at risk if you trip and hurt yourself.
Your phone may be harmed by water:
The moisture in the air alone can harm it over time, even if you don't drop it into the water.
The motherboard in your phone may corrode and short out or cease functioning altogether.
Water can cause your phone to experience issues in the future even if it doesn't cease functioning right away.
7 Effective Ways to Use Your Phone in The Shower:
Everyone has faced the annoyance of getting soap in their eyes when taking a shower, and occasionally we have even dropped our phones in the process.
Here are 7 smart ways to use your phone in the shower without losing it or getting suds in your eyes:
1. Place your smartphone in a Ziploc bag to keep it dry:
A specific form of plastic bag called a Ziploc bag is made to be waterproof and airtight, therefore the ideal choice for keeping your phone secure and dry when taking a shower.
Simply place your phone inside the bag, close it, and take it into the shower with you.
Since the bag is sealed, water cannot enter and harm your phone.
To ensure that you can still use your phone while it is inside the bag, make sure that it can fit inside.
A smaller bag is always a choice if you are concerned that the current bag is too big.
It's vital to understand that while using this method will keep your phone dry, soap will still get to it.
Therefore, be careful not to get any soap on your phone if you intend to use it in the shower to listen to music or whatever else.
2. Use a waterproof fabric shower curtain or liner with various mesh pockets:
A form of fabric intended for use in showers and bathrooms is a waterproof fabric shower curtain or liner.
It is constructed of a water-resistant substance that helps prevent water damage.
Additionally, this kind of cloth frequently has a mesh pocket on the top where you may keep your phone while taking a shower.
 The pocket is the ideal spot to keep your phone secure because it is made of mesh that prevents soap and water from getting inside.
You won't have to be concerned about them becoming mildewed or mouldy as a result.
This will allow you to access them when you're in the shower.
3. Use suction cups or splash guards to keep your phone away from the spray:
Devices like suction cups or splash guards can assist keep your phone out of the shower's stream of water.
Splash guards typically fit over the top of your phone that is made of silicone or rubber.
As you suction your phone to the wall or the shower door use suction cups attached to the rear.
They assist prevent soap from going into your eyes and lessen the chance of dropping your phone because they shield it from the water's spray.
Your phone's model must be suitable with the splash guard or suction cup because some may not fit correctly or may not stay in place.
4. Place a water-resistant fabric shower curtain outside the shower:
To keep water from splashing out of a shower or bathtub, a piece of fabric known as a shower curtain is hung.
One kind of shower curtain that is intended to deflect water is water-repellent lowering the risk that water will splash out of the shower or bathtub.
Water-repellent shower curtains can be hung on the outside of the shower or bathtub to stop water from splashing onto the floor or into the bathroom.
5. Use water-resistant adhesive hooks to keep your phone out of the water: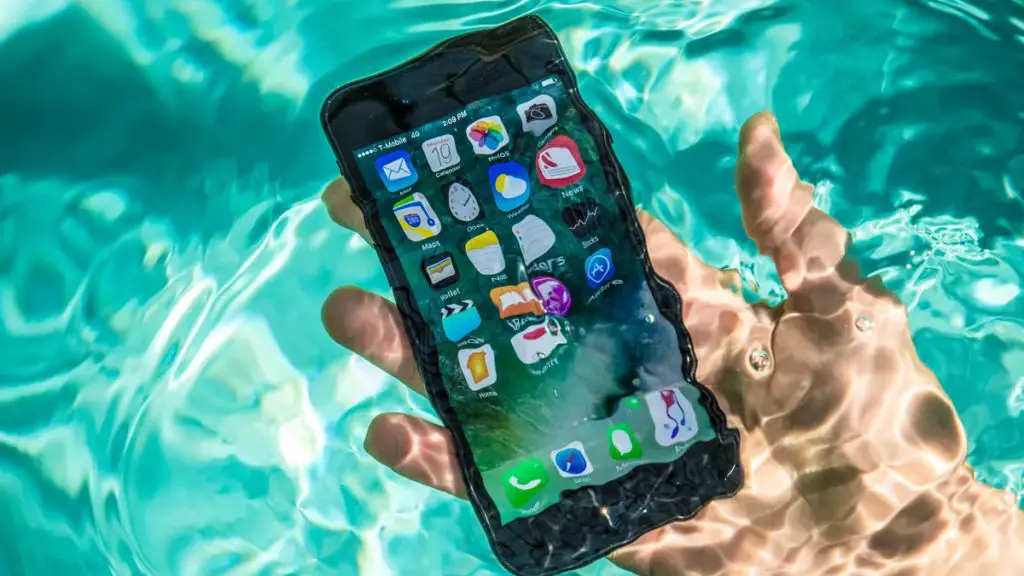 When taking a shower, waterproof adhesive hooks are a wonderful method to keep your phone dry.
The waterproof glue used in their construction enables them to adhere to a variety of surfaces including tile and glass.
Simply hang your phone from the hooks and fasten them to the wall or shower curtain.
They are waterproof, so you can hang other things from them, like your towel or washcloth.
Additionally, they are excellent for keeping your phone handy while in the shower.
6. Have a universal waterproof case for your iPhone and Android:
A bag that may be used to shield your phone against water harm is called a universal waterproof pouch.
The typical pouch is made of waterproof materials and lets you use your phone while it is inside.
If you want to use your phone in the shower while keeping it safe from water damage, it is a fantastic solution.
You may still use your phone as usual and view the screen because the pouch is usually transparent.
Make sure the bag you select has a tight clasp and it is large enough to accommodate your phone.
7. Keep Your Phone Water and Vapor Proof for Shower Usage:
Your mobile phone can be made vapour and water-resistant in a variety of ways.
You may either purchase a specific phone case designed for usage in the shower or create your own with supplies you already have at home.
Use caution when using phones in the shower because most of them are not water-resistant.
Additionally, it is crucial to guarantee that the case you use is sturdy and unlikely to break.
As a result, vapour-proofing your phone will protect it from shower steam and enhance screen visibility.
Tips For Using Your Smartphone During Shower:
These tips are useful for your phone while in the shower as follows:
If you intend to use your phone in the shower, make sure it is in a waterproof case. This will aid in preventing water damage.
Consider purchasing a waterproof Bluetooth speaker so you may enjoy music or podcasts while taking a shower.
Before handling your phone, make sure your hands are clean. Your phone's screen might be damaged by water and soap.
Never use your phone in a very cold or hot environment. This could harm the internal parts of your phone.
You should have no trouble using your phone in the shower if you follow these recommendations.
Just keep in mind to exercise caution and take preventative measures to shield your phone from water harm.
Also read: How to Soundproof a Toilet?
FAQ- How to Use Your Phone in The Shower:
Q1. How do you take your phone into the shower without getting it wet?
Put your phone inside a plastic bag that doesn't have any holes in it (like a Ziploc bag).
Close it firmly.
When your phone is in the bag, you can probably still use it.
Q2. Can steam (from a shower) damage a phone?
The best thing is to avoid exposing your phone to any moisture because steam can harm electronics over time.
In the worst situation, shower water vapour could condense within your device that causes a short, effectively killing your phone.
Q3. Do I make calls on the speakerphone while in the shower?
Although there isn't a set regulation prohibiting using a speakerphone in the shower, doing so is generally not advised.
The speakerphone's potential to make the phone wet, and thus vulnerable to damage is the main explanation.
Also read: How To Waterproof Plywood?
Conclusion:
We've provided some advice on using your phone in the shower without becoming wet or broken.
You may get clean while making calls, listening to music, or watching your favourite show if you follow these easy steps.
However, you should be aware of the risks associated with using your phone while in the shower.
You can stay safe while taking advantage of using your phone in the shower by paying attention to our safety advice.
How do you utilize your phone when taking a shower? Comment below with your answer and let us know!