A knitted blanket is a delightful item to have in your newborn's crib, however, it must be wash properly to eliminate any dirt or bacteria for keeping clean and safe.
Hand-knit knitwear, blankets, and accessories are things of beauty that demonstrate the crafter's ability & artistic genius.
Knits can last for years with proper care, while the type of wool used to make the item dictates whether it can be machine-washed or hand-washed.
Machine-washing your crocheted blanket is important since it not only cleans the dirt but also removes unwanted fluff.
It implies that you must use extreme caution while washing a knitted blanket, so what is the best method for washing a crocheted blanket?
You must read the entire post because I have included a step-by-step guide to washing the knitted blanket in this post.
In addition, I discussed major mistakes made when washing knitted blankets, so your knitted blanket will be safer and cleaner.
Let's get started!
Instructions before Washing Knitted Blanket:
Follow the instructions on the tag of your knitted blanket before beginning the washing step because it provides the details you need while washing the blanket as follows:
To keep the blanket from stretching, wash it in cold or lukewarm water.
Bleach should not be used since it may damage the fibres.
Use a moderate detergent and avoid using fabric softener, which can cause fibre damage.
Use a moderate cycle to wash the blanket.
If the label recommends, use a drier and if not, use your iron on low heat to eliminate the creases from your blanket.
How to Wash a Knitted Blanket – Step by Step process:
If you need to wash your crocheted blanket, follow these simple steps to get it clean and look new again.
1. Gather all necessary materials:
A wash cycle, laundry detergent, and a clean washcloth are required, read the care label on your blanket for any special recommendations.
Due to the fragility of some yarns and fabrics, you may need to hand-wash your blanket instead.
So, before you begin, make sure you read the label, then take your materials and proceed to the washing machine.
2. Soak the blanket in cold water for a few minutes:
Rinse a clean sink or tub halfway with cold water and add just enough detergent to make foam.
Swish the knitted blanket in the water to make the entire blanket wet.
Soak the blanket for half an hour, or as instructed on the care label.
If your blanket is soiled, soak it for a longer period, however, don't soak it for too long.
As a result, read the label for specific instructions.
3. Pour a little amount of detergent into the water: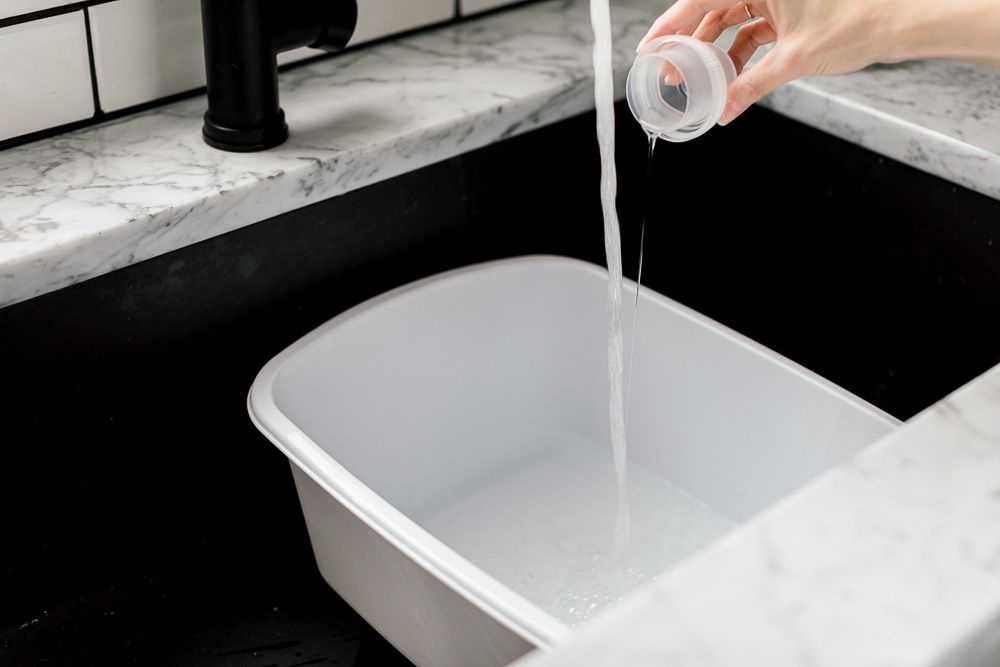 After 30 minutes, add a tiny amount of laundry detergent to the water and thoroughly blend it.
It is not required to use a large amount of detergent; just that little goes a very long way!
However, if your blanket is too unclean, you may need to apply a little extra hence it is important to read the care label to determine the quantity of detergent to use.
Because using too much detergent might cause harm to your blanket's fibres, so utilize just what is essential.
4. Gently wring the blanket in soapy water: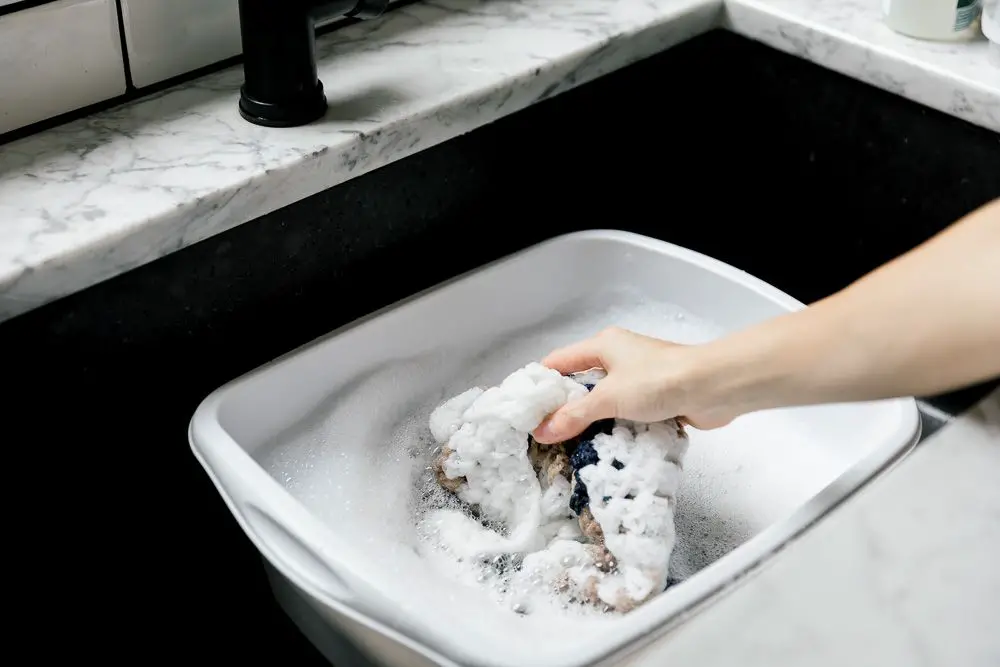 Twirl the blanket in the soapy water once the detergent has been stirred in.
Scrubbing too vigorously might damage the yarn and alter the form of your blanket.
Instead, use gentle motions to thoroughly wipe & wash the whole knitted blanket because crocheted blankets are frequently constructed of delicate materials that must be washed with care.
However, if your blanket is unclean, you may need to rub it a little more to get it clean.
Just be careful not to destroy the yarn in the process.
5. Rinsing the blanket under running water:
After twirling the blanket in soapy water, soak it thoroughly.
Place the blanket under a running tap or immerse it in a clean basin or tub filled with clean water.
Rinse the blanket well until all of the soap has been removed.
This is significant since soap residue can cause skin irritation and issues.
Start the washing machine to the gentle cycle and put in the blanket.
When hand-washing employ delicate motions.
6. Squeeze out any excess water:
After cleaning the blanket, squeeze out as much excess water as possible.
Roll the blanket in a clean towel and apply pressure.
Squeeze lightly so as not to harm the yarn because dampness can damage the yarn and cause the formation of your blanket to become distorted.
The extraction of water is crucial.
It may take a minute to remove all of the water, and it's well worth the time to avoid harm.
7. Allow the blanket to air dry (Or Use a Dryer on Low Heat):
After squeezing out the excess water, hang the blanket to dry.
If you're using a clothesline, make sure to knot the blanket to keep it from falling.
You may also dry the blanket in a dryer on medium heat, but before that check the care label.
Since heat might damage some yarns and materials, it is typically better to take precautions.
If you followed the instructions correctly, you should know to wash a crocheted blanket.
Common Washing Problems in Knitted Blankets:
Knitted blankets are soft things that require special precautions, especially when washing.
Although they may be machine cleaned, it's crucial to do it correctly to avoid damaging the blanket.
Many typical blunders are made when knitted blanket wash, here is some advice for avoiding them:
One common misstep is failing to use the proper sort of detergent.
Regular laundry detergent should never be used on a knitted blanket since it is too severe.
Instead, use a softer soap formulated exclusively for cleaning delicate things.
These are available at most places that offer washing supplies.
Another typical misstep is washing the blanket in extremely hot water.
Hot water can stretch and ruin the blanket's threads, so use cold or warm water preferable.
People frequently fail to read the care label before washing their blankets.
The care label will have detailed directions for washing the blanket, so make sure you follow them carefully.
You may keep your knitted blanket shiny for years if you avoid these frequent missteps.
How often should a knitted blanket be washed?
Knitted blankets do not need to be washed regularly.
It simply has to be washed once a year, but if you have unhygienic roommates or pets.
If your companion is filthy or stinky, you can wash them.
Just remember to keep these blankets clean and tidy so that they do not damage them.
What detergent to use when washing knitted blankets?
A moderate, wool-safe detergent is ideal to wash the knitted blanket.
Wool-safe detergents are mild on delicate wool fibres and they look best on your blanket.
Since wool is a natural material, strong detergents or bleaches should be avoided as they can damage the fibres and shrink the blanket.
What should I do if my knitted blanket is stained?
If your knitted blanket has a stain, try wiping the affected area with a damp towel first and if loose, wash the blanket in cold water on a light cycle.
If the stain persists, soak the blanket in cold water and dish soap solution for several hours before re-washing.
Knitted blankets contain delicate fibres, so take care of them and avoid putting them in the dryer.
How can I keep my knitted blanket new?
Washing your blanket regularly is the best method but when should you cleanse it and how should it be washed?
Here are some washing suggestions for your crocheted blanket:
You should clean your blanket every 1-3 weeks.
Use a gentle detergent and lukewarm water.
Avoid using bleach or laundry softeners.
Rinse your blanket delicately in a washing machine on a gentle cycle, or hand washes if you're concerned about harming it.
Allow your blanket to dry completely.
Hanging it up to dry may cause it to expand out of shape.
Once dry, lightly brush your blanket with a delicate brush to restore that puffiness.
You can keep your crocheted blankets looking beautiful for years to come by following these easy tips!
What is the best way to store knitted blankets?
When knitted blankets are not in use, fold the blanket and place it in a zipped plastic bag, plastic container, or cotton bag to keep dust and dirt away.
You may store them in a cool place in your closet, they should not be stored in a loft or basement, humidity will be too high for the fabric.
Also, keep them away from buttons and zippers as they can be harmful.
You can use spruce balls or dried herbs to keep bugs away from your blanket which prevents them from feasting on it.
Essential oils such as clove, cedarwood, lavender, and mint can be used to repel moths.
Also read: How To Clean a Suede Couch?
FAQ- How to Wash a Hand-Knitted Blanket:
Q.1 How Should I Dry the Blanket?
To minimize shrinking, it is advisable to air dry your blanket.
Wool shrinks exposed to high heat since it is a natural fabric.
If you must use a dryer, use the minimal heat setting and a mesh wash bag to protect your blanket.
Q.2 Should I hand wash or machine wash a knitted blanket?
Hand washing is the most effective approach to maintaining your blanket in excellent condition.
If you still want to wash it, use the soft cycle and cold water.
Avoid using hot water or putting your blanket in the dryer.
Q.3 Is it necessary to iron the blanket?
No, your blanket does not need to be ironed.
Wool is a natural fabric that can be harmed by excessive heat.
If creases must be removed, lay your blanket evenly and use a steamer.
However, don't get the steamer too close to the blanket or it may burn it.
Also read: How To Clean Sheepskin Rug?
Conclusion:
You should take these necessary measures to wash your knitted blanket, if you want to protect your beloved blanket, do not skip any of these procedures and avoid the major mistakes described in this article.
We hope you found this post helpful, and we will be love to hear how it worked out for you!
Kindly let us know if you have any difficulties with this article in the comments box, we will do our best to resolve your issue as soon as possible.