Let's face it, no room are created equal for a nightstand and the majority today are modest in size.
When you include a queen or king-size bed, the amount of accessible space is already cut in half.
However, when you realize that there is no room for a nightstand, the situation becomes worse, so you should hunt for the smallest nightstand on the market or buy a small bed?
Don't worry though; Even if you can't find a place for a nightstand, there are many creative solutions you can use.
Let's first determine if you really need a nightstand.
Is Nightstand Necessary?
After all, nothing is essential when it comes to home decor. However, nightstands serve numerous useful purposes beyond just serving as ornaments.
However, your desires and preferences are really important.
It is important to see and understand the following reasons why people around the world use nightstands:
Home Decor Nightstand are frequently used to decorate and beautify room.
Nightstands easily match the colour of your home and bed and are actually considered decorative pieces.
Accessibility:
Nightstands can make your bedroom more accessible.
For example, you can put a nightlight on your nightstand to avoid getting out of bed to turn on the lights.
Additionally, you can keep items like your phone, reading glasses, drinks and medications close at hand.
Flexibility:
An interesting aspect of nightstands is that you can use them in ways other than bedside tables.
You can use most nightstands in your living room as an end or side table if you set them there.
Storage:
Most nightstands if not all have two extra drawers.
This enables you to keep any items you need to use while sitting on your bed.
A nightstand is an excellent place to store everything from books and magazines to phone chargers and flashlights.
Variety:
We all enjoy personalizing our nightstand room, but we often struggle to find the right accessories.
Fortunately, nightstands are available in a variety of shapes and sizes, making them ideal for most bedroom designs.
Affordability:
Nightstands serve a variety of purposes, but they are far less expensive than other furniture types.
Additionally, most high-quality nightstands are reasonably priced, some of which are often expensive.
What Options Exist for Nightstand Room?
By now, you've probably developed a deep love for the usefulness of nightstands.
However, you probably don't have much space beside your bed because your bedroom is too small.
If so, you should use the spaces above, behind, and near the bed.
We can offer some advice on how to go about doing that.
1. Console Tables:
Console tables are often small and fit behind the bed as well as they are designed to be placed behind the sofa.
Since they come at various heights, you can easily select one that works with raised beds. Be sure to measure your couch before sitting on the console table.
Additionally, there are some restrictions you should be aware of before experimenting with console tables.
For starters, if you want to sleep while reading or watching TV, you'll need to rearrange your cushions to make room for the table.
However, if that bothers you too much, you can install some sturdy risers to elevate your new console table.
Also, you may need to move the bed forward depending on the width of the console table you choose. It will reduce the space in your bedroom.
2. Wall Shelves:
A wall shelf is one of the best alternatives for a nightstand.
They look neat and professional and have enough space for your phone, some books, and some water.
Larger bedrooms can also benefit from replacing bulky furniture with shelves, although they work best for smaller bedrooms.
So, what makes wall shelves so desirable? Simply put, you can add as many shelves as you need to provide the storage space you need.
If you don't feel comfortable hanging it above your head, you can hang it directly next to your bed.
The greatest part is that wall shelves come in a huge variety of styles, making it simple to find one that complements the interior design of your home.
3. Bookshelf: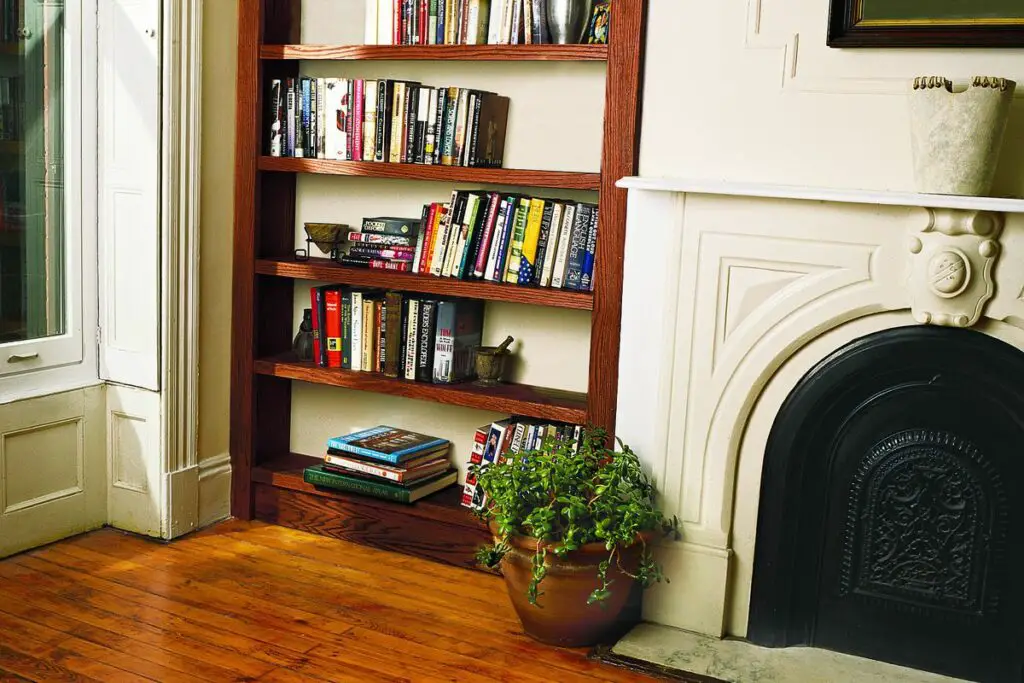 If you enjoy console tables for their versatility but want the extra storage capacity they have, a bookshelf is a great option for nightstand room.
They have many of the same functions as nightstands but are more portable and can be placed practically anywhere.
In fact, you can place a bookcase behind, in front of, or near your bed.
However, the same solutions as console tables are required. If you don't have a lot of floor space, you don't want your bookshelf to extend too far on either side.
In other words, the width of your bed significantly affects the size of your bookcase.
But luckily, most bookcases are fairly tall and narrow, providing plenty of storage space without cluttering up your walls.
4. Standing Shelves:
Try standing shelf units if you have a few extra inches. They are essentially regular shelves placed on top of each other.
As a result, some versions may only need a few inches of depth but can be rather slim.
You can place them beside your bed and in between the wall as they don't take up much space.
To ensure you have enough space for the shelf unit, however, always measure your bed.
So, what's the catch? The main drawback, in all honesty, is that they don't provide as much storage as some individuals would prefer.
In most cases, a standing shelf unit will have two to three shelves.
However, you can stack additional shelf units to increase their storage capacity if you need more.
5. Floating nightstand:
Although it may sound strange, floating nightstands actually exist.
They combine the practicality of wall shelves with the practicality of a traditional nightstand.
In other words, you can place it anywhere you like, next to your bed or on the wall above your head.
Most floating nightstands have a sturdy mounting system, although they are a little heavier than wall shelves.
The fact that floating nightstands provide more storage than normal wall shelves is their main selling point.
Specifically, they usually have one or two drawers that you can use to store everything from gadgets to books.
Additionally, you can add another floating nightstand or shelf if you need extra storage space.
In fact, many people combine the two to make their own floating drawers.
6. Bedside Caddy:
A bedside caddy is a perfect substitute for a nightstand if you're low on the room next to your bed.
Besides being easy to install and requiring no drilling, it's roomy and lets you store your phone, tablet, and other items.
Additionally, the bedside caddy is easy to remove, allowing you to adjust its position to your preferred side of the bed.
The only drawback is that you can't use it as a nightstand for drinking water or lighting a lamp.
However, any extra storage space is nice when you're short on room. And because of the materials used, most bedside caddies can hold a wide assortment of books, gadgets, and other items.
7. Bed selves:
Last but not least, we have Bedshelfie, a revolving novel on bedside caddies.
In fact, it started as a Kickstarter project and has since evolved into one of the most interesting nightstand options. However, how does it operate and why is it so unique?
First of all, a bed shelf acts as a shelf by attaching it to your bed frame.
In other words, you can put anything on it, including phones, iPods, drinks, and even nightlights. Also includes a notch to attach your charging cord.
So, the cables that used to hang around your bed can now be finally said to be gone.
Also read: How To Decorate a Ladder Shelf?
FAQ- No Room for a Nightstand:
Q1. What could you use in the place of a nightstand?
Eight creative, original, and fashionable alternatives to the traditional nightstand.
The round drum table may be popular in living rooms, but that doesn't mean a bedroom can't use one as well.
Traditional Side Table. Nothing but a dresser, end tables, an armoire, a chest, and a desk.
Q2. Can a chest be used as a nightstand?
A bedside table can be made out of almost anything if it is the proper height.
There shouldn't be more than 5 inches between the top of your mattress and the surface of your nightstand.
Q3. What differentiates a nightstand from a bedside table?
A nightstand is commonly defined as a small, low bedside table with drawers.
A tiny table placed next to a bed is called a bedside table.
Also read: Where To Store Extra Mattress in One Bedroom Apartment?
Conclusion:
Nightstands are unquestionably advantageous in general.
They can be used to store items for quick access, but they can also be used to enhance the look and feel of your bedroom.
Finding the ideal-sized nightstand can be challenging, especially if your room is small or your bed takes up a lot of space.
Fortunately, you have many reliable choices.
From console tables to bedside caddies, there's no shortage of great things that can replace nightstands.
Stop wasting time searching for the ideal nightstand and consider some more popular options instead.