If you have a large number of belongings for some clever and elegant locations to store them, we can assist to decorate a ladder shelf.
We scoured the internet for the most inventive ideas to keep your home organized and appearing elegantly designed floating shelves to elegant bookcases.
Ladder shelves are ornamental that used for storage and vessel for decorative items.
It has the potential to become the centrepiece of a space, however, if you're not careful it can appear to be an open junk drawer.
Therefore, we'll demonstrate the decorate a ladder shelf in this article without making it appear cluttered.
So, continue reading to learn about the greatest ladder shelf decoration ideas that will make your shelf.
Let's begin!
What is Ladder Shelf?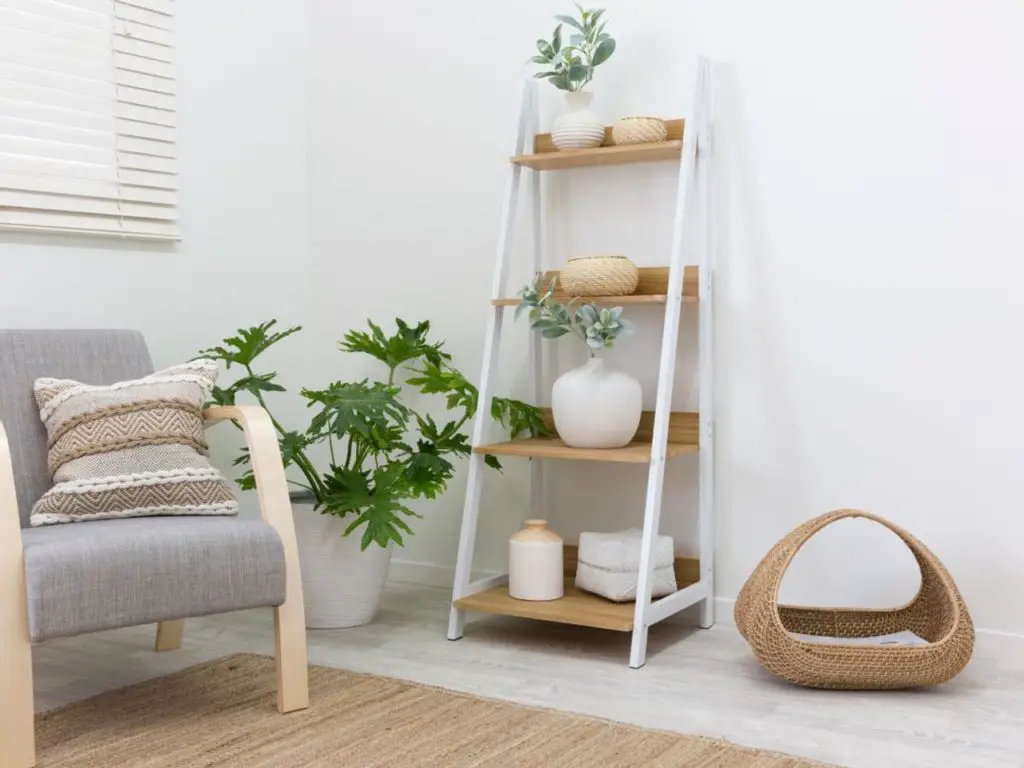 A ladder shelf is a kind of shelving that is portable, and lightweight with a simple design.
While some ladder shelves have a triangular shape that mimics a ladder spread out on both sides, others lean against the wall and feature steps that get shallower toward the top.
Even contemporary ladder shelf designs that are integrated into the wall and resemble pool ladders are available.
Ladder shelves are typically simple and unsophisticated, yet attractive.
It can decorate a ladder shelf in a variety of ways, however, with so many alternatives you have some inspiration that can help you get started.
Types of Ladder Shelf:
 We've gathered some of the best ladder shelf design ideas as follows:
1. Ladder Bookshelf:
A ladder shelf allows you to organize your book collection in an organized manner.
Place all of the read books in one segment of the ladder and all of the unread books in another.
You can also organize the different book categories in stages.
Some people prefer their books to be unstructured in order to give them a "genuine" sense.
If that's not your thing, organize your books by colour and/or height.
Even some books can be arranged vertically while the rest are left horizontally.
Consider placing something between your books such as a miniature plant, a clock, or a vase, if you wish to "break" the stack or line.
2. Bathroom Ladder Shelf:
Instead of having your amenities scattered about your bathroom, you may systematically organize them on a ladder shelf.
Place all of the hand towels, shampoo bottles, conditioner bottles, and oils in a pleasant manner on the ladder steps to make the space look appealing.
If you are in a similar situation, a ladder shelf in the bathroom may be needed to improve storage without taking up too much space.
To cover clutter, use wicker baskets on the bottom shelves.
To keep soaps and bath bombs organized, use jars or ceramic bowls.
And to give your bathroom a cosy feel, place candles on one or two shelves.
3. Photo Frames and Memories Ladder Shelf: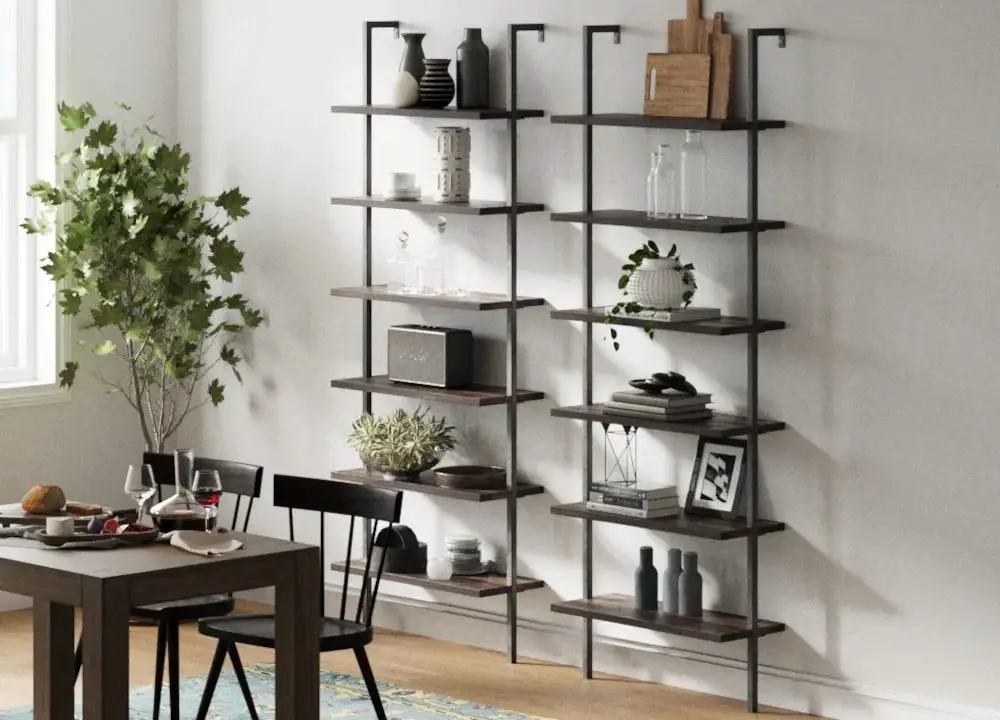 You may utilize your vintage ladder to keep your favourite photo frames and cherished memories on each step of it.
It always saves you from having to drill holes in the wall to hang your pictures.
Other memorable items, such as albums, CDs of important occasions, and memory cards can also be placed up the ladder.
Family memories should not be stored solely in photo albums!
Decorate your ladder shelf with valued family photos, heirlooms, awards, graduation pictures, newborn mementoes, and other items that symbolize your family's achievements and best memories to make it a physical representation of your family's love.
4. Green Ladder Shelf:
You can easily use your ladder as a plant stand by placing plants of various sizes on each level of the ladder.
If you're going to put the ladder inside, make sure to include all of the indoor plants.
And if you want your ladder shelf to blend with the rest of the room, match your design to the existing colon scheme.
For example, if your space has a beige + evergreen theme, use decorative pieces that complement the hues in your home.
Add a contrasting ornament in a colour that sticks out from the others.
5. Open Closet Ladder Shelf:
 There is never enough space in your closet to store all of your items, yet your closet is always filled.
It is a good idea to utilize ladders to organize your clothes in a systematic manner.
Fill your ladder shelf with self-care supplies to create your own self-care zone in the bedroom.
These include things like candles that use aromatherapy, lotions, door diffusers, face masks, cosy pyjamas, and perhaps some self-help books.
Make your bedroom feel like a spa by adding rolled-up towels, pricey reed diffusers, lovely rocks, and a jar of your preferred massage oil.
6. Use Your Ladder Shelf as a Bar:
If you don't have a place for a bar, decorate a ladder shelf instead!
Stock with liquors, mixers, bar utensils or your preferred glasses to create your own shelf bar.
 The best part is that ladder shelves could fit in tight spaces, so you could set your bar in a corner of the kitchen behind the stairs or even in the hallway!
See what you'll need to turn your ladder shelf into a mini-bar in our companion post to put up a bar cart.
7. Go all out with the plants: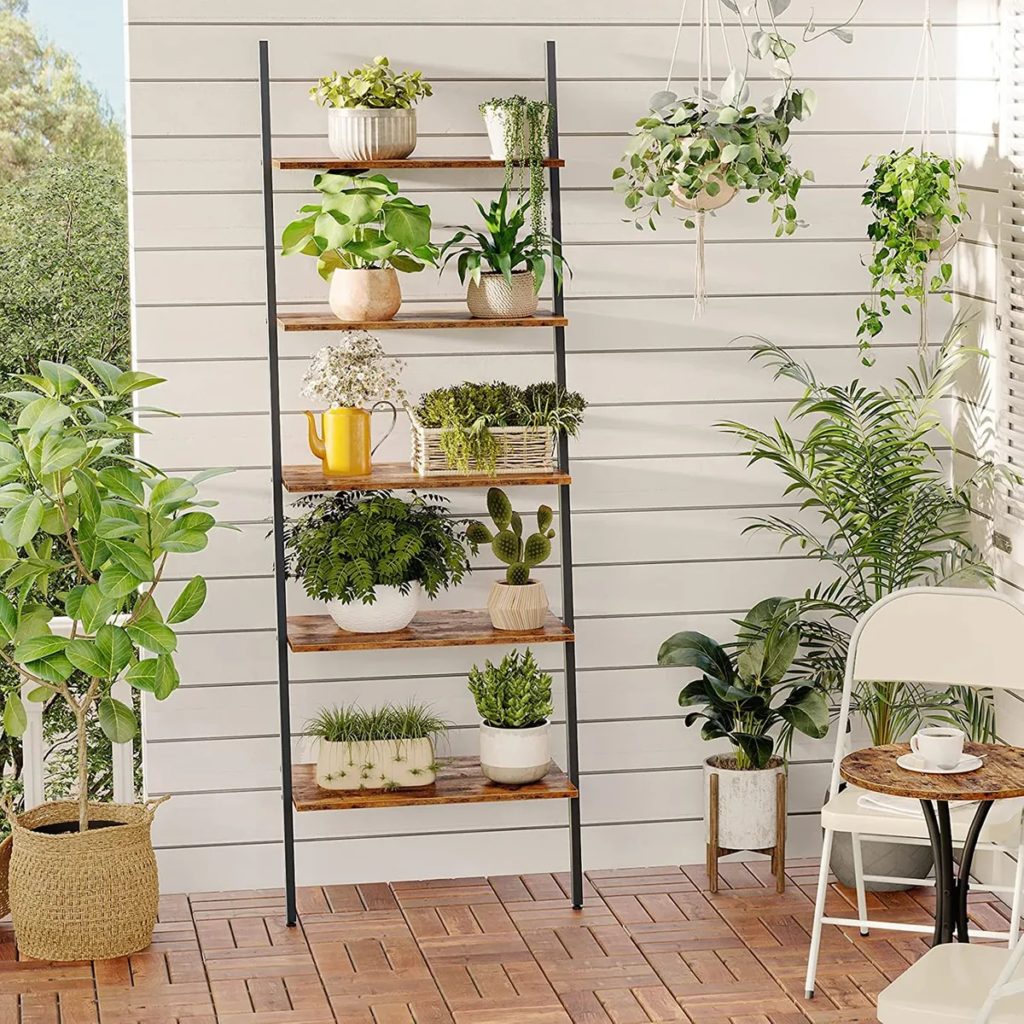 Ladder shelves are ideal for displaying indoor plants.
This is mostly due to the fact that ladder shelves have larger layers on the bottom and smaller layers on the top.
Allowing you to set plants on each level without fear of the shelf on top obscuring the plant underneath.
Furthermore, you can arrange your plants from largest to smallest, creating a pleasing aesthetic in any environment.
Advantages of Ladder Shelves:
Large capacity:
These ladder shelves have a large capacity and provide plenty of space to organize a large number of your collection.
You may easily arrange any of your favourite products on the ladder's steps without worrying about space.
Simple installation:
These ladder shelves can be set up easily however you choose without the assistance of a professional.
Organized storage:
A ladder shelf aids in the organization and storage of a variety of precious objects, such as toiletries, books, and documents.
It also aids in the tidy partition of separate compartments.
Sturdy construction:
These retro ladder shelves have a smooth and incredibly sturdy construction, ensuring durability and giving you the confidence to lay large items on the stairs with ease.
Aesthetic design:
These exquisite ladder shelves enhance the visual appeal and aesthetic of any place.
It adds a traditional touch to decorate a ladder shelf, making it appear more appealing.
Disadvantages of Ladder Shelves:
Access:
Access to the upper steps is the major disadvantage of a ladder shelf.
It is difficult for people of average and short height to comfortably reach the top steps of the ladder to deposit or retrieve a vital item.
Toxic:
Many ladder shelves are made of toxic coatings that have a number of negative health impacts.
Design:
Many ladder shelves are exposed, which might lead to items tumbling or rolling down.
Weight capacity:
The weight capacity of each ladder shelf may not be optimal.
It could be a major issue if large and bulky things are placed on such brittle shelves.
FAQ: How To Decorate a Ladder Shelf?
Q1. Is it necessary to mount ladder shelves to the wall?
Yes, the only way to keep a leaning ladder bookcase upright is to lean it against a wall or other sturdy object.
The bookcase's feet frequently have some form of rubber footing or other material to keep the legs from sliding, and the top of the bookcase is typically made to sit flush against the wall.
Q2. How do you protect the shelves on the ladder from slipping?
Use stoppers or heavy-duty rubber grips.
Using heavy-duty rubber stoppers under the ladder shelf's legs is the way to make movement difficult and stop it altogether.
Q3. Are blanket ladders outdated?
No way, they've been popular for a few years.
Blanket ladder styling is similar to designing a shelf or a mantel that may conceive and build anything!
Conclusion:
Ladder shelves are an excellent way to add warmth, charm, life, and personality to a space.
They look fantastic with both the farmhouse and industrial design styles, but they can be used with almost any style.
 Ladder shelving is a blank canvas that you may fill with items that are significant to you.
There are multiple ways to decorate and style a ladder shelf, just as there are various ways to decorate and style a coffee table.
But keep in mind that great art requires a decent canvas, so make sure you have the ladder shelves your home deserves.