You might be wondering whether you need to ship your mattress if you're relocating to a new city or state.
When you reach your goal, would it be simpler and more economical to purchase new goods, shipping is the biggest choice but only if the mattress is properly made.
Thus, today I will explain to you how to ship a mattress safely.
I'll give you some advice to pack your mattress, as well as explain some services and shipping costs you might find useful.
Finally, no matter why you need to ship a mattress whether you're giving it away or delivering it to a friend or customer—you may use these guidelines.
How to Prepare Your Mattress for Shipping?
If you determine it's more affordable to transport your old mattress to your new address, you're not sure where to box it.
Here are the steps you can take to ensure your mattress is delivered to your new home without a hitch.
1. Determine the weight and size: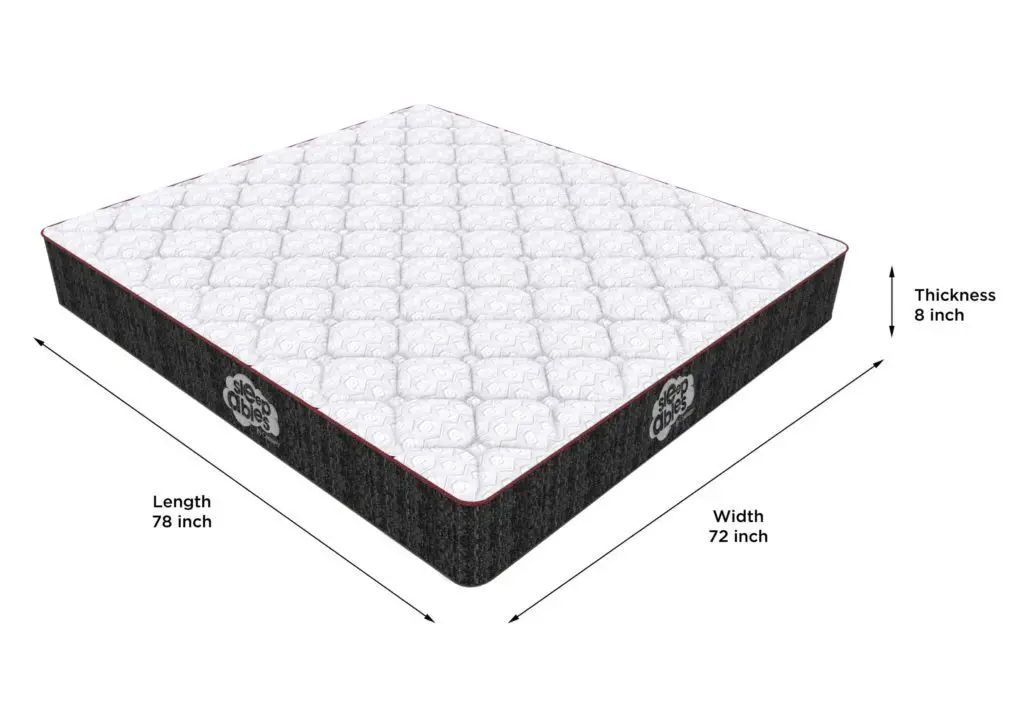 Generally, you should leave shipping your mattress until the last minute when relocating. You might lose your box spring and bed frame before you should, but you can probably keep your mattress on the floor until that time.
Shouldn't you think about this when you sleep?
But when it comes time to pack the last of your belongings, you should start by removing the mattress. Your pillows and comforters should be packed in separate bags.
If you want to preserve your room, purchase one of those vacuum storage bags and carry your vacuum with you right up until the last minute.
Your bedding should only be placed in a bag labelled "Laundry" because you won't have time to wash it before leaving. It will serve as a reminder for you to wash up as soon as you arrive at your new residence.
Once you have removed the sheets, measure the mattress.
A typical twin bed measures approximately 38 by 75 inches, so it should be the lightest and most affordable to ship the mattress.
Queen-sized mattresses start at 60 by 80 inches, so they will undoubtedly be more difficult to ship.
Of course, the dimensions are not as important as the weight of the mattress since most of them are foldable.
Normally, they weigh 60 to 125 pounds. After folding and securing your mattress, you'll find it's easy to weigh.
2. Determine the type of mattress:
The material the mattress is made of also plays a role in its weight, although its size can give you a rough idea of it.
Understanding the interior structure of your mattress is important for other reasons as well. It will also affect how you pack.
Finally, a memory foam mattress will be easier to roll or fold if you have one.
Thankfully, the majority of people today have mattresses that are softer, more flexible, and capable of holding their shape. Later, I'll show you some more ways to roll and fold them.
Mattresses with metal springs or a combination of foam and springs are slightly more sensitive.
Either ships them flat (perhaps even placed in a shipping container) or fold them gently. They should hold their shape for decades but don't worry, you can bend them anyway.
A spring mattress cannot be kept in that position for too long without risking deformation.
Your mattress may bend on its own even if the transport company moves it to an upright position. You may need to place it in a cardboard box or use other objects to support it.
Only the mattress business would have such a large package and even then, it would cost extra.
3. Buy a mattress bag: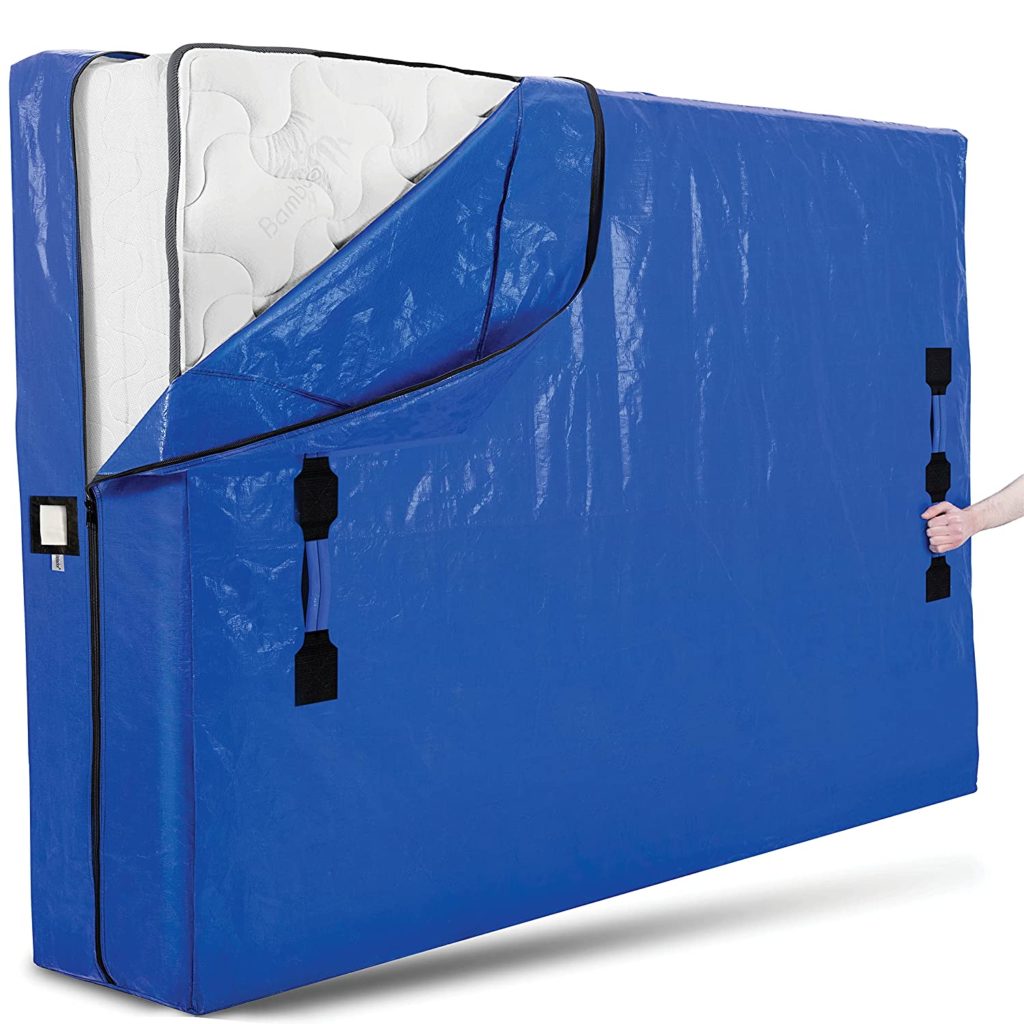 While we're on the subject of possible supplies let's take a look at the list of materials needed to properly roll, fold and secure your mattress.
Contamination is one thing we are particularly trying to avoid. Therefore, you should completely enclose your mattress in thick plastic to prevent dust, bacteria, or water from entering.
Buying a waterproof mattress case like this one will be the easiest method to ship your mattress. As you can see, the bag comes in a range of sizes and need to be sturdy and airtight.
Therefore, nothing should touch your mattress while it is being transported or whether you are storing it.
Take a sack that is about 3.5 mils thick (or thousandths of an inch); this is crucial.
A normal plastic sheet will also work if it is thick enough; However, you will also need to purchase a lot of wrapping tape.
4. Mattress packaging:
There is no need to place a traditional mattress bag on top of the mattress if you choose to use one. Place the mattress on the ground instead, and then move the bag from one side to the other.
You can avoid running back and forth and moving the bag slowly by asking a friend to do the same on the opposite side.
You can choose to fold the mattress in half after bagging it. To hold it in place, slide a tie strap or a strong rope down and tie the ends together.
Finally, tuck the ends of the mattress bag in and secure them with packing tape as needed.
If you choose to use thicker painter's plastic, instead of a hand, you can fold and secure the mattress first. After that, you can tape it and wrap it up.
5. Schedule a pickup:
Whether you're shipping your mattress across the country or just twenty miles away, don't choose the first provider you come across. Instead, ask without hesitation:
If the business sends you the weight and dimensions of your mattress.
How much it will cost to ship your mattress and what shipping category it will fall into?
How much does the business charge per mile (responses typically range from $0.70 to $2.50)?
Whether the cost of insurance is included or you must purchase it separately from the seller.
Benefits of Ship a Mattress:
First, let's talk about the benefits of transporting your mattress. I immediately remember three of them:
Shipping is safer than placing the mattress in the back of the car or on top of your car.
If you prepare it properly, the mattress will be clean and undamaged.
Shipping is less expensive than purchasing a new mattress, however, there are some unusual exceptions.
In actuality, there are a number of reasons why it is not a good idea to leave your mattress exposed in your car.
One, if it is not securely fastened, it can cause traffic problems or even accidents. This can obstruct your field of vision and create a strain that is bad for your fuel economy.
Additionally, if you don't cover the mattress, it will only absorb bacteria and dust.
Of course, the benefits I mentioned have some limitations.
Tying the mattress to the automobile in front of you is the most unpleasant and worst.
Sometimes the price of shipping exceeds the price of a brand-new mattress.
Generally, the size, weight, and classification of your package will determine the cost of delivery, so if ordering a new mattress directly from the manufacturer costs less shipping than shipping your old one, you should do it.
Also read: How To Choose Rug Size for Queen Bed?
FAQ- How to Ship a Mattress:
Q1. What is the cost of shipping a mattress?
As we can see, the least expensive choice is to deliver a mattress using USPS Retail Ground. The cost is $150.35, and it will take 2 to 9 working days to complete. However, Priority Mail Express 1-Day can quickly deliver your package if you require expedited shipping services.
Q2. Is it worth shipping an old mattress?
I would say no, but it would depend on how much a new mattress would cost compared to how much it would cost to send it to your location. If the cost of shipping the mattress is more than the cost of purchasing a new mattress, it is not worthwhile; however, if the converse is true, shipping the mattress would be less expensive.
Q3. Is the mattress foldable?
Depending on how it is made, your mattress may fold or bend. If your mattress has springs such as innerspring or hybrid springs, folding it can damage the springs. Mattresses made of memory foam, latex, and air foam can easily be folded or bent.
Also read: How to Break in a New Mattress?
Conclusion:
There are solutions if you've been complaining about how uneven and droopy it has gotten.
But if the unevenness of the mattress is causing you pain no matter what you should absolutely get a new one and replace the old one.
Here is some advice on acclimating to a new mattress.
I hope the advice provided may assist to ship a mattress to your new home.
Then, all you'll need is to determine where the beds should be placed in the new room.