Have you ever avoided a cream-colour sofa because you thought they dull your room style? They have seemed too sober or uptight to a confidant.
Others avoid them because they believe they are too high-maintenance, especially in a home where spills and dirt are prevalent.
But let's take your cream-coloured sofa idea for a spin, and see how fun and versatile it can be!
 You'll find plenty of ideas here for designing your cream colour sofa and styling your room, luxurious piece of furniture that can completely change a room is a traditional cream sofa.
Cream colour sofa exudes a sense of room style or freshness that few other colours can match, they can be used in a variety of interior design styles.
A cream sofa is a stylish and contemporary piece of furniture, but it is so neutral that it can be challenging to prevent other elements in the room from detracting from it.
You should read the whole article because we have discussed 7 ways to style a room with cream colour sofas in this article.
In addition, I've included some ways, tips, and DIYs for the style of a room with cream sofas.
Let's begin!
Decorating Style Ideas for Living Room with Cream Colour Sofa:
Cream sofas complement minimalist interiors beautifully which is an excellent opportunity for anyone looking to create a light, vibrant, and uncluttered room.
By using other colours such as blue and green or more neutral tones such as beige and brown, skilfully can produce stunning colour combinations for a variety of settings.
The cream also looks great with unusual colours like coral pink or burnt orange.
The cream sofa can be the focal point of luxurious texture and pattern combinations thanks to its versatility.
It is easily supplemented with accessories such as rugs and cushions, as well as living room foundations such as wallpaper.
The cream has an extraordinary ability to feel fresh and look intricate in almost any setting because it is such a subdued colour.
Adding a cream sofa to a living room makes it simple to change the colour scheme of the space with just a few small additions.
Leather and fabric are commonly used to cover cream sofas.
While some people might prefer a leather cream sofa for its toughness and ease of cleaning, fabric cream sofas offer a softer touch and a more luxurious feel.
The following other notable contrasts exist between cream leather and fabric sofas:
Leather is more stain- and spill-resistant.
Cleaning up with leather might be simpler.
Leather is typically more durable and likely to last a long time.
The fabric is particularly cosy and soft to the touch.
Fabric furniture may be simpler to replace.
A few more fabric fabrics can be removed completely and skilfully cleaned for larger cleaning tasks.
7 Ways to Style a Room with Cream Colour Sofa:
A cream sofa can be customized to fit a range of interior design aesthetics from traditional to modern and vibrant.
Understanding the final appearance, one wants to achieve and knowing how to best use various colours to finish a scheme is crucial.
The following ideas are recommended for living rooms with cream leather and fabric sofas:
1. Set Up a Living Room that Features Neutral Walls: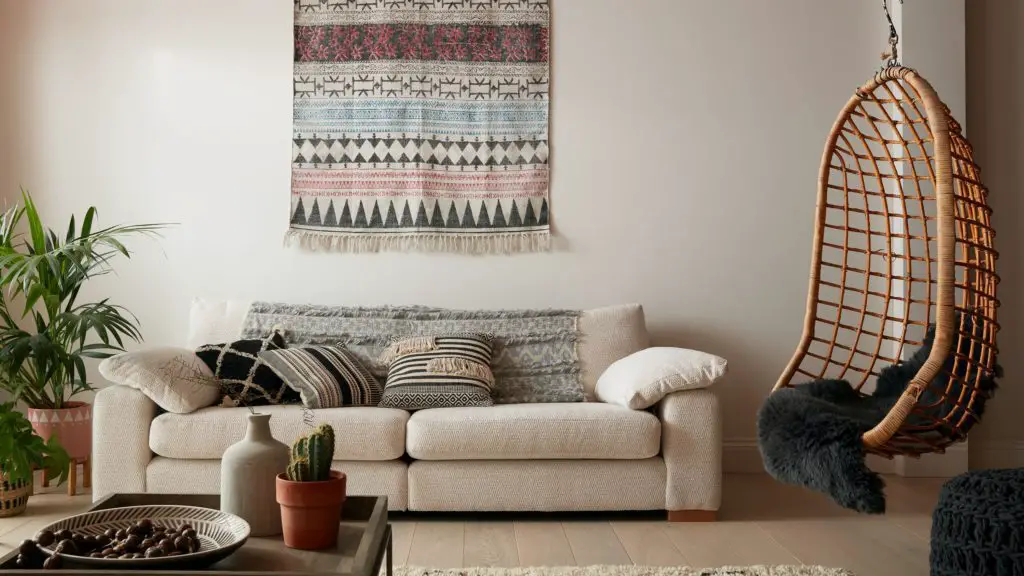 A pure appearance can be achieved with a neutral colour scheme and the subtlety and adaptability of a cream sofa.
One can create the impression that a space is larger and brighter by painting the entire room white.
To add cosiness to such a space, think about layering throws and cushions in other neutral colours on the sofa.
Colours like olive, tan and soft pink can be especially effective in producing this effect.
It's important to remember that a white and neutral colour scheme need not be boring.
For instance, introducing bold accents with the help of artwork, rugs, feature walls, or even variously coloured armchairs or chaise lounges is a great way to add more vibrancy to a room.
2. Add Gold Accents to the Design:
Adding gold accents will liven up any living room with a cream sofa, advancing the room and the sofa with a certain finesse and almost royal elegance.
Such gold accents also give the space a lavish flair that draws the eye.
 Gold should be used sparingly as too much could make the space appear gaudy or cluttered.
3. Create Contrast with Bold or Dark Shades:
A cream sofa can produce a variety of different aesthetics in a room when combined with colours that are rich, dark, and deep.
Statement colours like charcoal grey or deep purple can add a dramatic feel to a space when paired with soft furnishings of the same sort.
For example, if the wall behind the sofa is painted black or deep blue, the subtlety of the cream sofa will be enhanced.
Contrasting a cream sofa with bright, strong colours like warm reds, yellows, and oranges will instead give the space an exotic feel and make it feel livelier.
To help complete a striking look, one might think about adding a few finishing touches.
This might include an oriental rug with vibrant colours woven into it when positioned beneath the sofa will bring the colours of the living room together to form a harmonious whole.
4. Utilize Wooden Furniture to Style the Living Area:
A cream fabric sofa will stand out from the background when combined with wooden furniture.
A classic interior design technique that instantly creates a cosy and welcoming atmosphere in a room is pairing cream sofas with wooden furniture.
There are also ways to experiment with this style through the use of various wood materials, and colours.
For instance, pairing a cream sofa with a dark wooden coffee table will produce a cosy, elegant atmosphere. 
A light-coloured wooden coffee table will give the room a bright and airy appearance.
5. Use Curtains to Draw Attention:
Using curtains is an easy way to style a room with a cream sofa.
The colour and texture of the curtains can be changed, which will alter the mood of the entire space.
A cream sofa can go well with a variety of curtain colours, styles, textures, and fabrics because it is so adaptable.
One could choose blue or green curtains with the creamy colour of the sofa to give the space a bold aesthetic.
Dark curtains, like those in black or grey, will produce a contemporary, sleek appearance.
In contrast, a cream sofa and white or sheer curtains will fill the room with white and give it an impeccable sense of purity.
6. Dark Wall Paint or Wallpaper:
To add a contrasting component behind the cream sofa, you can also think about using wall paint or wallpaper that is a few tints darker.
Add lots of texture with items like wicker chairs, cement plant holders, baskets, and wooden side tables.
7. Add Artwork & More Seatings:
Use contrasting or monotoned artwork and put a lot of emphasis on it.
To create interesting layers in the space, scatter a few sculptures or figurines throughout.
When adding additional seating to the space (other than the cream sofa), go for bold, contrasting patterns or chairs or chaise lounges in colours that coordinate.
How to Care for Cream Colour Sofa to Style a Room?
Avoid eating or drinking while seated on the sofa, if at all possible.
Even so, take care not to spill anything or cause a stain on the couch.
Teach your pet to avoid this piece of furniture.
To keep it looking new, vacuum-clean it every two weeks with an attachment with extra-soft bristles.
Invest in a professional cleaning service at least once a year or every 6 months.
DIY for Stain Removal from Cream Colour Sofa:
An equal mixture of fresh lemon juice and cream of tartar will typically remove stains.
After applying the paste, wait 15 minutes.
Rub alcohol can be used to erase pen marks.
Wipe with a dry cloth to remove greasy or oily stains before cleaning with mild soap and water.
After using any cleaning product, rinse it with water and mild soap.
To remove any soap residue, use a clean, damp piece of fabric.
Immediately use a soft cloth to dry the area.
Another piece of advice: Before using any new cleaning product or chemical, test it on the lower back of the couch.
Tips For Buying a Cream-Colored Sofa:
Make your decision based on the usage frequency, your personal preferences, and the other furniture and accents in your home.
Sofa Composition:
Select a leather, faux leather, fabric-covered, or wooden sofa with cream upholstery.
Select natural fibres like silk, wool, or plant-based cotton and linen over synthetic fabrics like polyester or nylon.
Sofa Styles:
Sofa designs include loveseats, sectionals, modular sofas, sofa beds, and futons.
Choose Tuxedo sofas, high-back, camel-back, wing-back, or barrel-backed sofas or those with a straight back.
Also read: Grey Flooring Living Room Ideas!
FAQ: How to Style a Room with Cream Colour Sofa?
Q1. What colours go with a cream sofa?
Light, dark, or teakwood-toned wood all complement cream sofas.
They are also effective with all other materials including metal and wicker.
Use contrasting or monotoned artwork and put a lot of emphasis on it.
To create interesting layers in the space, scatter a few sculptures or figurines throughout.
Q2: Does cream go well with grey?
Grey and cream are a contemporary duo that is used to make a calming, gender-neutral colour scheme.
The two colours can be integrated into various ways to suit the functionality of the room when they are properly balanced and work well in almost any room of the house.
Q3. How can I improve the appearance of my cream sofa?
Add colour to the walls or a lot of accent pieces if you want your cream couch to stand out.
When combined, complementary colours are especially aesthetically pleasing and dynamic.
The orange pillows and blue walls will help draw attention to your sofa.
Additionally, complementary hues help a space feel balanced.
Also read: How To Repair Peeling Leather Couch?
Conclusion:
That's it! Follow these seven simple ways to style a room with cream colour sofa.
In addition, I have included some useful tips and DIYs in this post on Stain removal from the cream colour sofa.
In a living room, cream sofas make a stylish and versatile focal point and are frequently regarded as the pinnacle of lavishness.
Cream sofas are a timeless choice, but depending on how they are styled can produce vibrant and modern interior decor compositions.
Have you explored any of these ways of styling your sofas? Please post your ideas in the comment section below.