Modern mirror design ideas don't typically come to mind when discussing dining room decor, but they should not be the last!
Any dining room would benefit from having mirrors, they may alter the appearance of your space, particularly if it is small.
A large mirror cannot be placed in a small room since it will make the space appear even smaller.
Additionally, a little mirror will look out of place in a vast area therefore pick the ideal mirror for your dining area in terms of both size and style.
The question is to find the size, style, and colour of the mirror in your dining room.
Therefore, read this article entirety because I've provided the top 11 modern dining room mirror design ideas.
I've also given you some advice to choose the perfect mirror for your dining area.
So, let's get going!
Mirror Position in Your Dining Room:
The positioning of your dining room's mirrors can make or break the room's appearance.
While the proper arrangement can provide visual interest and make the space appear larger, the incorrect placement can give the area an imbalanced appearance.
It can be difficult to choose the perfect spot for a mirror in your dining area.
These list justifications for replacing mirrors in your dining room:
Give the area a fresh look:
If you're tired of the way your dining room looks, try shifting the mirror to a different location.
Make the space appear bigger:
A mirror placed across from a window will reflect light, giving the impression that the space is lighter and larger.
Increase the room's aesthetic appeal:
A unique mirror can boost up a dining room, especially if it is positioned there.
11 Modern Dining Room Mirror Design Ideas: Create a pleasant dining space!
A contemporary mirror is necessary for a contemporary dining room!
Here are the 9 top modern dining room mirror ideas to make your dining room more enjoyable!
1. To give a large mirror individuality and visual intrigue, use colourful frames:
Family and friends assemble in the dining room the most significant space in the home to enjoy meals and special occasions.
If your dining area needs an update, consider adding colourful frames to a huge mirror.
This easy yet effective project will give the space personality and visual intrigue.
Create a unique collage with frames of varying sizes and shapes or stick to a single-colour scheme for a more cohesive look.
Choose frames that are classic and elegant because the dining room is often a formal setting.
Another smart move is to maintain symmetry in your design.
2. Place a mirror over your table or sideboard to reflect light and provide the illusion of more space:
In a dining room, people come together to share meals and create lasting memories.
The atmosphere you want to create for a dinner party or family reunion may be totally determined by the decor.
Few things are as chic and sophisticated as a contemporary dining room.
To create this, look in your own house, you'll need a few key components.
 You'll need a gorgeous buffet or sideboard, but it can also make the room's visual centre more prominent.
To make the buffet stand out, you ought to hang a mirror over it.
The mirror will reflect light, giving the impression that the room is larger.
Although it's a simple method for modern dining room mirror design ideas, it can significantly alter the appearance of your dining area.
3. Install a mirror behind your dining table to enlarge and brighten the space:
The dining room is the most frequently disregarded space in a home.
It can also be used to reflect other design elements in the room, such as a focal piece of art or a statement light fixture.
Installing a mirror behind the table is one technique to brighten up and make a dining area appear larger.
Reflected light from mirrors instantly brightens the space.
It can also be used to reflect other design components in the space, such as a statement light fixture or piece of art.
Also, they give the appearance of greater space, which is helpful in tiny dining rooms.
4. Select a distinctive design or shape for your mirrors, such as an arched or round mirror:
Mirrors readily provide aesthetic value and functionality to any room in your home.
In addition to reflecting light that gives the impression of more space, mirrors can draw attention to other architectural elements in space or serve as a focal point.
It's crucial to take both form and function into consideration when selecting mirrors for your house.
Mirrors with arches are a common choice for dining room design.
They can offer a sense of refinement to the room, and their distinctive design can work to give the impression that the room is larger.
A common choice for dining room décor is round mirrors.
They can contribute to a more contemporary appearance, and their shape can make tiny areas appear larger.
5. Make Interesting Focal Points with Mirrors in Your Dining Room:
Mirrors are a fantastic way to give a dining area depth and interest.
A large mirror on one wall can give the impression that the room is larger, and a collection of smaller mirrors can offer visual interest.
Any home can benefit from the elegant and useful addition of a dining room mirror.
Mirrors have multiple uses including creating eye-catching focal points, light reflection, and the illusion of space.
6. Geometric mirrors In Modern Dining Rooms:
 Adding some edge to your modern dining room is a fantastic approach to freshening it up.
An angular design really shines out in a contemporary space.
A mirror serves both as decoration and as functional furniture is another way to incorporate that geometric style into a contemporary space.
The ideal illustration is this accent mirror.
This modern dining room mirror design ideas are a modern interpretation of a mirror and look wonderful in a dining area with a contemporary design.
Its distinctive appearance effortlessly establishes harmony with the other furniture.
7. Add decorative accents to the area around the mirror, like plants, artwork, or sconces:
Family and friends can congregate in a dining room to enjoy a meal and stimulate discussion.
Everyone should have ample room to spread out and relax in a friendly and pleasant setting.
Decorating the area around the mirror is one method to make the dining room feel cosy and welcoming.
Sconces, artwork, and plants contribute to a contemporary aesthetic that is both chic and welcoming.
By placing these items close to the mirror, you may reflect light and give the space a lighter, airier sense.
8. Hang several mirrors together to produce a dramatic effect: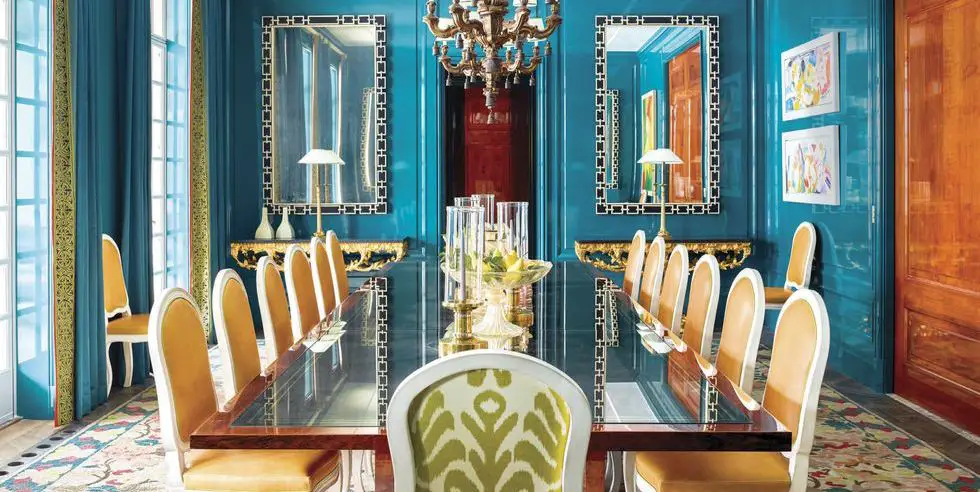 A dining room is a terrific area to host special events and entertain visitors.
To give your dining area a contemporary facelift, think about hanging multiple mirrors in a row.
This straightforward design technique can drastically alter the room's appearance and atmosphere.
Mirrors bounce light back into the room, making it appear lighter and bigger.
They also give the appearance of additional space, which is perfect for modern dining room mirror design ideas with limited space.
Mirrors can offer a touch of glitz and may transform even the most basic dining room into a stylish party area.
9. A Yin Yang Mirror Set Looks Great in a Bohemian Dining Room:
It is crucial to establish harmony and tranquillity in the family.
The better way to decorate your dining area with the yin-yang, a representation of harmony and balance?
And this mirror is the ideal finishing touch for a bohemian-styled dining room.
This serene yin-yang mirror will probably work if you're looking for something more aesthetic than functional.
It can help you design the house of your dreams when combined with wall art.
10. To Create a laid-back, relaxed appearance, lean a mirror against a wall:
For a modern twist on traditional decor, try leaning a mirror against the wall in your dining room.
They can be utilized to enhance aesthetic interest in addition to aiding in light reflection and expanding the perception of space.
Finding a mirror that matches your design aesthetic is simple because they come in a number of sizes and forms.
Consider hanging a variety of tiny and large, different-shaped mirrors on one wall for a contemporary appearance.
By arranging mirrors in a cluster above a buffet or sideboard, you may also employ mirrors to make a focal point.
Alternatively, you might put a big mirror on an empty wall for a more dramatic impact.
11. Lean A Mirror Against the Wall for A Casual, Relaxed Look: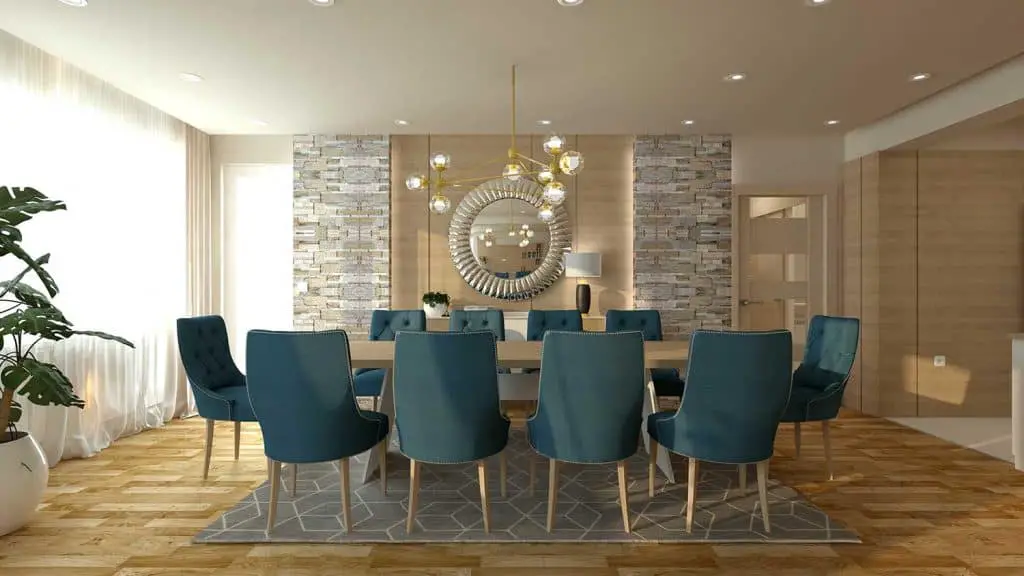 Try leaning a mirror against the wall in your dining area for a contemporary spin on conventional design.
This comfortable, informal style is great for entertaining that might give the impression that your dining area is larger.
A cheerful and welcoming environment will be created in the space thanks to the reflected surface of the mirror.
Select a mirror with clean lines and a basic frame for your project.
In this situation, a round or oval mirror might also be suitable and the mirror against an uncluttered wall for optimal results.
Your dining room's mirror will become the centre of attention if you keep things organized.
FAQ- Modern Dining Room Mirror Design Ideas:
Q1. What size mirror should be in the dining room?
Choosing a mirror that is approximately two-thirds the size of the furniture it will be hanging above is a wise rule of thumb (or eye).
Q2. How much does a contemporary dining room mirror cost?
A modern dining room mirror's cost varies depending on its size, style, and construction materials.
They typically cost between $100 and $500.
Q3. Can a mirror really enlarge the appearance of a dining room?
Yes, a mirror can give the appearance that a dining area is larger.
A dining room mirror can reflect light, making it look like there is more space.
As a result, mirrors are frequently employed in tiny rooms to give the appearance of a larger space.
Conclusion:
These are the 11 best modern dining room mirror design ideas that you can utilize to beautify and elevate your dining space.
However, you must consider the size and design of your dining area before choosing any of these options.
Also, keep in mind that mirrors can be used to reflect light and give the appearance of extra space in addition to enhancing a place's aesthetics.
Remember to reposition the mirror in your dining room in accordance with your requirements and preferences.
We hope you found this article interesting!