If you're wondering what colors go with a black sofa, you can always choose soft or "laid-back" colors.
You must use neutral colours because you want to highlight the black sofa and make it the centre of attention.
We'll also explain which colors to stay away from to create your black couch standout.
This article offers comprehensive stylistic tips on decorating a room with black furniture.
So, without further ado, get your notepads and start writing down these tips for designing a black sofa!
What Colors Shades Work Best with a Black Sofa?
In many cultures, black is considered to be a "sad color."
According to color psychology, people perceive black as a dismal color because it is so closely related to authority and power.
It makes things seem scary or unapproachable.
Though it can seem catastrophic, taking a black sofa home is not a bad idea.
To make the area more appealing, add accent colors and arrange it in a way that makes it seem comfortable.
We'll go through several color schemes and fabric choices that go well with black sofas in this section.
To design the perfect room, match many alternatives from each color palette and fabric category.
1. Earth tones and whites: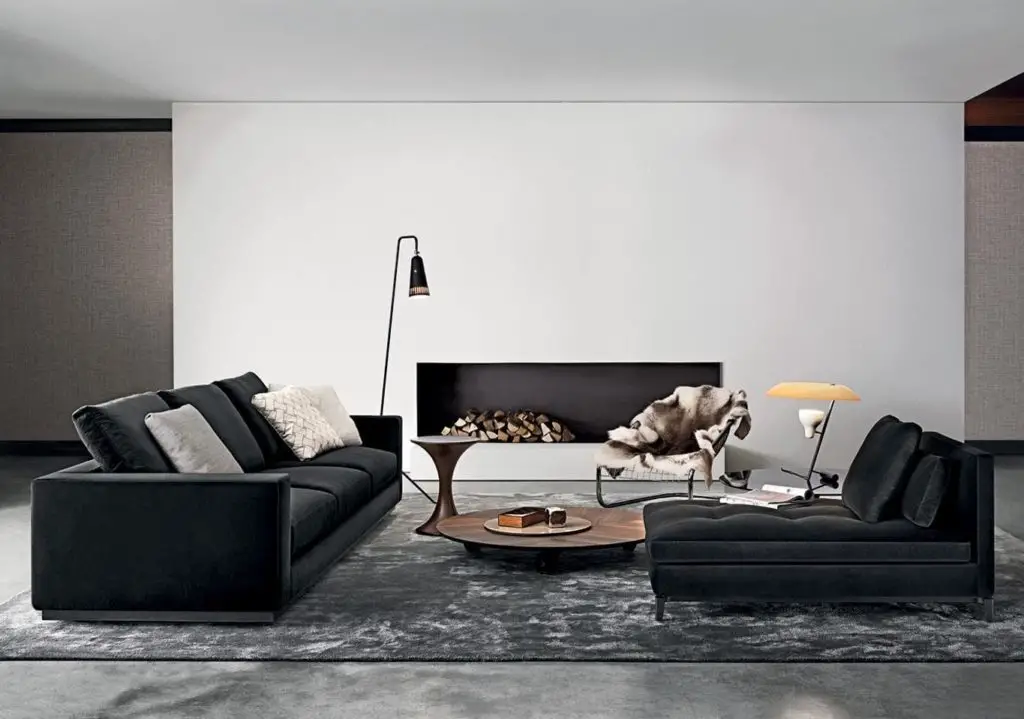 As was previously mentioned, earth tones like beige, cream, white, and off-white work well with dark sofas.
You can use these colors pretty readily, and they complement practically every type of design.
The couch can be the focal point of the space because of the earthy and white color scheme.
2. Pastel shades: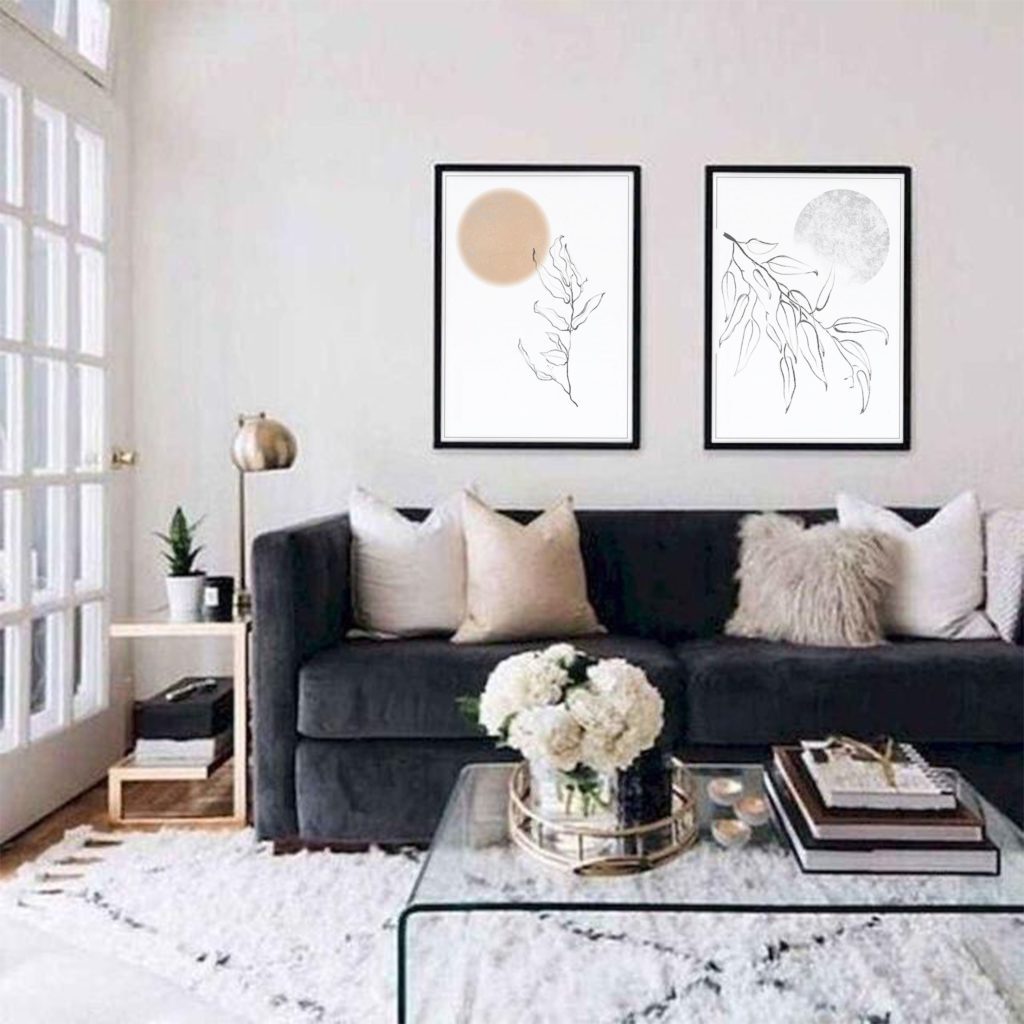 The room will be softened by these colors.
The best pastel hues to pair with a black sofa are pale peach, pale yellow, pale green, and pale blue.
You can paint the walls with these pastel hues and add tasteful accent pieces of furniture and decor.
Combine that with a black couch to make a comfortable and friendly atmosphere!
3. Velvet Furniture:
Add velvet to a black sofa for a classy look.
To give the space a refined atmosphere, choose gem-toned paints like sapphire, emerald, and ruby.
These hues can be used on velvet side tables, velvet throw cushions, and velvet chairs.
If you don't like the idea of a room covered entirely in velvet, think about starting small with just a few velvets throw cushions.
Before you know it, you might be purchasing a velvet couch!
4. Fabrics made of linen:
A room feels airier with linen.
Particularly white or beige linen is typically simple to clean.
By including linen cushions, a dark couch is made lighter and the room is softened.
It feels a little more relaxed as a result.
5. Grey or monochromatic color schemes:
Use a monochrome design scheme in your space if you want to make a powerful statement.
To match the black sofa, avoid using too much black, but make sure to leave plenty of room for doubt.
When numerous shades of the same colors, the space becomes monochromatic preferably a neutral color is used together with a black sofa.
The ambience in monochromatic settings is frequently more upscale and solemn.
6. Cozy Rugs, Blankets, and Throw Pillows:
Almost any style of decor benefits from the addition of a rug, which unifies the entire space.
Light grey carpets look best when paired with a black sofa.
Choose a blanket color that complements the furnishings in your room.
For a more feminine touch, add a pink rug.
If you want to make the couch look more contemporary and opulent, cover it with a white faux fur blanket.
Add some metal-toned pillows to the black sofa if you enjoy the industrial look.
Another great way to assemble a room is with throw pillows, especially when a statement couch like a black couch is present.
 This is a suggested tool to help the design's feel come through even more for numerous design types.
7. Hygge Decor:
Many Scandinavian design elements and customs have been adopted into the interiors of contemporary homes all over the world as the idea of "Hygge" has grown in popularity in recent years.
Some of these elements work particularly well with a black sofa.
A living area will seem warm, pleasant, and comfortable when rustic wood and semi-raw materials are paired with minimalist designs and draped with chunky-knit throws.
This will give any place a touch of Nordic charm.
Such decor may be ideal for a country house and look great in a space that receives natural light during the day and is ignited at night by a fire's shimmering embers or soft golden lighting.
8. Rustic Elegance:
Consider making a black sofa the centre point of an industrial chic living space for a similar rustic vibe that is more appropriate for an urban setting.
This aesthetic is particularly popular with huge and contemporary city flats.
A strategically positioned black sofa may add a sense of refinement and balance to stark interiors like those with whitewashed or exposed brick walls, metal accents like brass and copper, and lots of natural light.
This can go especially well with a black-and-white photography-based monochromatic color palette boosted by Edison bulbs and wire cage lighting fixtures.
Consider adding pillows and rugs with warm earthy tones, sculptural decor and subdued pops of color in such a setting.
9. Feminine Design:
The chandelier is a bouquet of new flowers and a black leather couch with tufting!
 These are the classic feminine accents.
 Pink is a popular color for girls, and pink pillows on a black leather sofa can make a space feel playful and feminine.
Additionally, combining a few peachy colors might give the black sofa in the living area a slightly girly appearance.
And don't forget to add flowery artwork and a vase of vibrant pink flowers to the decor.
What is the Best Way to Decorate a Living Room with a Black Couch?
There are many ways to decorate a living room with a black couch.
The style you wish to stick with is the most crucial decision you make when designing your decor.
The fabrics and colors you should use will depend accordingly.
For a more detailed look at the ideal hues and materials to pair with a black couch, go to the list of bullet points.
Modern style:
Use metal accent pieces, vibrantly colored throw pillows on the couch, and colourful wall art for a modern look.
Industrial-style:
Use dark green leafy plants, black or dark-grey furniture, and white throw cushions with line art to create an industrial-style interior.
Feminine touches: 
A fake crystal chandelier, white faux fur, bright pink accents, and fresh flowers are examples of feminine embellishments.
Neutral-Style:
Outfit the space with leather or linen-upholstered furniture, light-coloured throw pillows, and a fuzzy rug in a cream tint.
Elegant-Style:
Add a large chandelier, velvet throw pillows, faux fur rugs, and substantial oak end or coffee tables for an elegant look.
Airy style:
Open windows will let light into an airy-styled room.
To give a room a pleasant vibe, add touches in light green and blue as well as relaxing scents.
Bohemian-style:
Incorporate unusual art that sticks to earthy tones, utilize a variety of textures throughout the space, and add throw pillows with striking patterns.
Of course, a black couch can be used in a variety of various styles, you may even combine components from each style if you like!
Tips and things to think about before buying a black sofa:
As with any design project, there are a few variables to consider to guarantee that the end result is something you appreciate.
Determine whether the accent color you choose is appropriate for the room's tone.
Before buying an accent rug, be careful to measure the space to prevent dominating the space or buying a tiny rug.
Decide on your design aesthetic before you start buying things.
Try out a few swatches of different colors to see which color scheme complements the black sofa the best.
Think about whether the sofa's fabric goes well with the other fabrics in the room.
Make sure the flowers you purchase are fake if you want to liven up the area.
FAQ: What Colors Go with a Black Sofa?
Q1. What shade of curtains looks best with a black sofa?
The fashion approach you choose also affects another design choice.
If you want a bright, breezy environment remove the curtains and prioritize the natural light.
If you decide to add curtains, choose gentle hues that won't make the space feel cramped.
Choosing a lighter shade also returns attention to the sofa.
Q2. What shade of rug is best with a black sofa?
In rooms with real or fake hardwood flooring, black sofas look their finest.
A wonderful choice includes an accent rug in practically any area that has a sofa.
The best carpet colors for a room with a black sofa are light grey, white, or cream.
Q3. Are black furnishings bad?
There is no one "wrong" shade for furnishings but some colors could be more challenging to decorate.
Dark furniture can give a space a closed-in feeling, it can also appear smaller and more crowded.
Overall, the furniture is neither shoddy nor elegant.
Different pieces of furniture and colors go better with a room's form, size, and style than others.
Conclusion:
The greatest choice for designing a space with a black sofa is typical bright colors.
Pairing a particular fabric like velvet or faux fur will enhance the space even more if done in the right colour scheme.
You can also combine other light-coloured fabrics and colors, this creates a unique environment that nonetheless seems welcoming and open.
Utilize accent pieces of furniture and accent colours to give the space a brighter appearance!
We hope that this article has given you the artistic motivation you require to maximise the use of your black sofa.
If you think about some of these ideas, you'll probably have the perfect area.