The first item that you see when you enter your house is known as an entrance or a foyer, this area can be small or large but leaves a huge impression.
After entering via the entrance door, one enters the foyer that is located at the front of the house, it connects the home's entrance door and interior rooms.
Some entrances offer the feel of a room, while others resemble halls (in certain circumstances, these are referred to as "entryways" rather than "foyers").
With time and usage, the terms foyer, entrance hall, and hallway have come to be used interchangeably.
They were typically used to accommodate guests waiting to meet the home's owners, visitors were instructed to wait in the lobby while butlers or maids brought the proprietors.
These rooms are now utilized in large homes and apartments as an appealing introduction to the decor of the entire space.
Today, we'll provide you with a tonne of design ideas while addressing a crucial query about the unique qualities of this area and how to beautify it.
Let's go!
Importance of Foyer Designs:
Foyer design can be simple, especially if you consider the size of the space.
The nicest thing about decorating a foyer is that it needs a specific set of furniture and home accessories.
The goal is to fit these items of home decor into the foyer without overcrowding it or utilizing the floor space.
The storage space needed for coats, hats, and other goods should be taken into consideration while designing.
Other essential components include carpets or rugs, wall decorations like paintings or picture frames, ornamental objects like vases, hanging or pendant lights, seats or benches, console tables, or shelving.
How to Make a Foyer in an Open Living Room?
An open-plan living room presents special obstacles in a bigger, open area making an entrance track essential not difficult.
You'll need to add necessary pieces and define the living area using tried-and-true techniques.
Traditional Chandelier: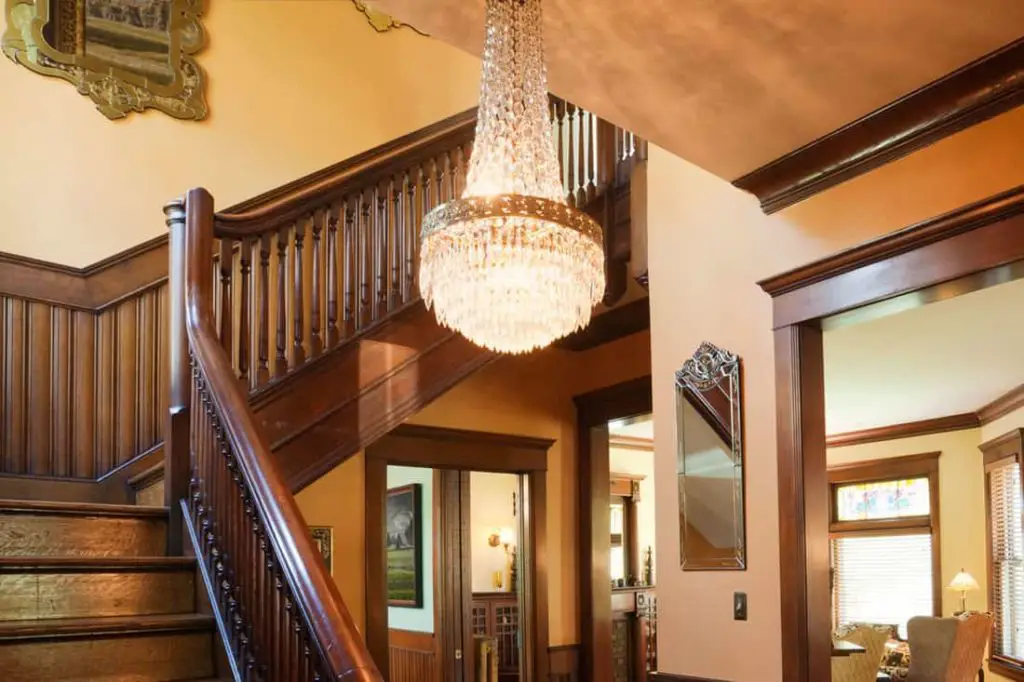 Even when they are made in a classic method, chandeliers don't always feature hanging crystals.
There is a large chandelier, but it lacks glitter.
It has a delicate aesthetic that fits perfectly with the decor on the walls and the ambience of the house.
Foyer Storage: 
A foyer needs storage, so figure out how to fit everything in there without taking up unnecessary room on the floor.
Add Carpet:
When creating a foyer, remember to include a rug or carpet, a table, wall art, and ornamental things like vases.
Pick a rug or carpet with a design that warms the room when making your selection.
Foyer Table:
A console table or a round table can also be added as a foyer table.
You can position it against a wall or in a corner.
Decorate the table with candles, vases, and other accent items that you find appealing and appropriate for this area.
Wall Designs:
Pay attention to the walls.
The foyer can benefit from a framed mirror, but you can also use artwork or handcrafted DIY items to embellish this area.
Choose Your Lighting:
Do not neglect the illumination either.
If the foyer has high ceilings, a chandelier or pendant light can be hung.
Additionally, sconces can be wall-mounted in strategic locations like next to mirrors.
Foyer Tile:
While you might assume that the flooring must remain classic, there are many inventive ways to use floor tiles.
This tile in black and white is gorgeous.
Due to the monochromatic colour scheme, it produces a stylish yet contemporary foyer that can be adorned in any manner.
Mirrors:
Mirrors are excellent because they not only brighten and enlarge a room but also reflect light to make it appear brighter, which is precisely how you want your foyer to appear to guests as they enter.
Use mirrors with a large width or diameter or vertically lengthy.
Idol Statues:
Depending on your religion, you can place statues of deities in your foyer.
These aid in bringing happiness and good energy to the area.
Your guests will be able to tell where your passion and faith are located the moment they step inside your home.
Ideas for Foyer Plants:
A fantastic method to make a foyer feel cosier and welcome are to have plants there.
 There are numerous traditional available that are very minimal maintenance and remain evergreen perennially.
Choose tall plants in unusual vases like a Meyer lemon tree or a fiddle-leaf fig tree.
These are excellent indoor plants that look wonderful all year long.
Rugs and Carpets:
Rugs and carpets are a requirement for every foyer, and their addition completes the design.
They serve as dirt traps for people's shoes as they enter your home and also give a splash of colour.
Designing a French-style foyer: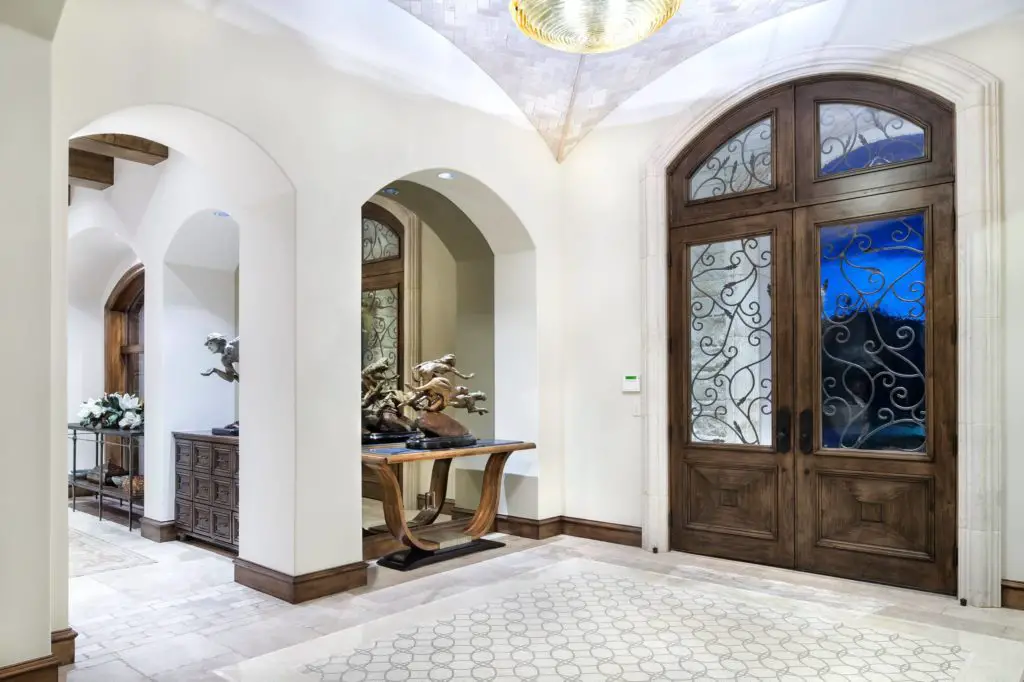 A French aesthetic is very elaborate, exquisite, and full of extravagant house furnishings.
Choose furniture that exudes elegance if you want to decorate your entryway designs in a French manner.
Consider using white-washed wood and neutral or white-based wall colours.
A shoe rack:
As you often remove your shoes, a shoe rack is an ideal piece of foyer furniture.
Keeping all of your shoes in one location and placing a piece of furniture as part of your home decor just outside your front door is a solution-driven component of keeping your shoes close to the entrance to your house.
Foyer & Entrance:
A foyer may or may not be present at a home's entrance.
Not every entryway has a welcome appearance.
Entrance to the foyer:
When a lobby has been remodelled with areas for guests to wait, sit, or look about.
By including a design that may best utilize the space in this way during construction, many individuals use the entryway of their house or apartment as a foyer.
In foyers, one will often find a large lamp, a bench or chairs, a table, a coat rack, etc.
To keep guests entertained while they wait, hotel lobbies frequently contain amenities in their foyers.
An entrance doesn't always need to be made attractive, it could merely be an entrance or exit into another area.
Foyer Length:
The general rule of thumb when it comes to entryway size is that they should be between 2 and 4 per cent of the overall square footage of your property.
Large Area:
Foyer spaces are typically fairly opulent and large.
A large house would feature a large foyer whether it is single or double-storeyed.
Their sizes are large and impressive ranging from 20 to 30 feet, the average size is frequently scaled at 6 feet.
Small Area:
Choose the part of the doorway to turn into a foyer space based on the size of your home.
You can create a pretty tiny space by applying optical tricks.
Add some furniture to the area around the entrance to give it the appearance of a waiting area.
FAQ: What is Foyer in House?
Q1. How do an entryway and a foyer differ from one another?
The entryway is an opening or passage providing entry into a building, whereas a foyer is a lobby, corridor, or waiting area used in a hotel, theatre, or other structure.
Q2. Is a closet necessary in a foyer?
No, a front entry closet isn't necessary, to put it bluntly.
Q3. What Components Should Be in a Foyer?
The three components of a foyer are a chandelier, a rug, and a table.
Your room will determine its shape and size.
All three might not fit in the same space.
Conclusion:
Visitors enter your home through the entryway, which is the first room they see.
Unlike a dining room, people don't spend much time in entryways thus they are frequently disregarded.
Young people might believe that the area is not important, but this perception is changing.
Build a big entrance with a grand stairway if you have the room.
Your home will be able to provide the finest possible first impression, while other entryways in your house don't need as much maintenance.
This demonstrates the value of a foyer and the effects it may have on your house.