Box spring has been around for a long time, but they aren't the most practical or pleasant mattress alternatives choice.
They are heavy, and thick, and take up a lot of room. Since it's hard to move into a new home with a box spring, why not do something fresh?
So, what are the finest choices for box springs?
In this post, you'll learn whether you need box spring alternatives in your bed, why many people choose to get rid of them, and how to make your own DIY box spring option at home.
Let's move on to the information that will assist you to set up your new bed without further ado.
Box Spring Alternatives for a Healthy Natural Rest:
1. Timber slats:
Wooden slats are a cosy substitute for box springs that offer superior support.
They provide a strong barrier that can support hundreds of pounds by spanning the bottom of a frame made of wood, metal, or plastic.
 The mattress is placed on top of a wooden slat framework, which uniformly distributes the weight and prevents any of the boards from breaking.
One of its best qualities is that hardwood slats are extremely lightweight and reasonably priced.
 If you find it difficult to carry a box spring in tow, the portability of wooden slat frames will win you over.
Without any effort, they can be changed, carried, and replaced.
2. Memory foam base:
The memory foam base is another box spring alternatives.
A memory foam mattress may be used on its own or with another base.
 Some people prefer to buy a thicker, firm memory foam mattress that acts as a platform and then top it with a traditionally softer memory foam mattress.
There are many options available.
Memory foam bases are portable, like wooden slats.
They are flexible, making them easy to bend and fit where you want.
It can also be wrapped in a washable sheet to keep the foam clean.
3. Steel frame base:
A metal foundation structure is a great option if you want something affordable and simple to maintain.
The only drawback is that they are prone to rusting and chipping (unless they are painted or powder coated), but you can avoid these problems by regularly wiping them with moisture.
 Having said that, metal frames are capable of supporting huge beds without ever collapsing at any moment.
Metal foundation frames are another option to think about if you want to save money.
They are great alternatives for apartments, new families, and dormitories as most of them are not as expensive as box spring.
4. Floor:
The designs and sizes of mattresses have expanded recently, they range in firmness from very firm to very mild.
If you can do it, lay a firm mattress straight on the ground.
If you already have back problems, the only challenge will be getting out of bed, although many people find it easier to sleep on the floor.
The most affordable option is undoubtedly to use the floor as a support layer under your bed.
After all, it's free!
However, you can place a blanket underneath to provide some comfort and make it easier to clean when needed.
5. Mattresses with innerspring: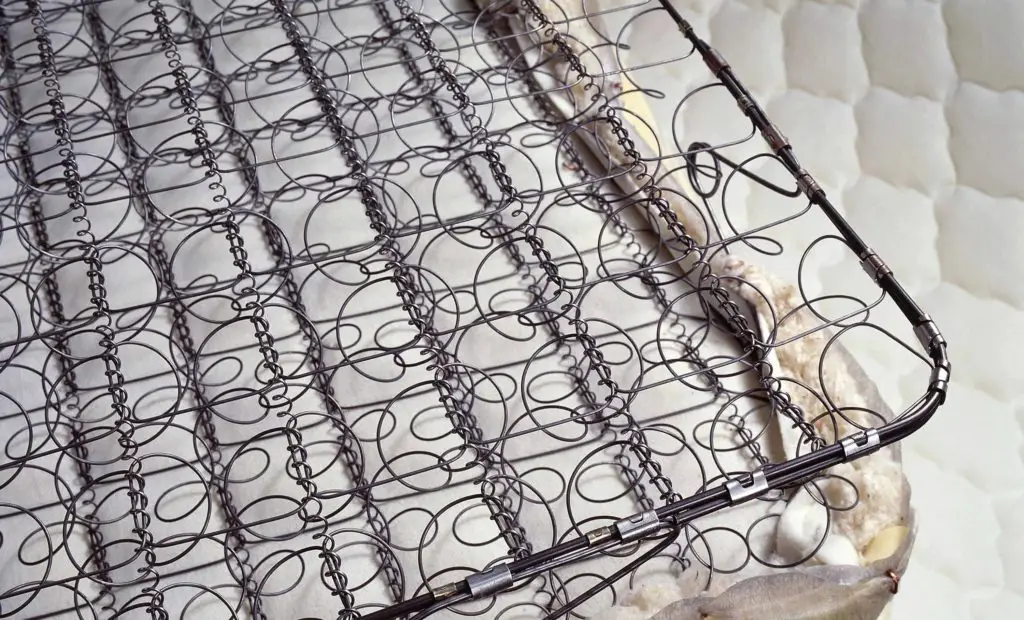 The worst mattress for comfort and back pain is the innerspring mattress.
We all stayed in a budget hotel and slept on coil beds dug deep into our backs.
 However, cotton and other materials help to significantly improve innerspring mattresses in terms of comfort.
The best of both worlds is possible!
People use box spring alternatives because they want a stable foundation under their mattresses.
The bed contains inbuilt springs when using an innerspring mattress.
It already provides all the necessary support, so you won't need anything underneath.
6. Mattress hybrids:
Hybrid mattresses are created by fusing the comfort of memory foam with an innerspring mattress base.
If using an innerspring mattress makes you feel a bit uncomfortable then a hybrid bed is worth considering.
 To prevent you from feeling the springs, they include tiny coils and countless layers of plush, soft memory foam.
Another thing to think about is the fact that a hybrid mattress does not require a base.
You don't need to put it on box springs, wooden slats, or metal frames to meet your back needs.
7. Bed on the platform:
A platform bed has a sturdy platform that raises the bed.
Platform beds are often made of wood, although there are also many plastic and metal versions.
The best thing about these bags is how stylish and contemporary, you can choose the height it sits at and the amount of storage offered below.
 Platform beds come in a wide range of pricing despite being quite hefty and challenging to move whether you have $200 or $2,000 to spend, there is a style for you.
They will not tear or disintegrate as easily as other types of beds because they are often made of stronger materials.
8. Futons:
Although futons aren't known for their lavish looks, they can be the best option in a pinch.
If you choose the right type of mattress for the top, you will sleep better than ever.
In addition, it can be turned into a bed whenever you want, which is convenient for watching TV or hosting friends.
In that regard, futons are ideal for guest rooms.
Futons have the same price range as platform beds, even with a limited budget, you can still get a lovely futon.
The mattress that comes with the frame can always be thrown away and if you don't like it, just put another mattress on top.
Is a box spring necessary?
The best support is what box springs are designed to offer.
No one questions the functionality of box springs, but they are not always comfortable, pleasant, or economical.
Regardless of your motivation, you don't need box spring alternatives.
All bed frames and mattresses mentioned above work well, except for box springs.
Some of them were designed from the start to not require a box spring.
A box spring is only necessary if your bed rots. It's a major issue when mattresses sag or bend in the middle.
You will need something to hold it up if there are no supporting coils or layers to prevent it from sagging.
On these types of mattresses without a box spring, you'll feel like you're sinking where you usually dive.
Anytime you have a mattress with a permanent divot in the centre or on one side, it's safe to assume it's designed to work with a box spring.
Why don't some people use box springs?
Although box springs have their uses, they can be inconvenient for some of us.
 One of these five factors is probably on your mind if you're looking to replace your old box spring with a new bed from the aforementioned list:
It is bulky and difficult to move. A box spring has to stay where you put it for a few years before you have the guts and determination to move it. This difficulty makes moving into a new house or apartment very difficult.
They are not always comfortable. Although the supporting capacity of a box spring is excellent, there are instances when it becomes excessive. Men's Health reports that many men find that sleeping on the floor provides more support than a box spring without back pain in the morning.
Box springs cost a lot of money. The lowest model costs a little more than $100, but they are not comfortable enough. Spend at least $350 to $500 or more on a good box spring if you want a durable and supportive box.
Box springs are no longer necessary for many mattresses. You won't need a box spring as often as you once did, whether you choose a hybrid mattress or a bed made with deep memory foam. The convenience of saving money, time, and irritation are enough to convince most people to ditch box springs forever.
Storage is not provided by box springs.  The thought of employing a box spring seems rather constricting when wooden slats, metal frames, futons, and anything else can be tossed below platform beds. The lack of storage space beneath can be a major issue if you live in a tiny place.
DIY Box Spring Alternatives:
You can always try to make your own if you don't want to try any of the box spring substitutes given at the start of the piece.
For those of you who are adept at using tools and doing straightforward repairs, these DIY projects won't be challenging. The milk carton idea doesn't even call for any instruments!
Here are three ways you can construct your bed frame at home:
Timber frame:
A wooden frame can be created at any level of complexity.
A few 2 x 4s and a 1-inch wood board can be screwed on and the project is done but you should consider looking at some other layouts.
As long as it has enough support to support the weight of your mattress, you can build a sturdy wooden frame.
The two best solutions are to build wooden slats out of 2 x 4s or lay a solid wooden board on top.
Cylinder blocks: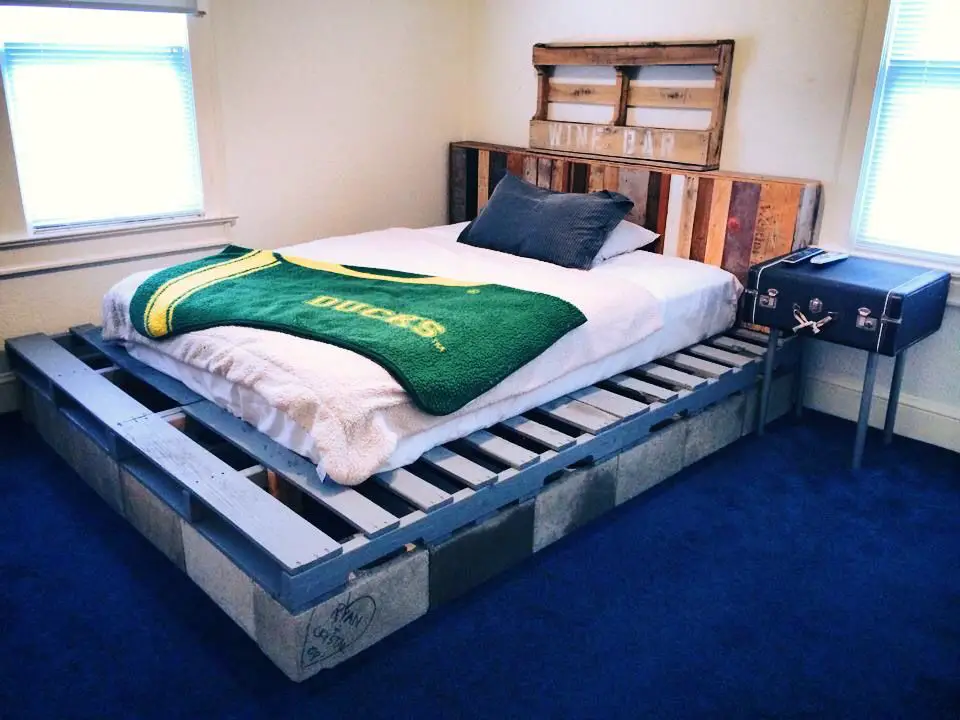 The uses of cylinder blocks are countless. One of them involves turning them on their sides to create a bed frame.
They are either too heavy, won't rust or corrode, or both.
To keep them all in place, you can paste them together or drill a wooden board over them.
It's critical to keep in mind how abrasive cylinder blocks are.
If you put them on a hardwood floor, you may want to consider putting a rubber pad underneath to prevent scuff marks.
Dairy Crate:
Milk crates provide support without breaking the bank.
After taking measurements, purchase enough milk crates to meet the dimensions of your mattress.
Then flipping the crates, tie them together.
They should sit on top of each other. The result should resemble a rectangle made of zip-tied crates.
Also read: Awkward Living Room Layout Ideas
FAQ- Box Spring Alternatives:
Q1. Is there an alternative to a box spring?
You can support your mattress without a box spring by using a platform, foundation, plywood support, or mats made from coconut coir.
Q2. How would I move without a box spring?
Between your mattress and your bed frame, there is a thin layer of solid material called a "Bunky board." As a result, there is no need for box springs, and a platform-style bed-like foundation is provided.
Q3. Can I replace my box spring with a piece of plywood?
Note that depending on your mattress, you can replace the box spring with plywood or Bunky board. To reduce some of the squeaks, use one on top of the box spring.
Also read: How To Choose Rug Size for Queen Bed?
Conclusion:
Box spring alternatives are no longer as essential as earlier.
You now have the luxury of picking from a variety of cosy and affordable choices like innerspring mattresses, wooden slats, futons, and more.
Even better, you can create your bed frame using only basic tools.
Make sure your mattress doesn't need a box spring before you start or buy anything.