Without a stylish cushion arrangement, what is the use of lovely cushions that do not match the sofa?
Cushions are needed for your sofa as they also serve to dress up, tone down, or customize any sofa according to your desire.
A fresh set of designer cushions may give a dated sofa new life, update your look, or even modify the entire sofa arrangement.
According to their misleading names of "throw cushions" and "scatter cushions," it takes a little bit of skill to mix and match these decorative pillows to create the perfect effect.
Your sofa or bed will look fantastic with properly arranged cushions, they will also appear cosier and more inviting.
For a quick room update, invest in high-quality cushion inserts and replace the cushion covers.
You must read the entire article because I have included step-by-step instructions to match cushions to the sofa.
Let's get started!
Instruction to Mix and Match cushions on Sofa:
First of all, remember that your pillows don't have to match.
If they don't, you can get a more professional, elegant appearance.
If you're unsure of your ability to choose pillows, this will help you mix and match new patterns and/or colours that give your space a quick update with a coordinated and identical appearance.
There are several ways to mix and match cushions, it sometimes takes a trained eye.
Even if no two pillows are the same colour, pattern, or style, a room can still seem incredibly professional and contemporary.
The Rule of three is an excellent guideline for making decisions and streamlining the process if you don't have the time or want to explore or browse extensively.
Select three colours:
First, decide on a "colour story" to guide your cushion choices.
Use three different colours in the room from diverse sources like carpet, blanket, drapes or the colour of the walls.
If you choose a range of pillows in different designs, the appearance will still be coherent if the colours are similar.
Here are a few colour combos that always look fantastic together:
Dark blue + deep red + pink.
Deep red + orange + deep green.
Mustard yellow + magenta + violet.
Dark green + gold + magenta.
Select Three Patterns:
As long as each pattern uses at least one of the colours in your three-colour narrative, you can combine three different designs.
Starting with your "lead" design, which is typically the largest and contains all three colours in your colour narrative, might sometimes be simpler.
Then, you can use one or two of the colours in the secondary designs you select.
It is far more difficult to choose a lead design by working backwards and using pillows you already own.
To get you started, consider these ideas for combining patterns:
1 floral + 1 geometric + 1 solid colour.
1 buffalo check, 1 toile, 1 ticking stripe.
1 knit texture + 1 dot + and 1 chevron.
Select three pattern sizes:
When applying the Rule of 3, it is essential to think about the scale of your patterns because you do not want your patterns to compete with one another.
Choose three different scales of designs instead, and let one take the lead.
The largest pattern in the collection needs to be your lead pattern, followed by a medium-sized print like a stripe or a little houndstooth.
Therefore, the third design should be the most understated like a solid hue with an interesting texture, a Swiss dot pattern, or a weak tone-on-tone pattern like a damask stripe.
9 Style Ideas to Match Cushions to Sofa:
Learn to decorate your sofa with our 9 basic cushion styles and select the ideal cushion arrangement as follows.
1. Arrangement of paired cushions:
Two individual pillows form a basic, stylish cushion arrangement for minimalists.
Place coordinating cushions in the middle of the sofa, spacing them out proportionally.
Use matching or comparable textiles to create a stylish, cohesive aesthetic, or use contrasting fabrics to bring attention to particular cushions.
2. Arrangement of eclectic cushions: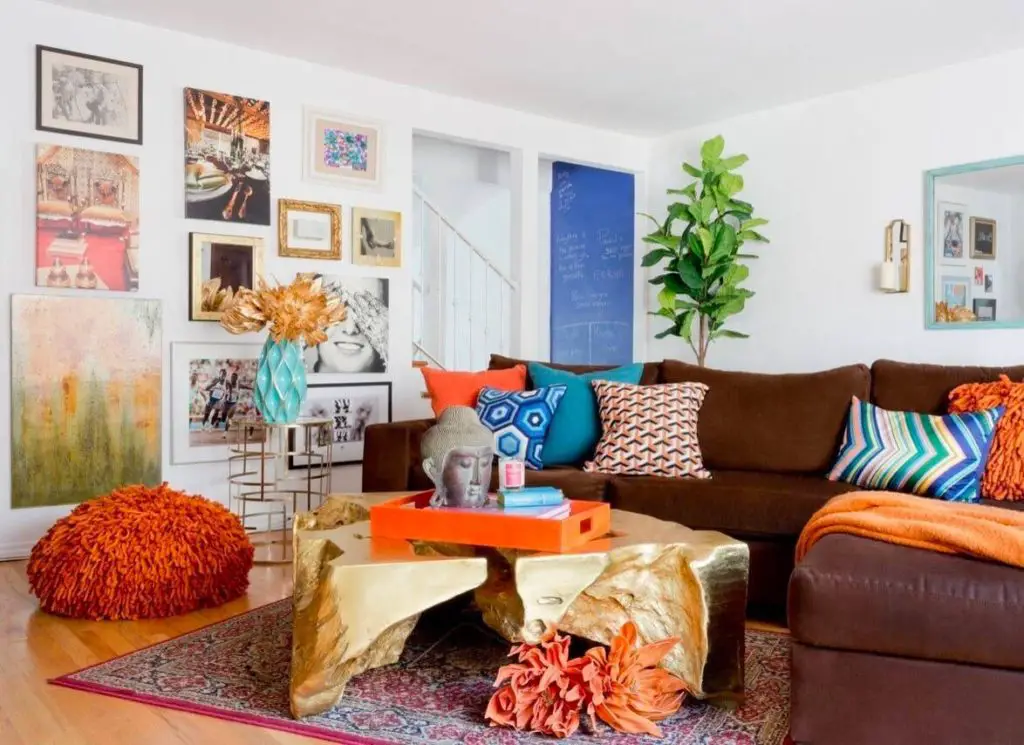 This multi-layered sofa styling has no rhyme or reason, that's exactly how we like it.
With ikat designs, paisleys, and brocades mixed in with printed linens, this style of arrangement is all about texture.
Even if it's better to ignore the rules in this situation, there are a few guidelines for creating a designer-approved look.
Consider the magnitude of the designs you intend to combine when selecting textiles.
Cushions arrangement with huge, medium and small-scale prints will be intriguing and well-balanced to match a sofa.
3. Arrangement of balanced cushion:
One of the most visually appealing configurations is a balanced cushion arrangement.
Make yours stand out by experimenting with colour, pattern, and texture.
A well-balanced cushion arrangement works nicely with different textiles, its symmetry elevates even the most casual or eclectic collection of fabrics.
Cushion designs such as lumber or bolster are a simple way to add interest to this setup.
4. Arrangement of central cushions:
We confine our cushions to the extremities of our sofas, to break up the monotony, and place pillows slightly away from the ends.
A minimum of three is recommended when using this design, although it also works well with bigger even numbers.
The centralized cushion style is an excellent alternative for sofas that are too tiny to accommodate multiple arrangements or that are too long to accommodate setups at either end.
Additionally, curving sofas that lack such stiff edges work nicely with the setup.
To create a harmonious combination, use circular designs that reflect the lines of the sofa.
5. Arrangement of separated trios:
A common and timeless style for a sofa arrangement is three cushion combinations in opposing corners.
Consider mirror images for a customized look.
The largest cushion should be placed at the back of the sofa, angled in the crook between the arm and the backrest.
The next cushion should be the medium, somewhat spaced apart from the arm, and the last cushion should be the smallest (again slightly offset towards the arm).
Use the same cushions to recreate the appearance in the other corner, the look will be tidy and composed if the related cushions match the sofa.
Consider changing up the fabrics and arrangements for a more informal look.
The outcome will be a more "lived-in" appearance while retaining the traditional arrangement's balance.
6. Arrangement of various patterns: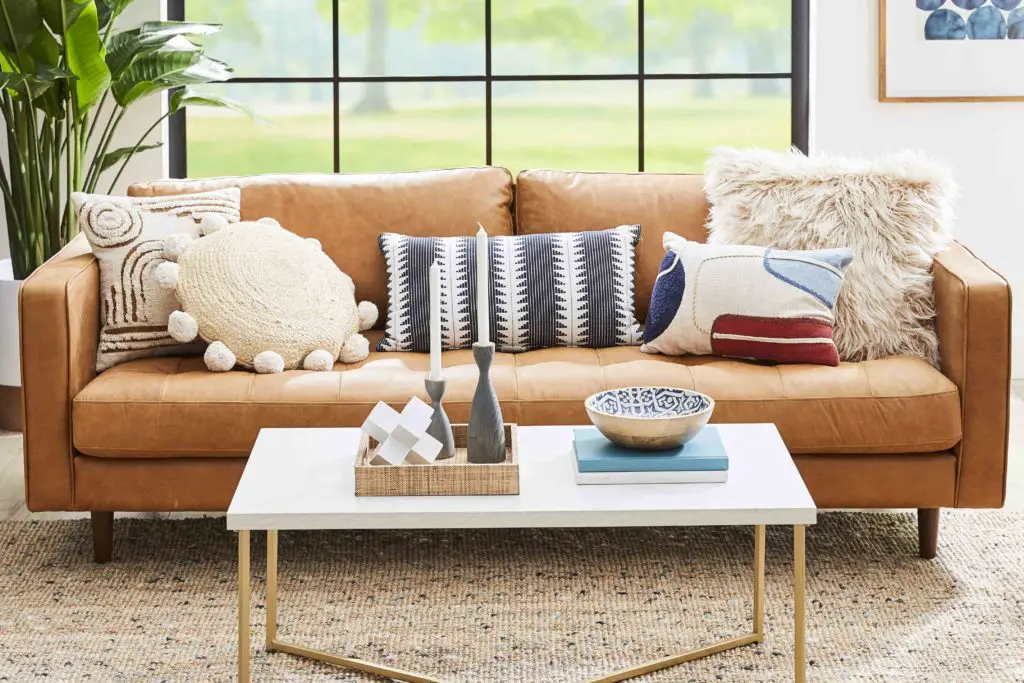 Alternating is one of the most common and aesthetically pleasant layouts when working with patterns and plains.
Start by using two or three complementary textiles (perhaps a patterned and a plain in a similar colourway).
Starting at the opposing ends and alternating between cushion styles, stack one cushion on top of the other toward the centre of the sofa.
For a polished look and more dimension, you could even drape a throw across the middle of the sofa using elements or colours from both patterns.
7. Arrangement of different shapes: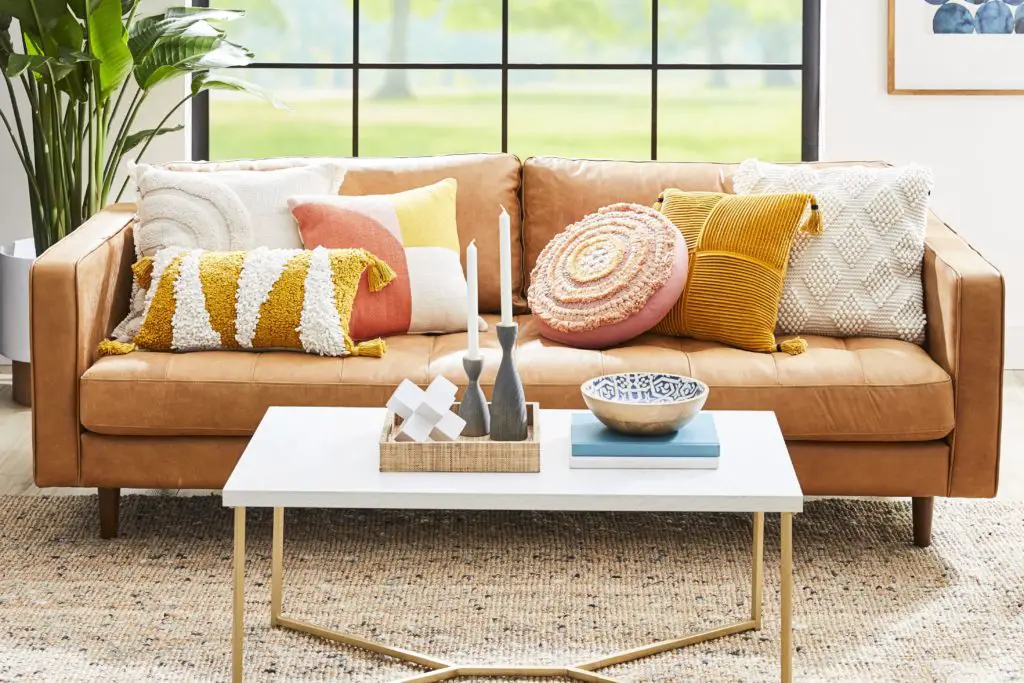 Treating your cushion arrangements like a well-designed vignette or gallery wall will add creativity to them.
Consider using various forms and offsetting them against one another in various ways to take advantage of their geometric strengths.
Nothing is off-limits with this configuration.
Combine rectangular, round, and bolster cushion types with standard square cushion forms to create intriguing cushions that match a sofa.
Curate the fabrics in the arrangement including contrasting designs to emphasize their originality for optimum impact.
8. Arrangements of individual cushions:
Individual cushion arrangements are simple, minimalistic, and formal.
They are suitable for settings where a professional appearance must be maintained since they draw attention to the squared structure of leather sofas giving them a somewhat more masculine aspect (They are common in waiting areas and offices).
To soften the impression, incorporate a throw, a more tactile texture, and a contrasting colour.
9. Arrangement of hybrid cushions: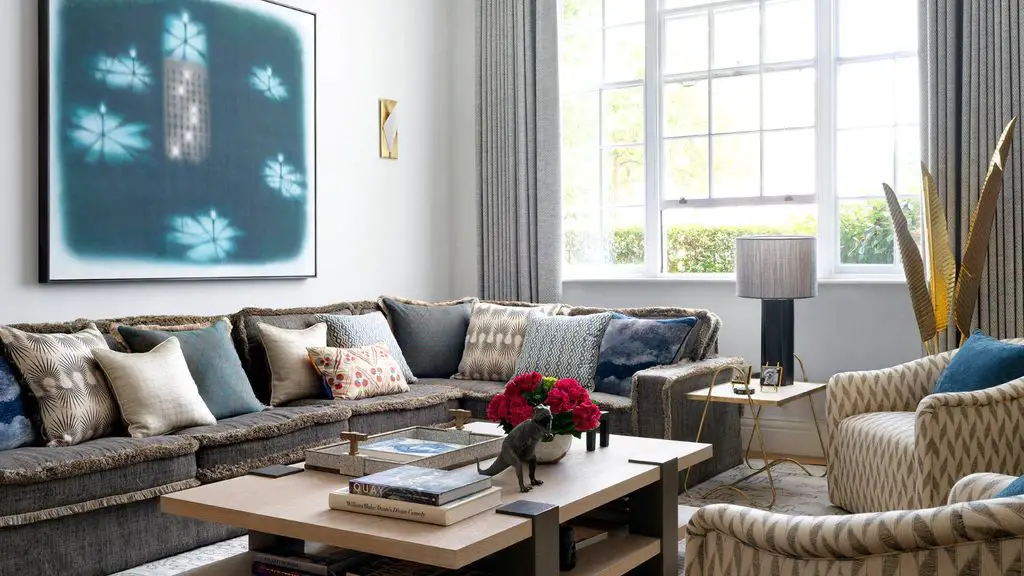 A hybrid cushion arrangement has a fascinating and pleasant feel to it.
It can have the same formal quality as the layered style if rich fabrics and patterns are employed, but it also adds interest without being unduly maximalist.
This aesthetic works nicely with throws or other decorations that can visually balance the sofa, resulting in a unique but not chaotic arrangement.
Some Tips to Match Cushions to Sofa?
Once you've learned the Rule of Threes, investigate the following other design principles:
Odd numbers seem modern:
When arranging your throw pillows, keep in mind that odd numbers such as three or five work best for a modern style.
In most design styles, odd numbers always look more artistic.
Also, keep in mind that fewer, larger pillows look more modern than a jumble of smaller ones.
Even numbers seem to be the norm:
Particularly on your bed or couch, an even number of comparable pillows like two or four, look tidy and orderly for a balanced and symmetrical look.
Specify the following:
When purchasing throw pillows, take into account the fill and it will impact their aesthetic.
For instance, a fill made of feathers and down has more "give" and a softer squish.
Foam and other synthetic fillers are more rigid and frequently cheaper.
These pillows retain their shape better but do not appear as elegant.
Mix textures as well:
While pattern and colour combinations are significant, the texture should not be overlooked.
Play around with the contrast between soft and fuzzy and smooth and rough.
Think about faux fur, velvet, knitted wools, linen, and tasselled accents.
Also read: How To Clean a Suede Couch?
FAQ: How to Match Cushions to Sofa?
Q1. How many cushions do you think look decent on a sofa?
If you have too many cushions, your living room may appear cluttered, and they may even make the sofa less comfortable.
 As a general guideline, we believe a two- or three-seater sofa requires no more than three cushions.
Q2. How many pillows do you need for a three-seater sofa?
For a three-seater sofa, we recommend utilizing 3 to 6 cushions.
Three cushions produce a minimalist appearance, four cushions produce symmetry, and five and six cushions produce a much richer picture with lots of opportunities to highlight differences in texture and size.
Q3. Should cushions on a sofa match?
Throw pillows do not need to match.
Choose pillows that complement a one, two, or three-colour colour scheme.
Choose at least one hue that is already present in your room.
Also read: How To Style a Room with Cream Colour Sofa?
Conclusion:
 Every time you step inside your home, you will enjoy having a welcoming environment for yourself.
Decorating with soft furnishings is easy to create a cheery and welcoming atmosphere in your home.
To provide comfort to furniture with firm backs, you can buy cushions that match a sofa.
Yet, we will consider the aesthetic worth of getting a new pile of pillows, have you explored any of these cushions?
Please share your thoughts in the comments box below.