If you want to give your home a new look, then paint the walls of your staircase.
DIY painting projects are a terrific way to update the appearance of your rooms that can even raise the property value of your house!
The favourite aspect is that you can complete such a weekend DIY home renovation project and save a lot of money by painting the stairs yourself rather than paying a professional.
With the help of this instruction, you'll be able to paint stairway walls like an expert.
High ceilings may be painted, and it won't take as long as you think to give your house a lovely makeover.
Everything you require to know about painting a wall near a stairway will be covered in this article.
With the help of your advice, you will be able to paint the high staircase walls even if they are in a stairwell with high walls.
We'll go through things like the best paint to use, how to prepare the surface, and typical mistakes to avoid.
Let's get going!
Tools For Painting a Stairwell: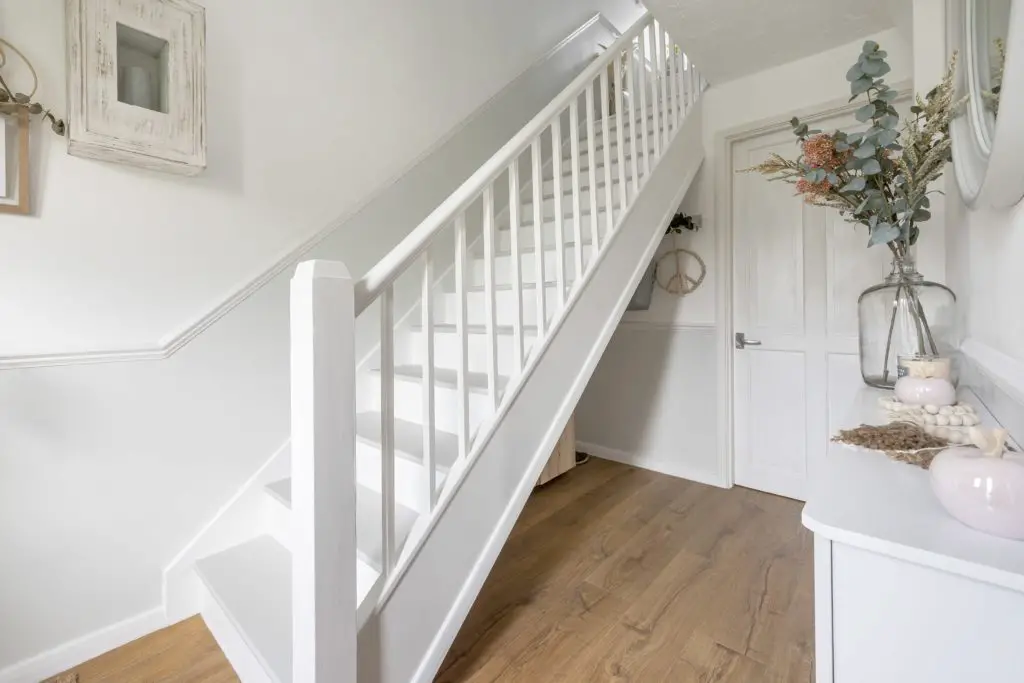 Getting the right equipment together is the first step to painpaintingr staircase walls, you will need the following materials for this task as follows:
Ladder:
A ladder is required to access the upper levels of your stairs.
There are speciality ladders available for painting walls and ceilings that are above stairs.
You may safely access high walls above your steps with the aid of these stairway ladders.
A paintbrush:
A paintbrush is necessary to paint the walls of your stairs.
Select a brush that you find pleasant to handle that can fit in all the cracks of your staircase.
This paintbrush will be used to paint the area surrounding the steps and to cut in the ceiling.
Paint rollers:
These are ideal for painting large, flat surfaces, such as the walls of your staircase.
Choose a roller that is the right size for your wall that extension handle to reach high areas.
Painter's tape:
You'll need painter's tape to protect the parts surrounding your staircase that you don't want to paint.
A sticky tape that can be used safely on walls and other surfaces is painter's tape.
It will assist you in drawing precise lines and stop paint from landing in unwanted places.
Drop cloths:
When painting stairwells, it's crucial to use drop cloths.
When you are working, they will assist in catching any paint that drips or splatters.
This will prevent paint from damaging your stairs and floors.
To avoid paint dripping into your carpet or wood steps, it's crucial to set down drop cloths before painting the walls and ceiling of your staircase.
How to Prepare Staircase walls for Painting?
With your painting tools in hand, it's time to get your staircase ready for painting because it will improve the paint's durability and surface adhesion.
It's necessary to carry out some preliminary work before beginning a DIY painting job for house remodelling.
This is especially important when painting a staircase since you need to get rid of dust and filth because this region of your home receives a lot of traffic.
Your staircase's walls need to be cleaned first.
Use a moist cloth or sponge to clean up any debris, dust, or cobwebs from the surface.
Let the area dry after cleaning it before moving to the next step.
The walls of your staircase need to be patched up if there are any cracks or gaps.
Using a putty knife and spackle, patch any small holes or cracks.
Use joint compound for larger fractures or holes.
Let the area thoroughly dry after repairing all the damage before putting on the first layer of paint.
Clean the stairwell:
You should clean the walls of your staircase first.
Use a moist cloth or sponge to clean up any debris, dust, or cobwebs from the surface.
This is a crucial step since you don't want any dust or other particles to get into the paint as you work on the walls of the staircase because they will make the paint thick and challenging to apply.
Allow the space to dry completely after washing it thoroughly before painting the walls or ceiling above your staircase.
Clean the trim:
Cleaning the trim surrounding your staircase is the next step.
The woodwork or moulding that surrounds the outside borders of your steps is known as the trim.
The trim must be cleaned of any dust or debris using a vacuum attachment.
After cleaning the area, you can start painting the trim.
Before continuing to paint the walls and ceilings above your staircase, you must wash off the trim work and allow it to dry to ensure the new layer of paint will stick to the surface.
Fill up any holes or dents:
Fill up any dents or holes that are visible after cleaning the trim and allowing it to dry.
To give your project a smooth and polished appearance once finished, baseboards and quarter-round near staircases experience a lot of wear and strain.
Use putty or joint compound to fill in these gaps.
Once all of the holes have been filled, allow the area to thoroughly dry before sanding and painting.
Walls With Sand-Filled Patches: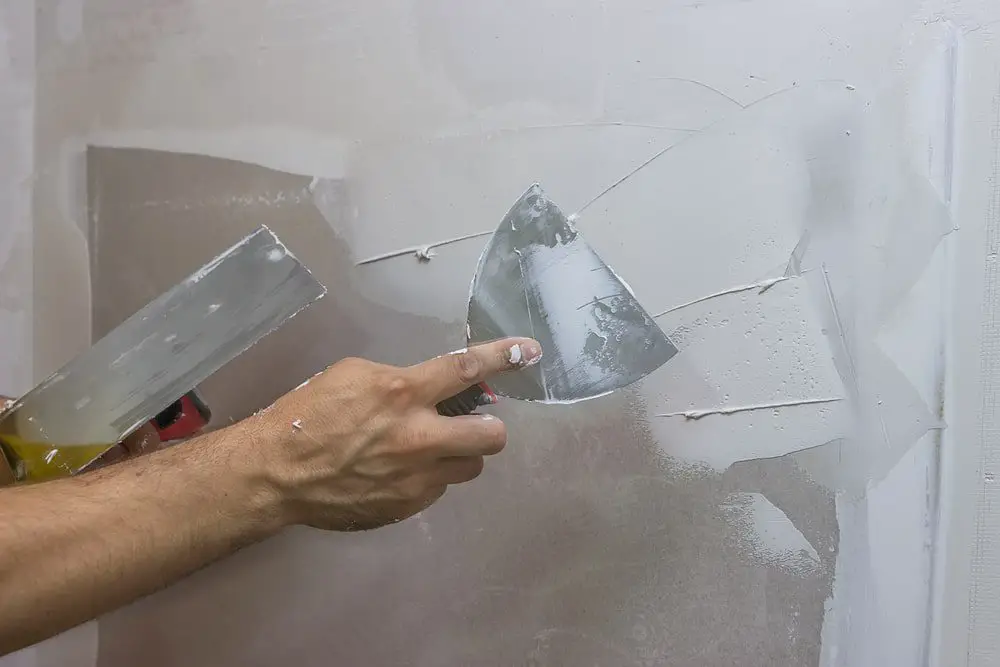 Following thorough cleaning and drying of the trim and wall area, you must sand any rough areas on the walls.
There may be some raised or textured areas on your staircase from prior paint treatments if it has been painted before.
These sections will need to be sanded down so the new paint will lay evenly on the surface to guarantee the completed product looks beautiful.
Use 180-grit sandpaper for this project to remove imperfections from the walls and trim them without damaging the area you're working on.
 After you've smoothed all the rough edges, use a moist cloth to remove any dust from the surface before allowing it to completely dry before painting.
Put down drop cloths:
The following action is to spread out some drop cloths.
When painting stairwells, drop cloths are crucial because they will help contain any paint that drips or splatters while you work.
This will prevent paint from damaging your stairs and floors.
To avoid paint dripping into your carpet or wood steps, it's crucial to set down drop cloths before painting the walls and ceiling of your staircase.
Ceilings and baseboards with tape:
You must tape off any baseboards or ceilings after placing the drop cloths.
Before you begin painting the walls of your staircase, make sure to wrap these surfaces with painter's tape to prevent paint from getting on them.
Start applying painter's tape with your fingers to the baseboard or ceiling edge to smooth it down.
 You can start painting the walls of your staircase once you've taped off whatever you don't want to paint.
How to Paint the Staircase Walls?
Most people aren't aware of how easy it is to paint a wall in a stairwell.
With a little preparation and the appropriate equipment, you can quickly produce professional results.
After you've prepared the area, let's look at what you'll need to do to paint the walls and ceilings of your staircase.
1. To paint the tall stairwell walls, use a ladder:
To get to the top of a towering stairway wall, you will need to climb a ladder.
Make sure the ladder is level and someone is keeping it stable while you climb up and down while utilizing a stairwell ladder.
Additionally, you should wear clothing that you don't mind having paint on because working on the project may result in you getting paint on your clothes.
To reach high stair walls in a limited area, you can either use an extension ladder or a customized stair ladder that adjusts to the height of the stairs to create a stable painting platform.
With the aid of both of these ladders, begin painting the tops of the walls before moving down the wall toward the steps and trim work.
2. Make a hole in the ceiling:
After putting your ladder in place, you should begin by painting the ceiling.
To begin, you should "cut in" the ceiling using a brush or roller.
The edge of the ceiling where it meets the wall must be painted in a small area.
I advise using a paintbrush to cut in the paint, but you may also use a paint edger if you're not comfortable doing it by hand.
While this type of equipment will assist you in cutting in paint cleanly, it can also leave gaps and streaks between the paint line on your staircase walls and the ceiling.
 You can use a variety of additional tools to speed up the process of cutting in paint.
3. Apply paint to the wall with a roller:
After cutting in the ceiling, you can begin roller painting the wall.
Starting from the top of the wall and rolling downward toward the trim work.
Use broad strokes and go over any areas that appear thin or spotty again.
When painting, you must keep a wet edge to prevent any apparent lines from separating one region of paint from another.
Painting a room may be challenging for homeowners, and painting steep stairwell walls can be considerably more challenging if you don't have the necessary tools.
Carefully, cover your roller with a damp cloth if you need to stop painting to prevent the paint from drying out.
Whenever possible, I prefer to utilize an extension pole rather than a ladder to reach high areas of a wall.
Also read: How to Get Spray Paint Out of Clothes?
FAQ- How to Paint above Staircase:
Q1. How can I paint a tall stairwell without using a ladder?
Using extension ladders is one of the greatest ways to paint tall staircase walls without the use of a ladder.
Although extension ladders are secure and simple to use, carrying them up and down stairs can be challenging.
There are two categories of extension ladders to make your life easier: telescoping extension ladders and folding extension ladders.
Since you may stretch telescopic extensions as far as you need as they are simple to use, it is not used when folding extensions are designed to fold into themselves, simplifying storage and transportation.
Q2. What kind of ladder is required to paint a stairwell?
Usually, more than a single ladder or set of stairs is required.
The conventional method for painting a wall in a stairwell involves using a ladder at the top, a set of steps at the bottom, and a scaffold board or plank in between.
Q3. What type of paint works best for stairs?
The risers are generally painted with semi-gloss or satin paints, which might be risky for the treads.
When possible, always choose floor paints over other types of paint because they are more durable and non-slip.
Also read: How to Paint a Bathroom?
Conclusion:
You can now paint a wall of staircase walls like an expert.
Just remember to take your time, prepare the ceiling before painting the walls, and cover any items you don't want to be painted using drop cloths and painter's tape.
You may attain professional results that will last for years if you adhere to these easy instructions.
I sincerely hope this article was helpful.