You probably have a problem if you've noticed that the laundry room has started to smell a little like sewage.
The laundry room is probably a place you spend a lot of time.
There will always be more garments that need to be washed, which can make laundry seem like an endless battle.
 It's harder to do your regular activities when your laundry room begins to smell strange.
The laundry room is a common household feature that is typically found in the basement.
A sewage backup is a problem that occurs frequently in areas, so you might have to deal with it.
Even laundry rooms in different parts of your house can experience issues.
You must be able to pinpoint the source of your issues if you hope to resolve them effectively.
I'll discuss the reasons for the smell of the laundry room sewage in this post.
If you pay close attention to everything, you should be able to straighten things up perfectly.
Continue reading to find out more details!
5 Common Causes of Smell of Laundry Room Sewage:
There are numerous approaches you might take to resolve the sewage problem.
I'll go over four likely causes, and resolving these problems ought to solve your sewer gas issue as well.
1. Water Trap's Issues:
Having a dry trap is one of the most frequent reasons for sewer odours in laundry rooms.
You might not be aware of it, but your floor drain has a water trap hidden underneath it.
It might also be hidden beneath your sink or a laundry tub of some sort. This water trap won't be able to perform as it typically should if it has dried out from lack of use.
Even the drain pipe from your washing machine includes a trap to stop sewage gases from entering the pipe through the drain opening.
These traps must always be filled with water. The water in your washing machine will evaporate if you don't use it for a very long time.
Since you aren't refilling it, it will eventually evaporate and stop functioning. You may experience some serious issues if the sewer trap becomes dry.
Fortunately, you may solve this problem by simply placing the water in the proper location. You can fill the trap with water by grabbing a bucket and placing it there.
To make sure that a leak wasn't the cause of the missing trap water, you should also check for leaks.
You might need to fix or replace your drain trap if there is a leak of some kind. A dry trap will typically happen since you haven't used the washing machine in a while.
Simply examine the situation and add water to get it back to normal.
If this was the problem producing the sewage smells, you ought to be able to correct it and get everything back to normal quickly.
2. Venting Problems:
Another frequent issue that results in unpleasant odours in your laundry room is venting problems.
Sewer gas emissions may become a problem if your home's drain system is not properly vented.
You should take care of the situation before it worsens because these gases have a strong odour.
You don't want to let things get clogged since it could affect other parts of your home as well because your vent pipes connect to the main drain lines of your house.
Clogs are the most frequent issue that causes venting problems. The gases cannot adequately ascend the venting lines when there is a clog.
In a typical scenario, the gases should ascend the venting pipe before being released into the atmosphere through the roof hole.
You should properly inspect the situation because any obstructions should be visible when using a light to peer down the pipe.
3. Blocked Drain Lines:
Another frequent cause of sewage odours in the laundry room is a clogged drain line. Over time, the drain line of your washing machine may clog.
This may result in odours that closely resemble sewer gas. These odours might be a problem even if your drain is not fully plugged.
Due to microorganisms that have accumulated in the drain line, partial obstructions might smell awful.
The scent of soap and matted hair, for example, can be extremely similar to that of sewage gas.
These odours will release into the air each time water runs through the pipe.
In this case, clearing everything out first before removing the barrier is the wisest course of action.
Any kind of snake can be used to unclog a drain line. If you don't have the necessary tools to accomplish this job, you could hire plumbers to complete it.
Pouring bleach down the drain pipe is a smart idea as well to get rid of the bacteria that has accumulated there.
These safety measures will take care of the problem for you.
4. Defective or Damaged Sewer Lines:
A damaged or fractured sewer line is the most serious issue that could be producing the sewage odour in your laundry room.
 This will be a significant problem that could degenerate into a major mess.
This isn't the most frequent cause of sewer odours in the laundry room, but it's something to think about if the reasons listed above, weren't the problem.
You should get in touch with experts to have a look at things because you probably won't be able to fix this on your own.
You might not even be able to find the leak if you don't have the necessary equipment.
This explains why some individuals tolerate sewage odours in their laundry facilities for extended periods.
They end up just ignoring the issue for a while because they are unable to identify the issue. This is a bad idea because sewer gases and odours can be quite harmful to you.
5. Odors coming from your washer: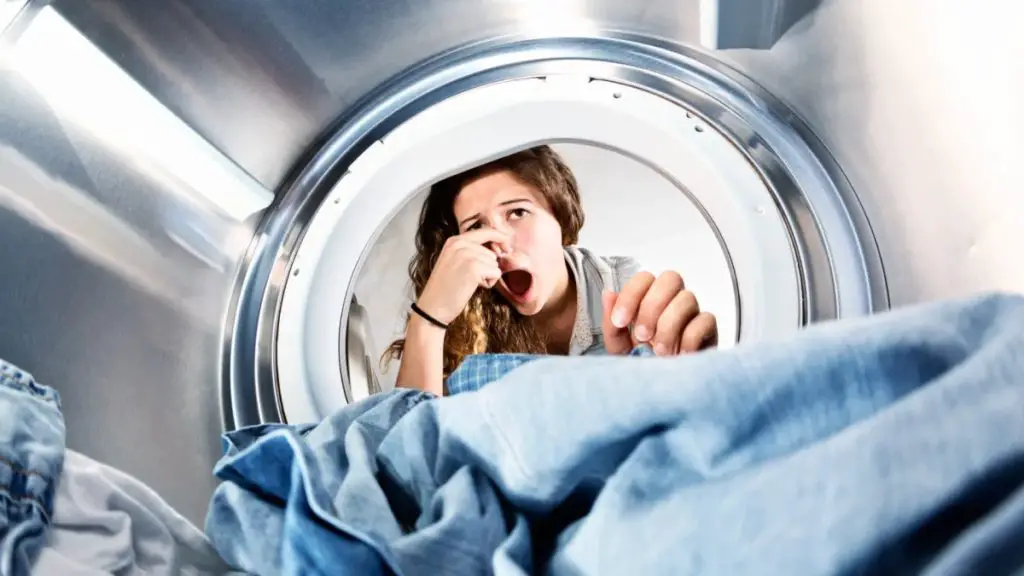 When you notice that your home smells like sewage, you most likely go to the restroom first.
Examine your washing machine if you are unable to find the source of the odour because it may be there in your laundry room.
P-traps that have been placed incorrectly, clogged drains, and blocked vent pipes are the three most frequent reasons for sewage-smelling washing machines.
When you need a plumber's services.
As you can see, there are many considerations to make when trying to figure out why your house smells like a sewer.
Many sewage odour causes are simple DIY fixes.
However, if you ever feel uneasy fixing a plumbing issue, don't hesitate to call a plumbing service; experts can handle your plumbing issues swiftly and effectively.
The typical homeowner lacks the knowledge to handle such issues.
Sewer backups are one problem in particular that frequently necessitates the expertise of a plumber.
Some of the most frequent reasons for a backed-up sewer are listed below.
Blockages in a sanitary main:
The city's sanitary main occasionally becomes blocked as garbage slowly builds up.
As a result of these obstructions, sewage may eventually leak up via your bathroom or basement drains.
In pursuit of water, trees and shrubs may extend roots deep into the ground.
These sturdy roots have the potential to rupture sewer pipes and let sewage flow.
In extreme circumstances, the roots may obstruct the main lines, causing sewage to back up.
Damaged or collapsed sewer lines:
If you live in an older home or community, your sewage backup could be the result of cracked, broken, or collapsed sewer lines.
Sewage from floods may be forced up through drain pipes and into your property by the surge of water they produce.
You should always dial an emergency locksmith.
They will be able to evaluate the situation and ascertain whether the problem is caused by tree roots or the sewage infrastructure of the city.
Also read: How To Stop Rain from Coming through Window?
FAQ: Why Does My Laundry Room Smell Like Sewage?
Q1. Why does running my washing machine make it smell like sewage?
Ironically, using excessive amounts of detergent might also make your washing machine smell like a sewer.
There would be a lot of detergent residues left after washing if you did not use enough water to wash your clothes.
Q2. What reduces the sewage odour?
14 cups of baking soda should be added to the drain, and it should be left for 10 minutes.
Then add one cup of vinegar.
After a few minutes of fizzing and working, turn on the water and run the garbage disposal to flush away any remaining food waste.
Q3. Will bleach reduce sewage odour?
Add a little bleach to it.
Like other disinfectants, bleach eliminates practically all of the odour-causing bacterial species that are typically found in drains and sewer lines.
So, using bleach is a simple do-it-yourself method to lessen drain stink.
Also read: How To Vent A Toilet?
Conclusion:
It will be simpler to take action now that you are more aware of the potential causes of sewage smell in your laundry room.
 If you don't have the tools to solve things, you shouldn't have to handle problems like these by yourself.
 You may be able to handle things on your own if you have some prior expertise utilizing a drain snake.
It just comes down to the kind of tools and eases with which you are utilizing them. In either case, you must address these sewer gas problems right away.
 In addition to being an annoyance, the foul stench poses a threat to your house.
Look into the situation in-depth so that you can move forward with confidence.
Once you've made the necessary repairs, your laundry room will smell considerably better.