False wall for TV and fireplace is popular in interior designs build in homes across the United States.
They combine a flatscreen TV and an electric fireplace into a single eye-catching feature that makes them beautiful and usable.
A house is a place where we can expose ourselves and rest.
Due to the obvious companionship, we spent more time at home so we get easily distracted and want a change due to the environment around us.
Of course, no one wants to make big changes like changing the home, so the next step is to take out the tools and do some DIY.
Some home improvement projects add value and character to your home, making a false wall is a beneficial project.
Fireplaces and television in homes are the general focal idea that can be mounted on the wall to create more space illusion.
We have listed simple ideas to build a false wall for the TV and fireplace.
So, let's get begin!
How to Build a False Wall for Fireplace?
1. Wall Studs or Hole in the Wall: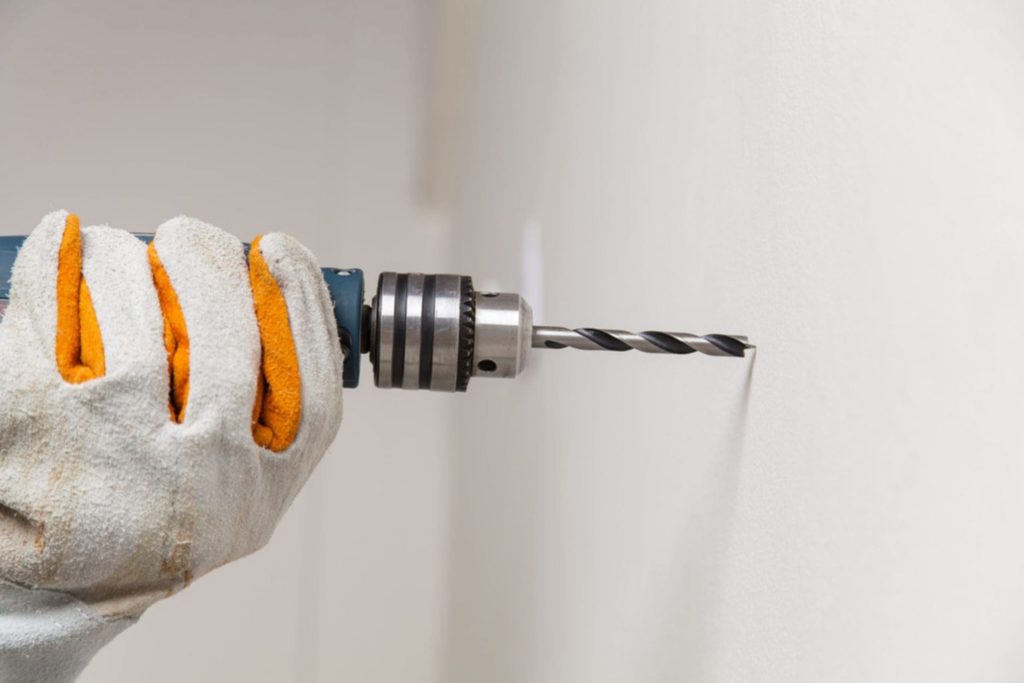 You must first decide before collecting your tools or working with the designer.
 Do you want to build a fireplace or a study wall?
This decision is frequently affected by the current configuration of your living room.
If you already have a chimney, it is usually easy to install an electric fireplace and then install a television on it.
Think about the chimney breast being a readymade media wall.
If you are living in a new home, you have to create a media wall from the beginning known as the stud wall.
2. Selecting a Media Wall Fireplace: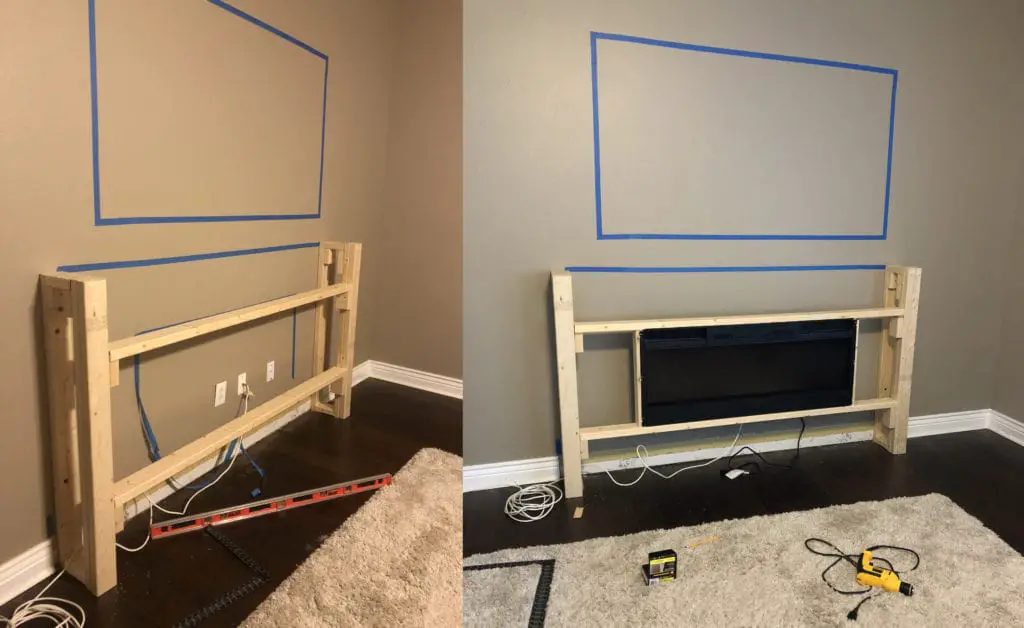 It is vital to select the proper type of fireplace for your media wall build for TV or Fireplace because the fireplace you choose will have an impact on the wall's construction.
You can choose between two types of media wall fireplaces:
Wall-Mounted Media fireplaces with a hole.
Media fireplaces that are wall-hung (also known as wall-mounted).
A stud-wall-based media wall can accommodate both types of fire, they simply differ in their installation requirements.
In the following sections of this article, we'll discuss each of these installation types in detail.
Hole in the wall media wall fireplaces:
Hole-in-the-wall media wall fireplaces are the most beautiful and enticing fireplaces on the market.
They have a very smooth, sleek appearance because they are immersed in the wall, which extended up to the appeal of media walls.
Moreover, as they must be embedded in the wall, you must consider this during construction.
Make sure the stud wall forms your media wall and seems to have enough space to accommodate the fireplace.
You can also expose two or three sides of some hole-in-the-wall media wall fireplaces.
Wall-Mounted Media Fireplaces:
This fireplace can be used with your media wall which is a wall-hung media wall fireplace.
Such fireplaces are attached to the outside of the media wall with a decile or hanging screws.
Wall-mounted media wall fires can be as attractive as hole-in-the-wall fires, but they lack the sleek look and assimilation into the media wall.
Also, it is possible to purchase wall-hung media wall fires that are very slender that have the aesthetic of being hole-in-the-wall fires.
The primary benefit of wall-hung fires is that they not only are easy to install but also allow for the renovation of media walls.
3. How to Build a False Wall for a TV or fireplace?
If you're starting up, you should recognize if you want to do it yourself.
Building a stud wall requires carpentry skills, whereas trying to install the television and fireplace may require moving plug sockets, so you must be familiar with electricity.
If you have any doubts about your ability to complete the job yourself, we strongly advise you to hire a professional developer.
It may cost you a little more, but it could save you a lot of trouble!
4. Choosing An Area For Your False Wall: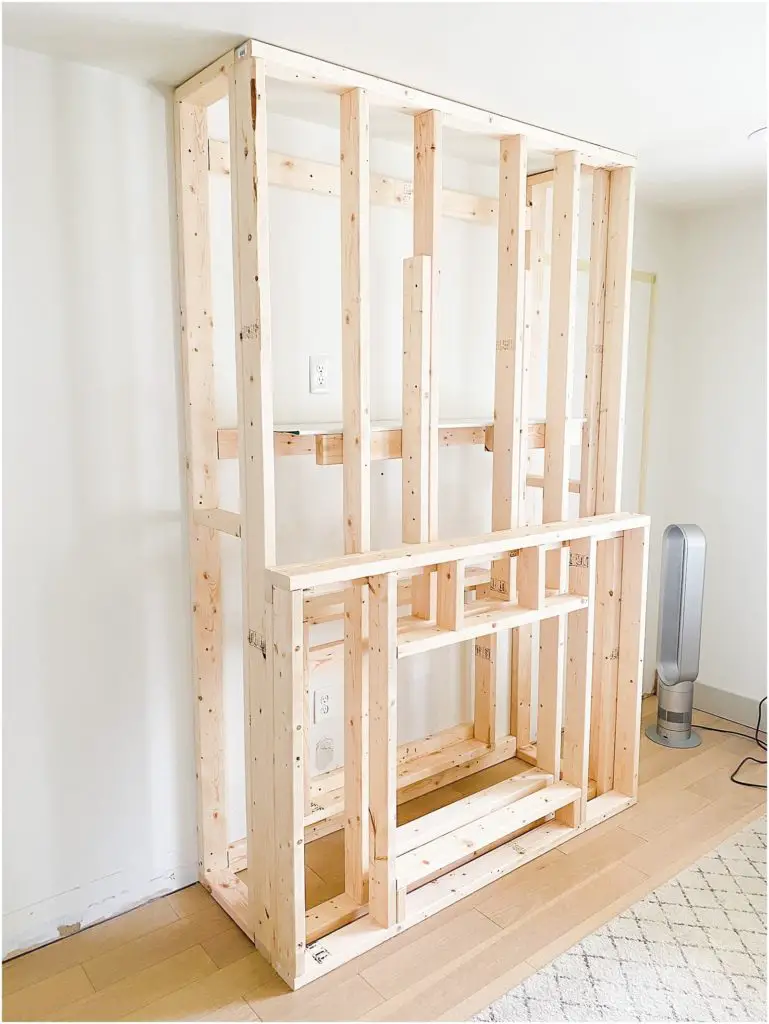 Whether you build it yourself or hire a builder, you must select a location for your media wall.
The majority of people will want to place the media wall in the middle of the main wall of the living room because it will serve as the room's focal point and house both the fireplace and the television.
It is a simple and direct and sensible location, but even before you commit to it.
Consider the depth of the media wall and aspects like viewing angles.
5. Taking Measurements:
The following step is to begin taking measurements as follows:
The television and fireplace sizes should be given the most assumed.
Ensure that the wall is wide enough to securely accommodate them since it will need to provide adequate support.
The type of fireplace and television you want to install is an important factor to take into account.
As previously stated, the size of your media wall will be determined by the type of fireplace and television you select.
 The internal dimensions of the cavities where the TV and fireplace will be placed must be taken into account if you decide to go the stylish "hole in the wall" route.
6. Constructing A Stud Wall:
After you've measured everything, you can begin constructing the stud wall.
A wall with a wooden frame is known as a stud wall, vertical lengths of wood make up the studs.
You must screw your TV and fireplace into the studs to hang them on the wall, then to brace the studs, a series of horizontal lengths of wood are used.
They shouldn't be used to support wall-mounted fireplaces or televisions because their purpose is to give the media wall more rigidity and strength.
You must carve holes or recesses into the wooden stud frame to support your fireplace and TV if you want to include them in the media wall.
The depth of these cavities must be carefully measured.
Ensure the TV and fireplace are flush with the media wall's outer surface after being installed in the cavities.
7. Installing the TV And Fireplace: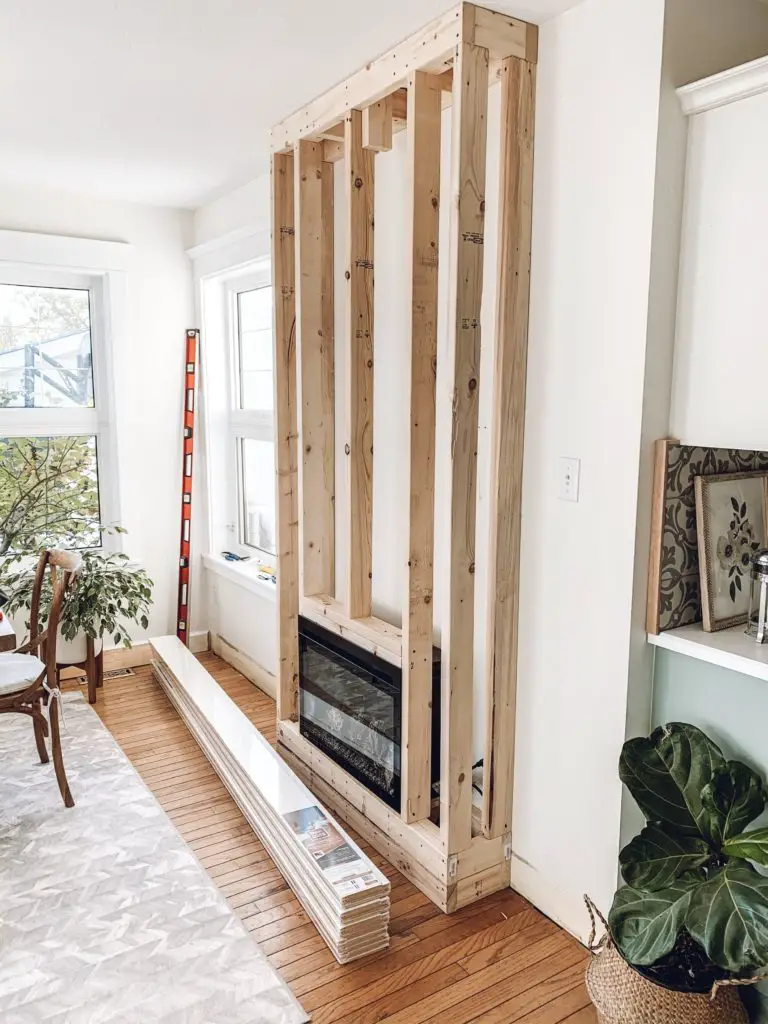 The next step is to install the TV and fireplace (if you're embedding them in the wall), once the basic structure and outline of your stud wall have been completed.
In most situations, mounting brackets will be required to support the appliances.
Drilling into the studs in the recessed areas is typically required to complete this task, once the brackets are in place, simply hang the fireplace and TV from them.
8. Power Supply:
At least two plug sockets are required (one for the fire and one for the TV).
The following steps are entirely up to personal preference.
Some individuals favour placing the plugs immediately next to the media wall.
The plugs for each piece of equipment will emerge outside the frame near the bottom of the media wall with the cables being transferred along the inside of the stud wall frame with nail-in cable clips.
This allows you to disconnect the TV and fireplace whenever you want, but it does expose the plugs to view.
The cables can be routed along the stud wall frame until they reach the plug sockets using nail-in cable clips.
This solution completely hides the plug sockets, but it necessitates that you keep the TV and fireplace plugged in all the time.
9. Completing And Covering Your Media Wall:
It's time to add the finishing touches to your media wall after you've finally built the main wooden board and set up your TV and fireplace.
Plasterboard should be placed over the wooden frame of your media wall to give it a smooth finish and to mix with the other walls in your living room.
Simply cut it to the necessary size and use a drill to screw it into place, and it is not a difficult task to install.
Don't forget to drill into the studs rather than the wooden frame's horizontal members.
You can start using your new media wall and fireplace as s it is dried by giving your wall a fresh coat of paint.
10. Final Touch:
After you've completed these steps, your media wall will be nearly complete!
There are also a few finishing touches you might want to think about.
To complement the skirting board used at the bottom of their media wall.
Some people do not use it, which makes the media wall stand out from the other furniture in the space.
If you are really into AV and technology, you might want to think about enhancing your media wall with additional features like speakers.
Finally, it is up to you!
Also read: How to Decorate a Slanted Wall Bedroom?
FAQ: How to Build a False Wall for TV and Fireplace?
Q1. Why construct a fake wall to house your electric fireplace and television?
An interior designer's fantasy uses a media wall as the focal point of your room which is the current trend.
A fake chimney is simple as it conceals wires of a TV and an electric fireplace that would be visible and unsightly.
Since there are no TV stands or other obstructions surrounding your TV and fireplace, it appears to have more space even if it occupies more space than the original wall.
You can mount the TV and fireplace to any wall using a fake wall without endangering the structural integrity of a load-bearing wall in your house.
Q2. What is the cost of constructing a fireplace wall?
Your requirements and the items you want on your wall have a significant impact on the price.
Due to the wide disparity in material prices among retailers, comparison shopping is advised.
Consult with local experts who can provide cost estimates ahead of time. If you decide to hire someone, the labour costs will generally range from $975 to $3000 or more.
Q3. Is it possible to frame a fireplace with wood?
Combustible framing including wood should be kept at least 2 inches away from the exterior face of a masonry fireplace and at least 6 inches away from the interior surface of the nearest flue lining.
Also read: How to Mount TV on Wall without Showing the Wires?
Conclusion:
You have learned to build a false wall for the TV and fireplace, so you can fix any damage that occurs now.
These details are crucial if the room wall is small or it has a peculiar shape because it affects asceticism and room size.
Choose TVs and fireplaces that contrast each other in terms of colour and style, they will look out of place if they are significantly dissimilar and it will change the room's appearance as a whole.
You can choose a stud wall using this handy little guide, and it will also give you some project planning ideas.
Hope our suggestions were helpful, please leave your comments with your thought.