Having lots of glass in the front of your home can let in lots of natural light and it can also compromise your privacy. Do you want to know how to cover a glass front door for privacy?
If you're feeling a little exposed, keep reading to learn a simple and quick approach to making your home feel more private.
Glass doors are an economical way to provide natural daylight without reframing the walls to create space for extra windows.
Your living area's front door can be a big source of natural light.
When it comes to securing your home, glass can be a challenge hence it needs to be covered in some way.
A survey found that 45% of people have installed or intended to install a protective film on their windows and front glass doors.
It does not require taking out all the glass in your front doorway.
However, a small addition of laminated or tinted glass, stained glass, leaded glass, or transparency film can provide the privacy you require while preserving natural daylight.
These items will help you improve the security of your house externally, however, how do you go about doing so?
Hence you must read the entire article as I have discussed 11 easy solutions to cover a glass front door for privacy.
In addition, I've included some directions, tips, and a step-by-step approach for attaching these items to your front door.
So, let's begin!
Instructions to Cover Glass Front Door for Privacy: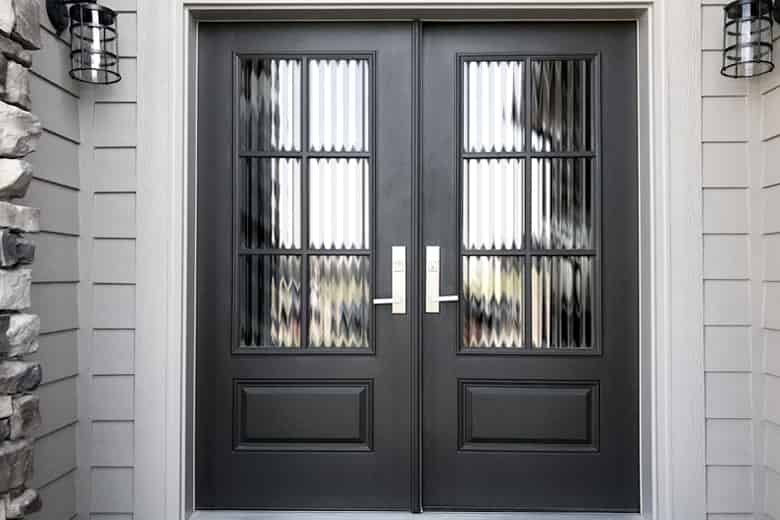 Covering a glass entrance can sometimes be difficult and you may find it difficult.
So, to make your process easier, I have included some guidelines that you should follow before starting the process.
Wear protective clothing:
The first and most serious step is to wear some safety equipment.
This is critical since working with equipment and materials exposes you to the danger of injury.
Wear gloves, safety goggles, and a face mask to safeguard yourself from damage.
Remove any old covers:
If your glass door has an old cover, you must remove it before starting.
This will help you get a clean working surface and save you time.
Step By Step Process to Cover Glass Front Door for Privacy:
Security is a valuable asset in today's environment.
There are several methods, but the simplest method is the most effective, here are 11 different ways to hide your front glass door for privacy as follows:
Use Curtains:
Many homes seek protection is to using curtains to protect glass doors., they are the greatest approach to providing privacy to glass doors for the best results.
Curtains are inexpensive, simple to install, and come in a variety of styles and colours, you can also customize the amount of privacy by opening and closing it as needed.
 In addition, these curtains can be extremely useful for reducing noise outside when it comes to quieting the house, however, choose a strong fabric that will not flutter in the wind and not allow sound to enter.
As a result, door curtains are often considered a more private choice than glass front doors.
Use Window Film:
Window film is a transparent plastic film used to create solitude on windows, it can be clear or bright and exists in a wide variety of forms.
 Window film is a terrific method to make your home more private, it is simple to install and remove it.
Start by determining the size of the glass area on your door.
 After cutting into a film shape, rinse the back with water and soap.
Squeeze out any air bubbles after pressing them in place.
Before cutting any excess film, make sure it is completely dry.
Spray Paint for Frosted Glass:
Frosted glass spray paint is a spray paint that can be used to give a frosted look to glass surfaces often used to frost windows and doors.
You can cover your glass front door with frosted glass spray paint for added privacy.
All you need to do is paint the glass door with frosted glass spray paint.
Several home improvement stores carry this style of spray paint.
Also, make sure you use it according to the manufacturer's guidelines because frosted glass spray paint can destroy the door if not applied properly.
Use Sliding Solar Screens:
Solar screen panels may be the only design to cover sliding doors that fit a clean, modern look.
 These roller blinds are especially good for blocking both light and harmful UV rays and they can be combined with transparent window film to further enhance their protective ability.
 As they reflect the design and function of the door, they are a simple and elegant layer for sliding doors.
Place Contact Paper:
For privacy, contact paper is a sticky paper that can be used to cover glass doors or windows.
It is available in different colours and patterns, so you will be able to choose what is right for you.
It's also reasonably priced and simple to use.
Just measure the surface of the glass, cut out contact paper to fit, and glue the glass.
Remove any air bubbles with a bank card or a smooth item.
Note that contact paper is not designed as a long-term solution.
As it is so easily removed, if you are looking for something that will last longer, it is not the best method.
Use Blinds:
Another useful technique to maintain your privacy is to use blinds.
Wood, cotton, and plastic are just a few of the materials available.
Roman shades are another name for textile strips.
You can also get sunblock if you prefer it. With some hangers, bolts, and drills, you can keep it running for minutes.
After installation, you just need to pull them up to look out the window and drop them down for extra privacy in your home.
 When hanging plastic and wood, it is easy to clean.
On the other hand, the cloth can be thoroughly cleaned or washed in a washing machine with completely distilled water.
Install Bamboo Woven Shades:
Woven bamboo shades are made from natural bamboo reeds, they are a kind of window covering commonly used for privacy and sun protection.
However, they can be used to hide glass doors, but you must first determine the aesthetic you wish to achieve.
Do you prefer a more ancient or more modern style?
If you want more primitive beauty, keep the shades in place.
You may colour or tint them to match your design if you like more current patterns.
Plant Tall Shrubs or Trees:
For protection, shrubs or trees can be used to cover the glass entrance placed in front of or on either side of the door.
If you have a small yard, consider planting shrubs in large pots, however, they need to be maintained regularly and re-trimmed from time to time.
Keep in mind that some plants are harmful to eat, so choose carefully if you have pets or small children.
Considering the plants, there are many possibilities to cover glass doors for solitude.
They also enhance the appearance of your property and give much-needed warm protection.
Hang a Sheet or Tapestry:
A sheet or tapestry is a small piece of cloth that can be used to cover a glass front door and provide privacy.
 This is a simple and quick way to add privacy to your home without any lasting changes.
Linen and tapestry can be quickly removed when you want to shed some light or bring visitors.
They also come in a variety of colours and patterns, allowing you to choose that complements your home.
 However, often the best-looking and most versatile option is a plain white sheet.
Use Shutters:
Shutters are the next best thing for sturdy doors as they offer a lot of privacy and still allow light and air to enter.
Moreover, they give a specific "wow" element to any area.
Plantation shutters are a beautiful option that will last for many years if you are looking for a long-term solution.
The streamlined style will not disappoint you that blend in instead of appearing.
Use of Sheer Shades:
Sheer shades are desirable for glass doors that provide privacy and allow natural light into the space.
These shades are made from a semi-opaque fabric that allows light to block out sights.
Sheer shades are just like ordinary stripes that can be raised and lowered, they come in a range of colours and patterns to match your decor.
How to Apply Privacy Film to the Door: Step-by-step Guide!
The installation of privacy film on the door is a simple technique that anybody can accomplish.
If you follow this procedure, your work will be completed in no time.
1. Measure the width of the glass front door: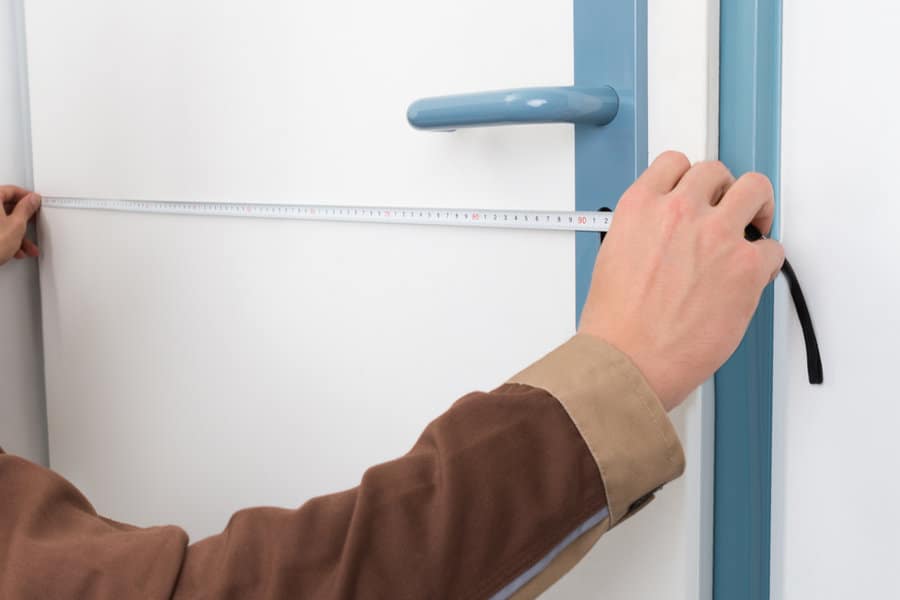 The first step in installing privacy film is to measure the glass front door.
To cut the film to the right size, you'll need to know the door's specifications, just you will be able to avoid any bubbles or creases in the film.
Also, remember to leave a few inches of extra film on each side when cutting the film to size.
This will allow you some flexibility if you need to modify the film's placement.
2. Wipe the front door glass:
In a sealed container, combine 4 parts water and 1 part vinegar.
After that wet the glass windows with liquid and wipe the glass in circular motions using a clean towel.
Using vertical movements, wipe them again before completing the horizontal rounds.
This mixture will clean and scrape the glass, giving anything to get a film of privacy.
If your door is particularly dirty, you should use a window cleaner instead.
3. Cut the Privacy Film to Size & Peel off the Backing:
Privacy film is a type of window film used to block the outdoor view of a room, it can be used on both windows and doors.
Vinyl or polyester can be visible or opaque, you will now have a clear, sharp line to work.
To get started, trim the privacy film to the right size.
After that peel off the base of the film.
If you don't want to ruin the movie, take it slowly and carefully.
4. Place the privacy film on the front door glass: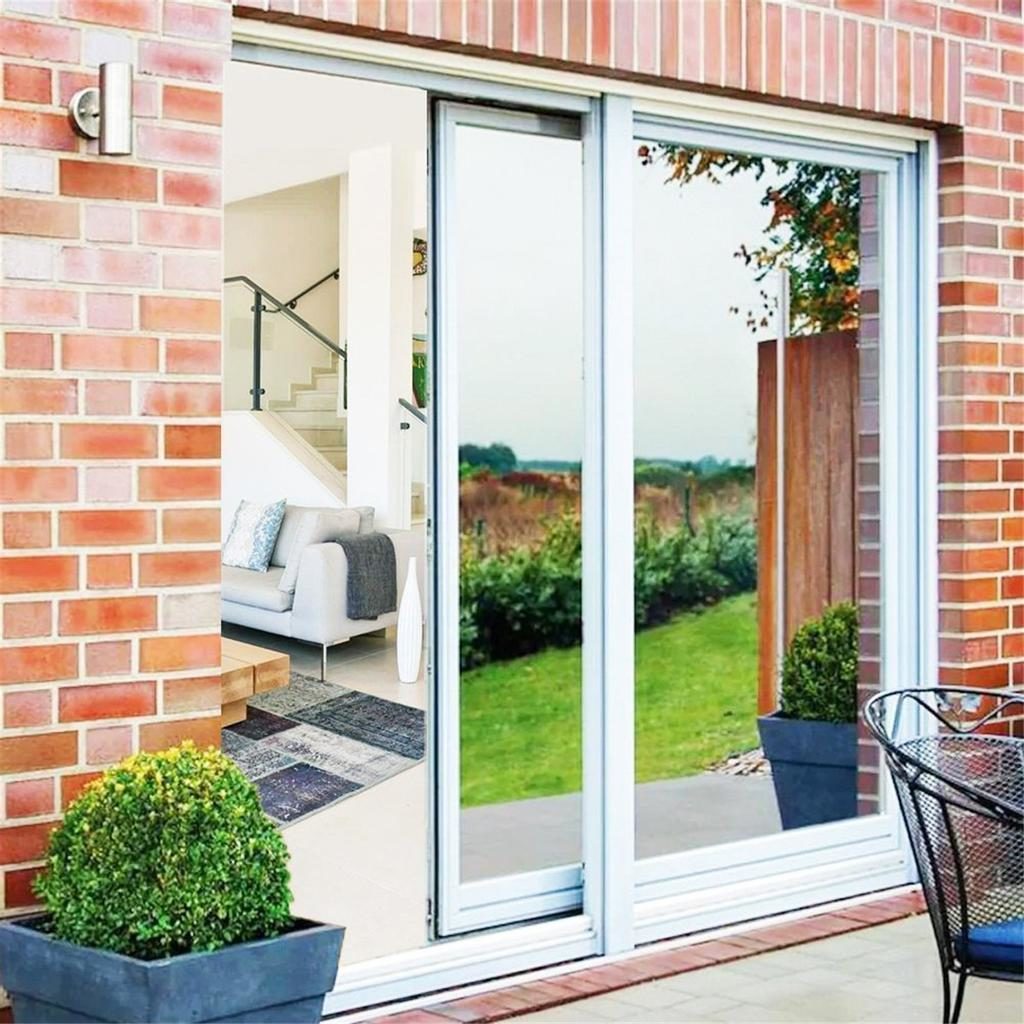 It is beneficial to apply the privacy film to the glass door after cutting it into shapes.
Squash should be peeled, and grated especially when going up and down, place the sticky side of the film on the door.
As you proceed, use a payment method or a spatula to smooth out any bubbles.
Also, force the film around the border so that it sticks properly.
Since the film is slightly thicker than regular contact paper, you may need to apply a little more force than usual.
5. Remove any excess film:
Remove any excess film after applying it with a sharp knife or box cutter.
Make sure you take it carefully and avoid cutting yourself.
Also, prevent cuts in the door frame.
Don't worry if you inadvertently knock on the door so that the cut does not get ruined.
You can quickly cover it with adhesive tape, however, try to avoid any errors if necessary.
Finally, allow 24 hours for the privacy film to dry completely.
Also read: Types of Door Sweeps
FAQ- How to Cover Glass Front Door for Privacy:
Q1. Is Covering a Glass Front Door for Privacy Challenging or Expensive?
No, covering a glass front door for privacy is neither complicated nor expensive.
With a few readily available supplies, you can make it yourself. It could cost you between $35 and $50.
Q2. Are Frosted or Etched Glass Panels for a Glass Front Door Easier to Find?
Yes, frosted and embossed glass panels are widely available.
They are available at any home improvement store or on the Internet.
However, you need to evaluate the door first to make sure you have purchased the right size.
Q3. Are there any materials that perform better than others?
If you want a more permanent solution, you can apply frosted or privacy film, but you must first inspect the door to ensure that you have got the correct size.
Also read: How To Arrange a Room with Sliding Doors?
Conclusion:
Now, it's time to cover your front glass door for privacy, select the method that works for your requirements and get started.
Remember that these ideas are just suggestions, feel free to be original and come up with your own answers.
You may create a private and elegant space with just a little effort.
Thank you for reading, and please stay in contact for future home improvement initiatives.