Are you a little worried to stop rain water from entering your balcony in the monsoon season?
Do you enjoy watching the rain from your balcony while sipping coffee? We adore it as well but if you're getting soaked by the rain, it's not fun.
Check out some great suggestions to prevent rainfall from entering your balcony.
Here are several strategies for minimizing the annoying element in the house to stop rainwater from entering your balcony.
These methods are effective and useful.
Try them out!
5 Ways to Prevent Rain Water From Entering Your Balcony:
1. Mount Outdoor Blinds:
Clear PVC is also known as polyvinyl chloride, PVC blinds that mimic wood, and mesh fabric blinds are all choices for outdoor blinds (also called rain curtains or rain screens).
These screens have the following benefits:
They also keep flies and vermin off of your balcony.
They can both be fully opened out and retracted when it's not raining and you want to breathe in some fresh air.
Due to PVC's complete waterproofness, your balcony will remain dry.
If you choose clear PVC, you can see through it while it's pouring.
2. Construct sliding glass doors:
Along the balcony wall, there are glass curtains or shutters that can slide open in warm weather and closed in the rainy season.
Since the side panel is often fixed, the balcony space cannot be completely opened up.
Instead of using wood for the glass frames, use waterproof to stop rain water from entering your balcony.
3. Construct A Roof Shelter:
If your balcony isn't covered, you might install a PVC or tile lean-to roof that is sustained by an MS frame.
Installation of this will need to be done by a specialist.
Spanish tiles, Pot tiles, or tiles with a Mangalore pattern are all attractive and give your balcony a rustic feel.
For additional waterproofing, use under tiles to cover out any gaps in the tile's outer layer. You can let sunshine seep in by choosing a few glass tiles to place in between the opaque tiles.
4. Mount a retractable awning:
Install a retractable cloth awning that can be pulled back using a motorized connection if you like the notion of a flexible cover.
In this manner, you can enjoy the sun whenever you choose. Numerous businesses will install these awnings according to the dimensions and requirements you require.
These awnings are typically covered in a plastic finish to prevent damage from rain.
The awning could fly off if it isn't fastened very firmly, especially during a severe storm. So, if you are in a region with strong winds, request additional reinforcement.
Awnings come in practically all colours, even though stripes are the most common to stop rain water from entering your balcony.
5. Make use of bamboo chic blinds: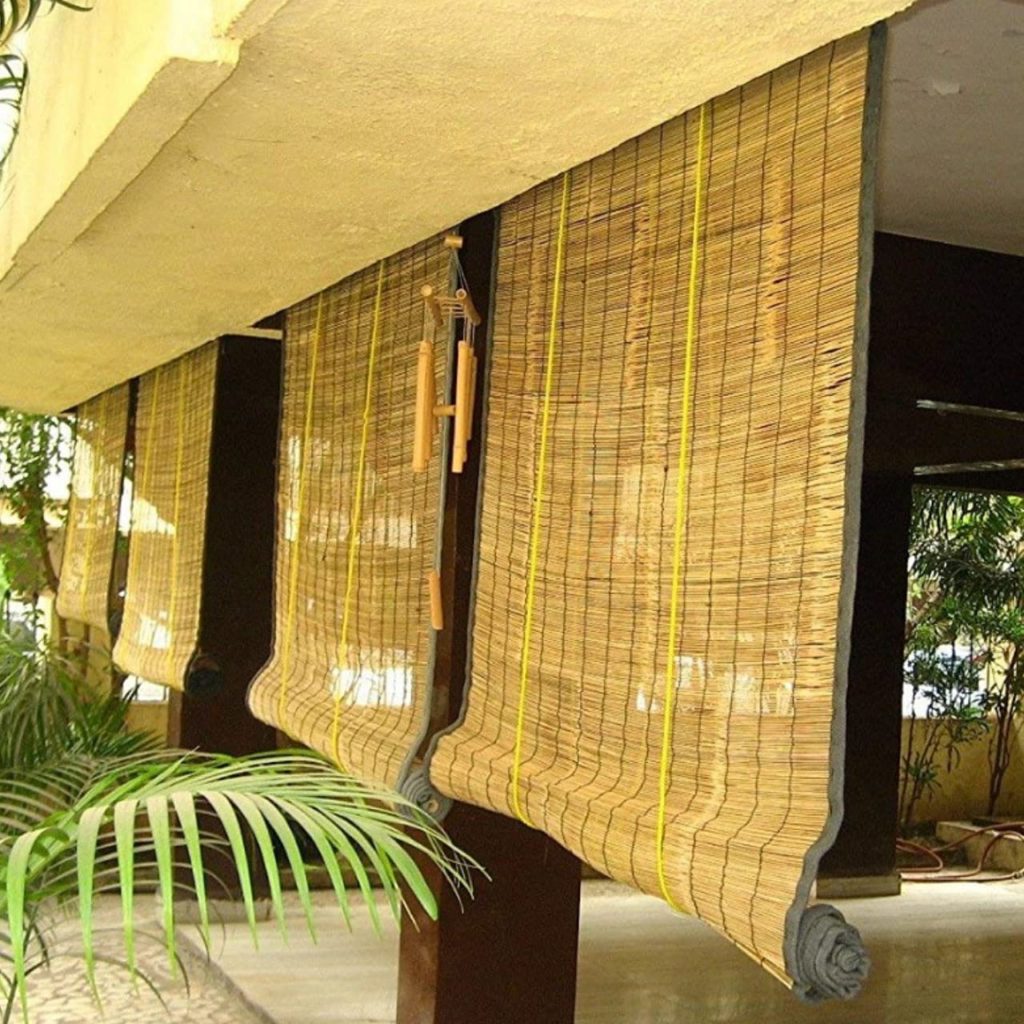 A sustainable choice to keep the rain off your balcony is to use bamboo blinds. To ensure that your blinds can survive both the sun and the rain, choose blinds with an outer weatherproof finish.
Bamboo blinds complement ethnic design quite nicely. When the shades are down, the sunshine shining through them is quite attractive!
Bamboo blinds do not completely exclude the rain because there are gaps between the slats.
Here Are A Few More Considerations!
Use anti-skid tiles that don't get slippery when they get wet if your balcony is tiled.
Your balcony could become a slippery area with only a little bit of water.
If you are using wooden flooring, pick external grade interlocking panels that can withstand the sun and rain.
You should only use weather-resistant furniture if you intend to place it outside on the balcony.
Rattan outdoor furniture is long-lasting and easy to care for.
Although we do not support the use of anything that is not environmentally friendly, you might also choose plastic.
The rain might give your balcony plants a nice wash if you have some.
The balcony walls should be painted with exterior-grade paint.
The balcony floor should slant toward a certain corner, where a conduit for collecting rainfall keeps water from building up on the surface.
Check the inclination of the balcony floor.
Make sure this pipe is free of debris, such as dirt or fallen leaves, before the rainy season begins to stop rain water from entering your balcony.
Uses of rainwater:
Harvesting Rainwater:
If you could set up a rainwater collection system on your balcony, it would be fantastic!
Rainwater is the purest natural water that is readily available, therefore it is a valuable resource.
Install some pipes to capture the water from the awnings and the balcony.
Use the water that has been gathered to water your plants or to flush toilets.
Do your small part to live sustainably; the environment will thank you.
Before the coming monsoon season, we still have a few months to go.
Prepare your balcony to receive the rain and get ready to take in the sound of the raindrops as they fall.
Repurpose your balcony:
To physically enclose your balcony without obstructing the view, use glass panels.
Then furnish it with furnishings so that you may use it as a kitchen or a home office.
On rainy days, it can be thrilling to work on a project while watching the rain or to prepare something hot and spicy.
You are undoubtedly prepared to embrace the wet season at this point. Simply furnish your balcony with all it needs, and you're ready to go!
Also read: How To Stop Rain from Coming through Window?
FAQ: How to Stop Rain Water From Entering Your Balcony?
Q1. What is the best technique to prevent flooding on a balcony?
The installation of a drainage system by a professional before the beginning of the rainy season is one technique to stop the damage from floods.
Patio drainage systems enable rainfall to exit the structure and go elsewhere before it has an opportunity to collect and cause trouble.
Q2. How can I prevent water from entering beneath a balcony door when it rains outside?
You must have a wooden, stone, or cement threshold built to prevent water from entering your home.
Q3. How can I keep the rain off my wooden balcony door?
If your balcony door is made of wood, have it polished or washed to make it weatherproof.
Your wooden cabinets and closets can be made to absorb moisture by placing camphor balls or cloves inside.
Also read: How To Cover Glass Front Door for Privacy?
Conclusion:
Monsoon season is a pleasant season, and it is even more enjoyable when your home is monsoon ready.
As a result, if you live in a flood-prone area that needs to stop rain water from entering your balcony, the home is evaluated for leaks, cracks, drainage issues, and other concerns to avoid flooding and damage.
To prepare for unforeseen issues, you must also keep a home insurance policy.
If you found this content helpful, kindly spread the word to your loved ones, please leave a remark if you'd like further information about preventing rainwater from your balcony.