Why not dare to be unique and use an orange two-colour combination for bedroom walls if your bedroom needs an update?
The wonderful flavours of the tropics are brought into your most private space by this vibrant colour which is a great way to add warmth and excitement to your space.
But be warned: colours of orange require a deft touch and it must be paired with the appropriate combinations to shine.
Still, puzzled?
You might find something you like among the several orange blends on the walls of the house below!
Here are our recommendations for the best orange two-colour combination for bedroom walls; you'll want to save these stunning bedroom sets to your design lookbook!
Let's see!!
12 Amazing Orange Two Colour Combination For Bedroom Walls:
1. Eggshell White with Cinnamon Spice:
With its beautiful combination of cinnamon scent and soft eggshell colours, this peaceful Japanese-style bedroom emanates peace.
Cinnamon belongs to the earthy end of the orange colour spectrum, which grounds and regulates the energy in the area.
The large windows and sliding shoji doors that allow a tonne of natural light are wonderful.
2. Burnt Amber with Silken Cream:
The walls of this opulently debauched boho-chic bedroom are painted burnt amber with a rustic texture.
Raw silk curtains in a rich, pale-cream colour are hung from the beam level which offers a lovely contrast.
The extravagant headboard's floral theme is complemented with honeycombed pendant lanterns made of rattan that cast fascinating patterns of light and shade.
3. Tangerine Orange with Prussian Blue: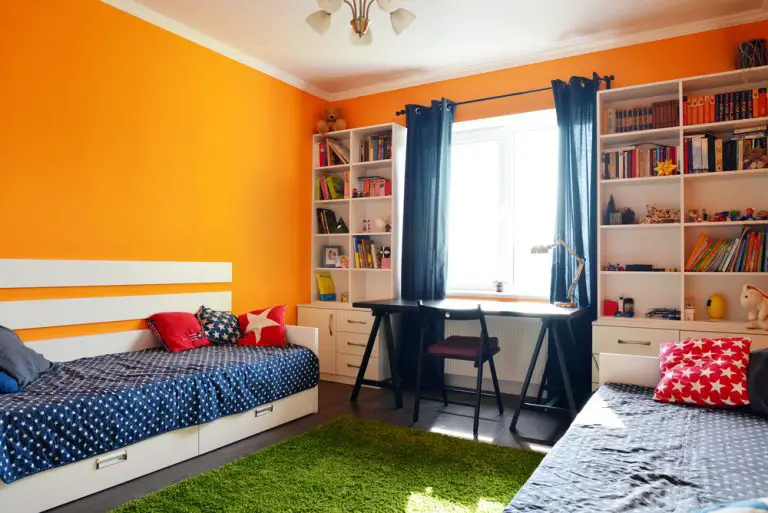 When you decorate your child's room, you can break the rules because kids enjoy the colour!
Kids adore the bright because of the spirited tone of orange.
The deep shades of Prussian blue in the bed covers and drapes offer effervescent contrast to the freshly squeezed orange walls that give this kid's room numerous layers of depth.
4. Matte black with persimmon orange: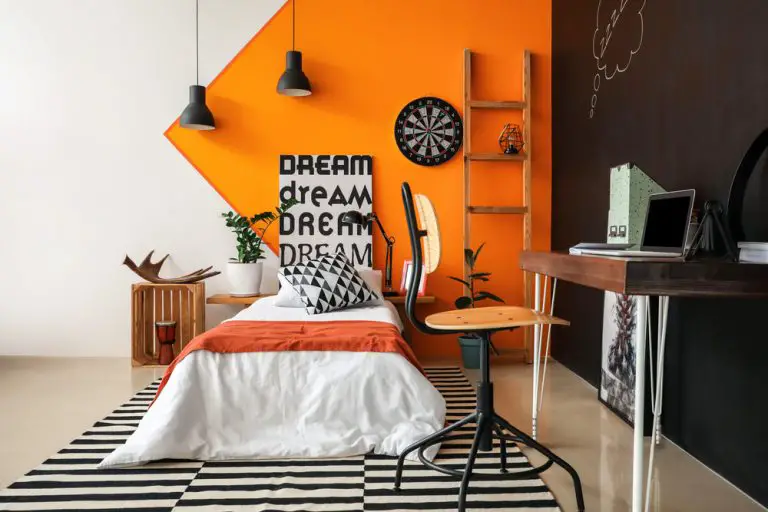 This orange two-colour combination for bedroom walls includes a unique wall that is split 50/50 between persimmon and white, a blackboard wall completes the bold colour trio.
The headboard, rug, and cushions all feature graphic black-and-white designs to complete the style.
The ideal setting for a travelling teen!
5. Marmalade with Inky Black: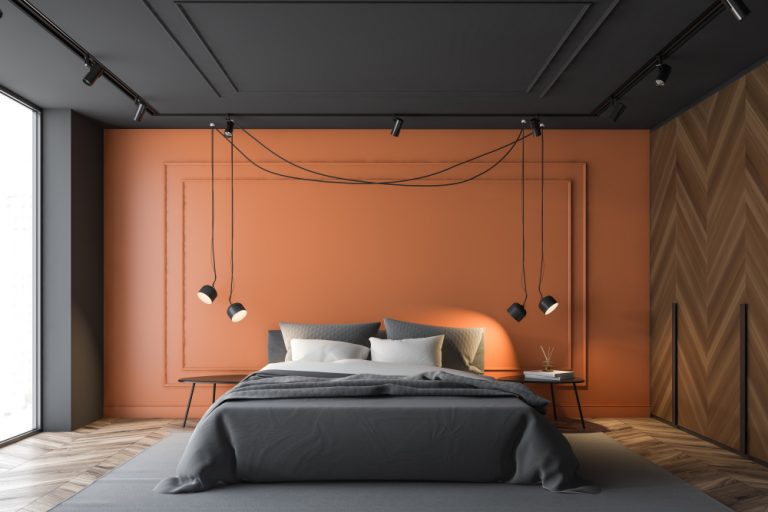 This chic pairing of orange marmalade and black will give your bedroom a dramatic flair.
The magnificent ceiling is also coated in black, raising the level of glitz considerably!
A unique continuation of the parquet flooring may be seen on the wall.
6. Cantaloupe with Smoky Grey: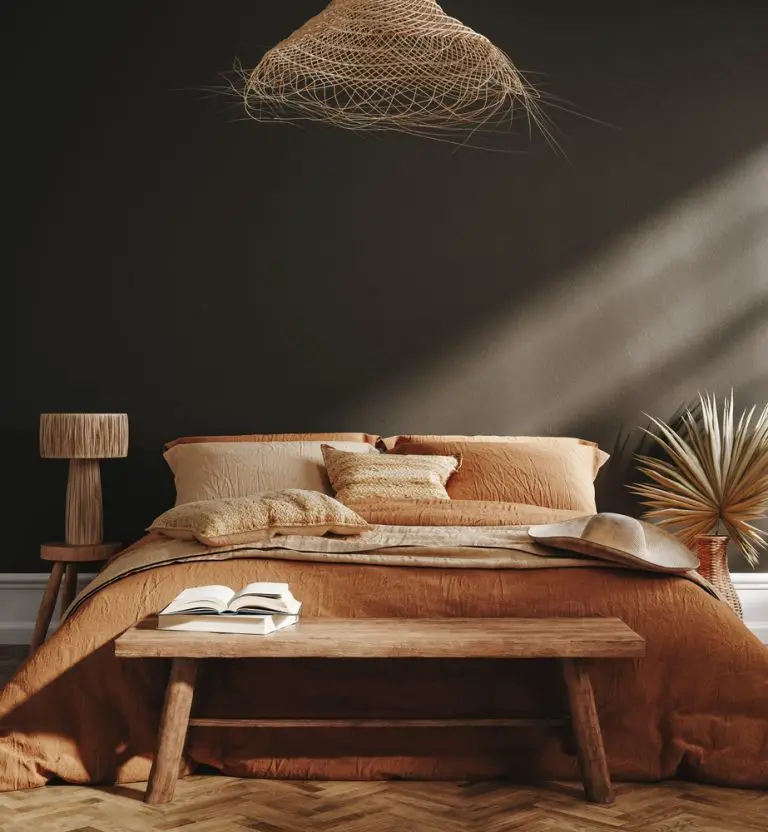 The cold undertones of the grey balance off the lively nature of the cantaloupe in this combo, making it a bold pairing.
An orange two-colour combination for bedroom walls usually requires contrast, and this bedroom has lots of it!
7. Gamboge Orange with Beige:
This Zen-inspired bedroom radiates an inner fire that mixes cheery gamboge orange hues with calm beige.
The plain white bed linen cools the room down while the abstract swirls in the wall painting match the flamboyant hues.
8. Dove grey with pale peach: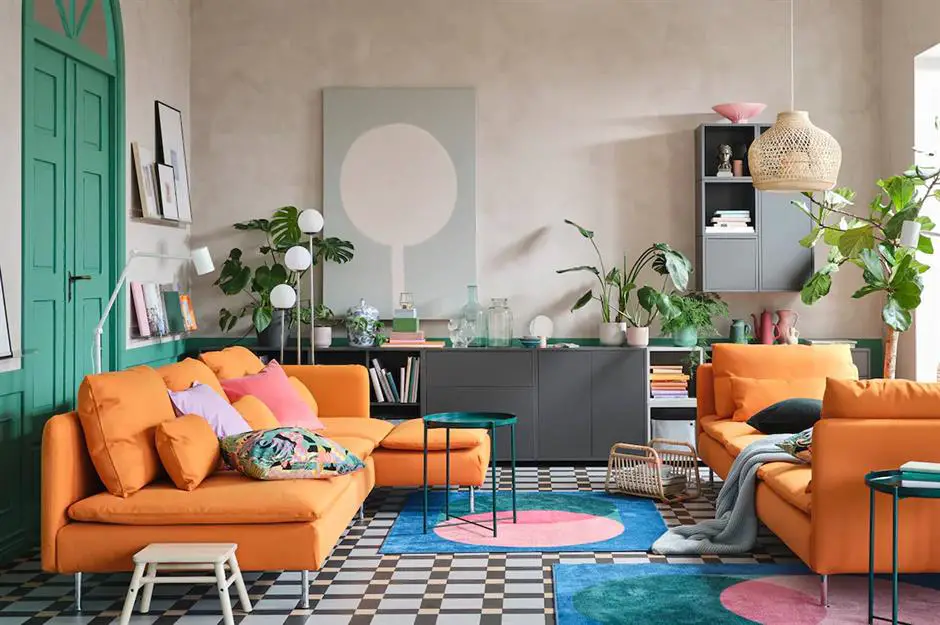 The finest colour scheme for your bedroom is one that features pastel hues because they are usually calming and peaceful.
This room is a tranquil retreat due to the subtle contrast between the peach colour scheme and the bedcovers' whispering grey tones.
9. Burnished Bronze with Pure White:
White is the ideal foil for fiery orange, reducing its intensity while providing strong contrast.
The collection of tall tribal jars with an orange colour helps to keep the theme consistent.
Shelves for displaying artefacts are included in the white curtain wall behind the bed.
10. Terracotta with Silver Grey:
Any place may benefit from a little orange two-colour combination For bedroom walls, as this exquisite bedroom demonstrates.
A single cushion in earthy terracotta gives the room, which is otherwise decorated in muted, austere colours like grey and white a fresh dimension and flavour.
11. Coral Warm with Hunter Green:
This bedroom's combination of coral linens and a deep green wall is cheerful and attractive.
 In this instance, the room's blonde wood and white draperies lessen the intensity of the colours and make them work together.
Having two strong colours in the same area could be scary.
12. Sunny Marigold and Bright Pink:
With its vibrant combination of marigold, pink, and mustard, this cheerful children's room is practically overflowing with energy.
To complement any colour, the room's wooden details were purposefully painted white.
Over the bed, a floral bouquet is suspended that adding a lovely touch.
Tips to Use Orange in Home Decor:
Always moderate the fire with a gentle neutral colour such as white, cream or grey, as the brilliance of orange can become intense.
Orange looks stunning when combined with colours from the other end of the colour spectrum like blue and green.
Orange looks prodigious with both lighter wood tones like oak or cedar and darker wood tones like teak, walnut, or mahogany.
A room with too much orange stimulation may cause certain people to become agitated and hyperactive because they are so sensitive to the emotions that colours create.
Orange is a vibrant colour that not only looks fantastic on walls but can be combined into bedding, rugs, artwork, and accessories.
Also read: How to Panel a Wall?
FAQ- Amazing Orange Two-Colour Combination For Bedroom Walls:
Q1. Which curtains look best on orange walls?
White curtains contrast sharply with most orange tints, drawing attention to the walls.
Since this contrast, the orange walls have become the focal features of the room.
Q2. Is the colour orange a lucky colour for the bedroom?
Yes, orange is a colour connected with the earth element in feng shui, which is related to nutrition, stability, and grounding.
This makes them ideal for a bedroom, especially if you are feeling confused.
Q3. Do orange and green complement each other?
As orange has a complementary colour to green, these two hues look fantastic together.
Also read: How to Decorate a Slanted Wall Bedroom?
Conclusion:
A two-colour orange bedroom wall combination offers your home an updated appeal while still keeping a relaxing mood.
The idea is to choose colours that work well together and complement one another.
Experiment with different tints and shades to find the ideal match for your bedroom, a two-colour scheme can also be used to create a focal point in your room, such as an accent wall.
You can leave a message in the comment box if you have any questions or if you find this post interesting.