If your bathroom is small, it could be challenging to put a toilet paper holder in a small bathroom.
After all, it requires a lot of imagination and creative problem-solving to ensure that everything fits and there is at least some breathing room.
Finding a suitable location for a toilet paper holder in these situations can be a genuine nightmare.
No matter how little space you have in your bathroom, there are a variety of ways to create room for a toilet paper holder.
Here are the best bathroom design ideas to put toilet paper holder in the small bathroom from practical free-standing holders to screw-free installation options.
Read on!
9 Ideas to Put a Toilet Paper Holder in Small Bathroom:
1. Wall-mounted paper holders:
Consider installing a toilet paper holder on the wall if there isn't space for one on the bathroom floor.
You can install the holder on your wall, bathroom cabinet, or the bathtub depending on how your bathroom is set up.
The holder can often be placed either in front of or next to the toilet. But you may also use the wall behind the toilet seat if you don't have anything to mount it on.
It will be more difficult, but still doable, to reach for the paper.
It is advised to put the holder between 8 and 12 inches above the top of the toilet and about 26 inches above the ground.
Due to the area, you should not have to push yourself or stand up every time you need to use the bathroom.
Of course, not everyone can use these numbers.
It is important to get your tape measure out and determine which proximity or height would suit you the most.
The holder will be prepared for use as soon as you mount it and mark it on your wall or cabinet.
If you'd rather avoid drilling holes or using screws, consider a self-adhesive toilet paper holder.
It clings to your wall as its name implies without the need for any tools or causing any damage to your walls.
It's perfect if you're renting an apartment and can't use a drill.
Finally, a friendly piece of counsel. Stainless steel holders should always be purchased.
They won't rust over time, and water won't have any impact on them. They are therefore the ideal choice for bathrooms.
Shelf-mounted Holders:
In addition to holding your toilet paper, mounted holders sometimes have a little shelf on top.
You can place a tissue box, some wet wipes, or even just your phone on this shelf while you are using the toilet.
If you need some room for tissues but are unable to mount a tissue dispenser on your wall, these shelf and holder combinations are fantastic.
2. Free-standing toilet paper holders:
You can choose a free-standing toilet paper holder if you prefer one that isn't fixed in place. For instance, you may get a floor stand and put it wherever there is adequate room.
The benefit of floor stands is that they provide space for storage in addition to holding your toilet paper roll.
 You can keep tissues, wet wipes, or additional toilet paper in this container. In actuality, you can throw anything in there and get a two-for-one result.
Similar to mounted holders, a stainless-steel floor stand is recommended. It will continue to look good and last the longest even after many years of use.
You can position these holders wherever you wish, in terms of placement. The best location for them is adjacent to the toilet.
They can also be placed in any place there is room for them, such as next to the sink or by the bathtub.
Anything goes as long as you can reach the holder while seated without difficulty.
3. Baskets:
Narrow baskets can be very useful for people with little floor space. You might get a nice toiletry basket and set it on top of the tank.
Even though it won't operate as a true toilet paper holder, it can fit all of your paper rolls and yet be easily accessible.
 Baskets can hold any additional materials you would need to store in addition to toilet paper. That goes for toiletries like Kleenex, towels, or any other.
Finally, compared to other toilet paper holder solutions, baskets have a certain visual appeal.
Baskets are the greatest option if you want to create a warm atmosphere while also having plenty of storage space.
4. Toilet Storage Racks:
If your bathroom needs more shelves but you don't have anywhere to place them, toilet storage racks are a great option.
These racks fit a variety of goods and are located over your toilet bowl and tank.
The shelves can hold towels, makeup, cleaning products, and any other bathing necessities you need to keep nearby in addition to a few toilet paper rolls.
Additionally, you can now fit several decorations on the rack that you previously wouldn't have had room for.
There are variations of the racks that have even more shelves than the standard three.
Depending on how much wall space you have above your toilet tank, you can choose which one to buy.
Decide how many shelves you can acquire after measuring it.
Although white is the colour that most people choose for their shelves, there are numerous options available.
Black, silver, and even more vibrant options like red or green are among them.
5. Toilet Paper Holders Over the Tank:
Be at ease if there is absolutely no room on the floor for a holder and you are unable to install it on any nearby surface.
Another option to think about is an over-the-tank toilet paper organizer.
This holder attaches straight to your toilet tank, as its name implies. Simply raise the tank's lid, fasten the side holder, and lower it back down.
When you put the paper roll on the holder, the holder will remain stable due to the weight of the lid.
Even though these holders can only handle two rolls at once, they are nevertheless a practical solution.
Before buying, make sure this organizer can fit in your toilet tank. Specifically, this holder cannot be used with toilet tanks that are curved at all.
As a result, if you have one of those, you should try one of the other options on the list.
Using this holder will make it more difficult to reach for your toilet paper.
It is your best alternative if you don't have access to another work.
 It might be advisable to get the toilet paper before sitting down if you choose this style of the holder, and then to put it back once you are through.
6. Toilet Paper Hooks: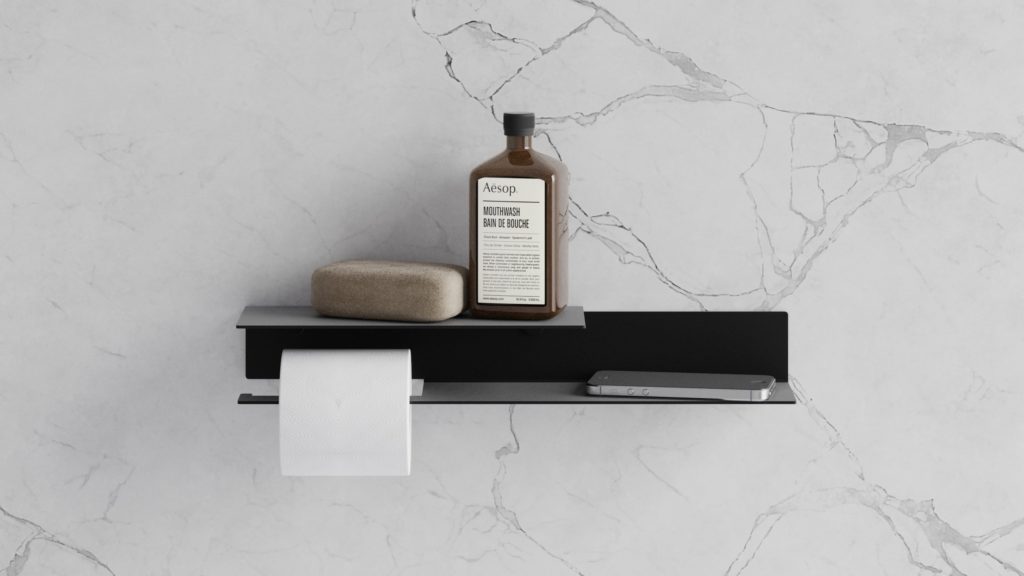 This stocker has space for up to 12 rolls of regular toilet paper. It can fit in even the smallest locations because it measures 4.9 x 13 x 18.9 inches (L x W x H in inches).
You can place it right next to your toilet so that it is always stocked with paper and tissues.
This stocker will not only serve as a useful paper holder, but it will also free up valuable cabinet space.
You can fit all of your tissues and toilet paper inside, freeing up additional room for other bathroom necessities.
7. Toilet Paper Hanging Storage Box:
Try to utilize as much of your walls as you can to minimize the amount of floor space you need.
In that sense, hanging storage containers can be helpful. About ten paper rolls can fit in most alternatives.
Similar to mounted holders, some designs only require adhesive to attach to a wall. You can always choose a model with doors if you don't want the rolls to be seen.
In either case, you'll save cupboard space and always have access to toilet paper.
8. In a nook near the bathroom:
Put one in the corner next to the toilet if your bathroom is too tiny for a free-standing toilet paper holder.
You won't have to be concerned about taking up too much room and will have simple access to it this way.
9. Along the sink's side:
On the side of the sink is an excellent additional location for a toilet paper holder. In this manner, it will always be handy but out of the way when you don't need it.
Other things, such as hand towels or soap, can be kept in this area as well.
Also read: How To Paint a Bathroom?
FAQ: Where to Put Toilet Paper Holder in Small Bathroom?
Q1. Should the toilet paper holder be placed on the left or right side of the toilet?
Place it to the left.
Given that most individuals are right-handed, the other guy's advice is sound, but righties will want to extend their right hand to their left side.
Given that the dispenser is likewise on the right side, it will likely be more difficult to reach.
Q2. Where should the wall-mounted toilet paper holder go?
Usually, toilet paper holders are mounted 26 inches above the floor and 8 to 12 inches from the front of the toilet on the wall.
Q3. Is it necessary for me to tuck a roll of toilet paper under the toilet seat?
There are a few reasons for this. First of all, it is farther away from traffic and is less likely to tip over. Second, since it's not right near the toilet, it's less likely to get wet or soiled.
Thirdly, it makes a place on the bathroom shelf or counters for other items.
Also read: How To Decorate a Bathroom Mirror?
Conclusion:
Small bathroom management and decoration can be very challenging.
The majority of the time, you struggle to find enough bathrooms for everything from shower stalls to large cabinets.
Finding a location for a toilet paper holder might be very difficult in these situations.
Given the size and configuration of your bathroom, there are fortunately lots of possibilities you can take into account.
 For instance, hanging storage boxes and mounted holders make use of any available wall space.
The toilet tank can be used as a perch for baskets and over-the-tank holders.
Finally, free-standing holders, storage racks, and toilet paper stockers can help you make the most of the space you still have on the floor, thus, the only thing left to do is for you to examine your bathroom and determine which solution works best.
Your brand-new paper holder will be prepared in no time at all when you measure everything and order your supplies.