With lovely fall centerpiece ideas, you may give your home a touch of the season.
We have put together a beautiful fall centrepiece that ranges from casual and whimsical to refined and exquisite.
They are ideal for a festive table for a holiday dinner or need a daily centrepiece for your kitchen table.
To create the fall centrepiece of your dreams, we have included ideas that combine existing home decor items with seasonal components.
We use lush greenery, crisp apples, and large pumpkins to create our tabletop arrangements.
Your table is now gorgeously decorated with everything you love about the fall.
Here are 20 outstanding inspirations for stunning fall table centrepieces as follows:
Fall Centerpiece Ideas Full of Autumnal Style:
1. Bountiful Floral Ideas:
Use lush red, orange, and yellow flowers and eucalyptus, antique brass candlesticks, and a scattering of pomegranates to make a lavish fall centrepiece inspired by this lovely table.
Although blue might not be the first sport that springs to mind when you think of fall, it contrasts wonderfully with the usual fall colours and the brass's warm tones.
2. Pampas Grass Ideas:
To create this centrepiece for an outdoor fall dinner.
The stems can be used for several months and protected for the following year because they have been dried.  
It's a cheap solution that looks stylish and effortless.
A relaxed setting with pillar candles, patterned tableware, and unstructured linens allows the tall arrangement to stand out.
3. Cheesecloth Ghosts Ideas:
 These cute cheesecloth ghosts can be used as a whimsical fall centrepiece by placing them along the middle of your dining table.
You need a few supplies to make this cute craft, you probably have some at home.
 For an entertaining effect and spooky atmosphere, place twinkle lights around the ghosts.
4. Fall-Filled Ideas:
 These farm-to-table fall centerpiece ideas are fantastic.
Simply load a tray with seasonal vegetables like kale, eggplants, and radishes.
Then, to finish off your design, fill it with your preferred succulents and distribute miniature pumpkins inside the openings.
5. Mix Fresh and Dried Flowers Ideas:
For a more intriguing appearance, combine fresh and dried flowers in a large floral arrangement.
Consider making the arrangement wider and distributing the stems from left to right rather than making it higher to make it look full.
 In addition to fitting a rectangular table nicely, it will also be low enough to not interfere with dinner conversation.
6. Halloween Pumpkin Centrepiece Ideas:
Halloween is the focus in October with its seasonal centrepiece.
Put a variety of beautiful pumpkins in the centre of the table, and for a fun touch, hang black witch hats over it.
7. Fall Harvest Ideas:
 Rich purple and scarlet colours accent the greens to complete this eye-catching arrangement.
8. Succulent Pumpkins Ideas:
 For a unique fall centrepiece, replace the traditional stems of your pumpkins with succulent plants.
Is a quick DIY project that you can use on your dining room table throughout the fall or turn into a more complicated arrangement of different-sized succulent-filled pumpkins for special holiday meals and gatherings.
9. Brass Touch Ideas:
This lovely tablescape and any fall centerpiece ideas are made even more lovely by the warmth of brass.
Put an arrangement of orange and purple flowers in a brass vase or bowl for an amazing jewel-toned contrast to the metal.
Use brass candlesticks to add height to the table setting as well as the cosy warmth and atmosphere that are necessary for this time of year.
10. Orange Ideas:
The Orange is the colour most associated with fall, so use it in your centrepiece.
Orange candles in brass candlesticks, tangerines on dessert plates, and fiery orange flowers combined with deep purple and pink lend this table a classic elegance suitable for any special supper this season.
11. Lantern Assortment Ideas:
Use a variety of different sized and shaped lanterns.
Consider adding black and white decorative things inside the lanterns to make them more Halloween-inspired, or stick to traditional fall hues and accents like actual tiny pumpkins, a hurricane filled with candy corn, and a candle with a fall motif.
12. White Pumpkin Topiary Ideas:
The lush greenery in this overflowing topiary elegantly accentuates the white pumpkins.
Visitors are impressed by the visually arresting levels since it provides such an abundant appearance.
13. Dried Floral Combination Ideas: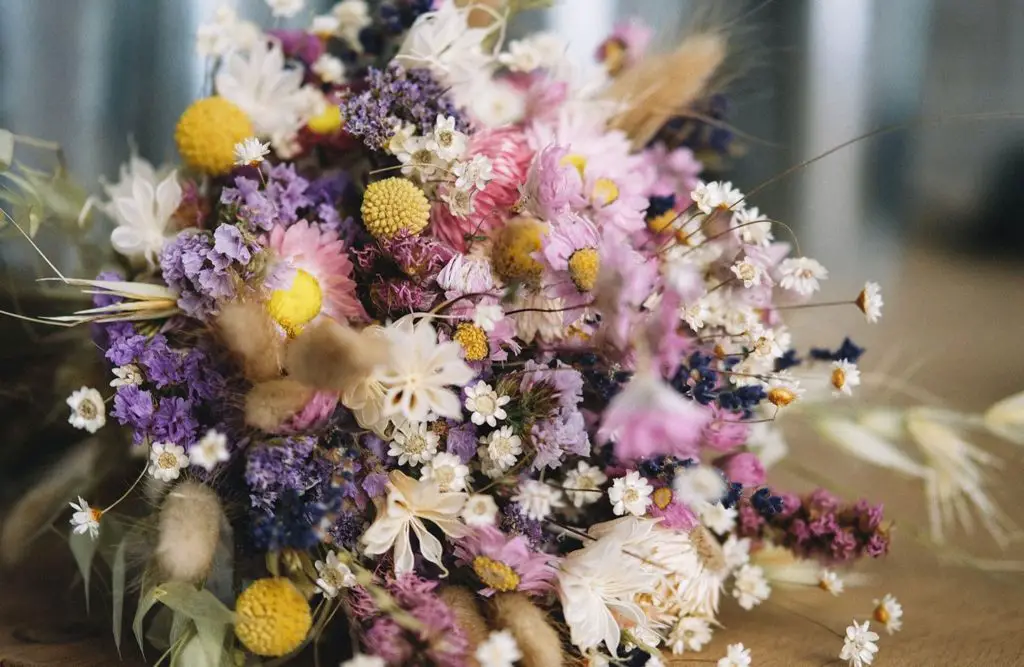 When it comes to the container you choose to store a floral arrangement, you are not restricted to vases.
Use a sizable bowl to create fall-themed dining room centerpiece ideas.
Fill it to overflowing proportions with dried flowers and greenery, and tuck a string of wooden beads within for extra texture and a cosy warmth.
14. Floral Bouquet in a rattan basket Ideas:
It include a textural component like the rattan basket to make this inviting table setting.
Layering several textiles is a terrific way to achieve cosiness, texture, and warmth
The space between the vase and the basket can be concealed by inserting a vase inside the rattan basket, filling it with water, and then placing your flowers within it right away.
Be sure to cover the vase's edges.
15. Tiny Pumpkins Folding Ideas: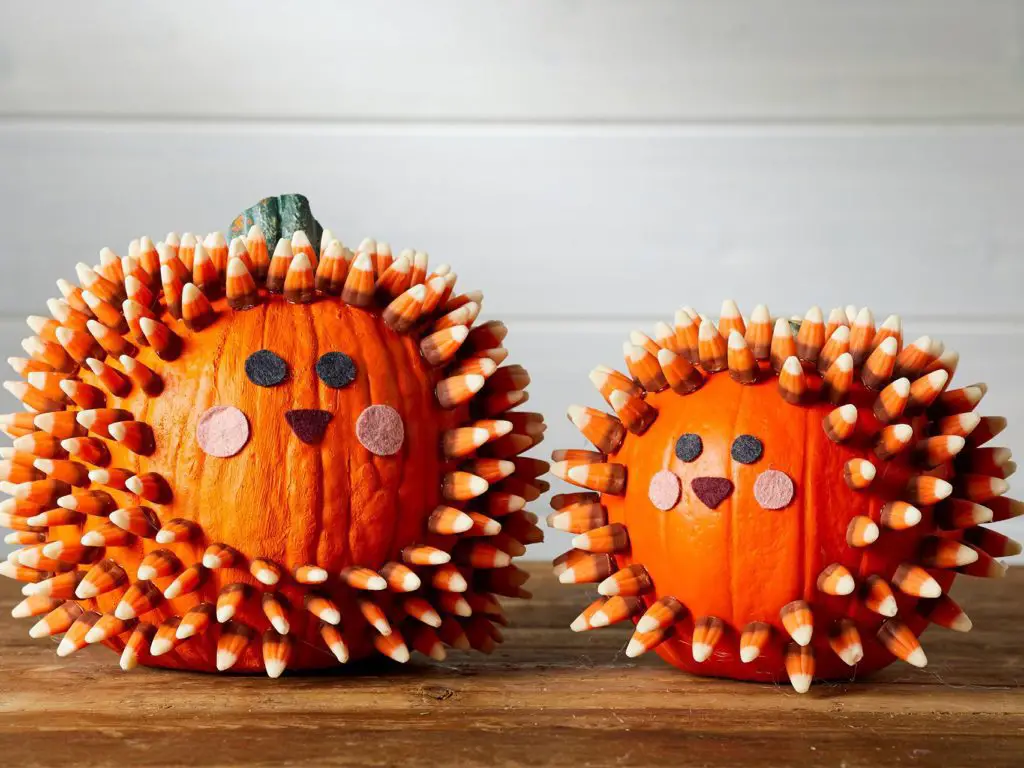 This rustic style is extremely eye-catching.
Fill your finest apple bobbing aluminium container with water, autumnal foliage, and pumpkin-scented candles.
16. Modern Cornucopia Ideas:
Instead of using the conventional horn-shaped basket, consider a wooden dough bowl with felt lining it and florist foil that is waterproof.
Using florist foam, create a smooth surface on top of the foil.
Include a range of fruits and vegetables, such as pumpkins, persimmons, apples, brussels sprouts, baby carrots, squash, and gourds.
17. Colourful Ombre Pumpkin Ideas: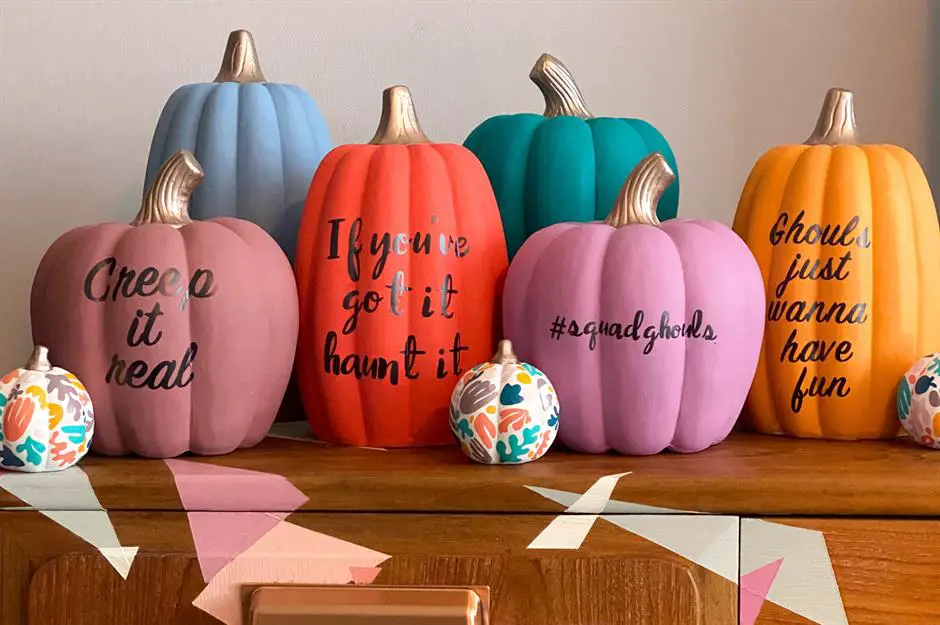 Have some fun and make these spray-painted colourful ombre pumpkins instead of sticking with the norm and using orange or white pumpkins.
The possibilities are endless from rainbow-coloured pumpkins with ombre glitter.
They are a creative variation of traditional fall centerpiece ideas.
18. Large Copper Urn Ideas:
Get ideas from this magnificent copper urn-adorned fall centrepiece.
For a relaxed yet perfectly seasonal table, fill it with natural flowers and surround it with a variety of pumpkins.
19. Halloween-Themed Fall Centrepiece Ideas: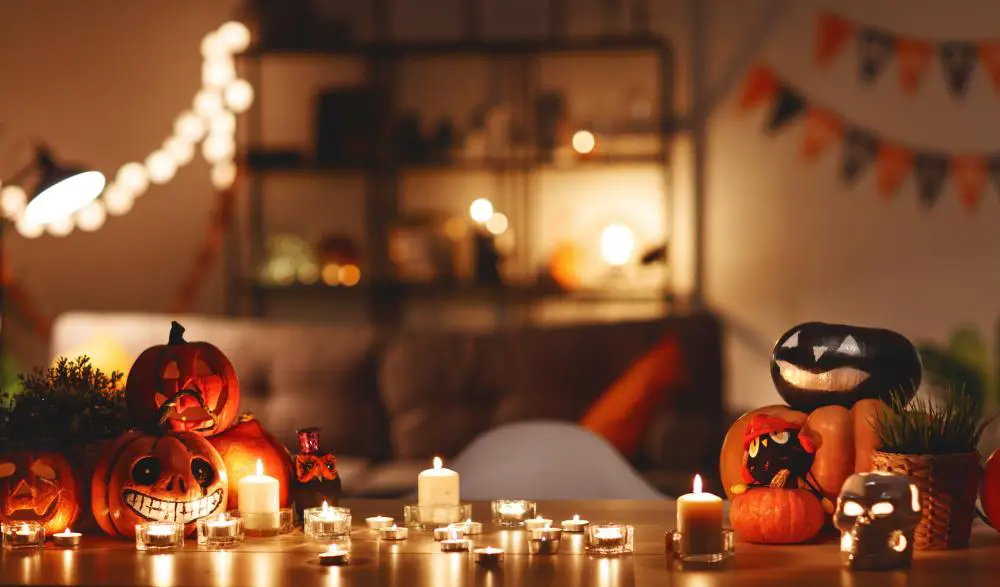 Since Halloween is such a big part of the fall season, make a frightful yet playful centrepiece.
Stacking books on candlesticks with black candles will add height, and orange and white Halloween decorations like pumpkins and eyeballs will add colour contrast.
20. Fall tablescape with Candles Ideas:
This centrepiece for the table is the best way to set the mood for the season.
Fill an outside table with plenty of them, gourds, and pumpkins.
21. Pumpkins in a Bread Bowl Ideas:
Create a simple yet gorgeous fall centrepiece with a bread bowl made of rustic wood and a few pumpkins.
The choices are unlimited; you can use actual pumpkins, fake ones, velvet, wood, or woven.
FAQ- Fall Centerpiece Ideas:
Q1. What are the greatest options for autumn porch decorating?
The use of Fall leaves as accent pieces, adding a Fall wreath, and setting out snacks and beverages with an autumnal theme are a few of the many fantastic fall porch decorating ideas.
Q2. What are some ideas for autumn wedding centrepieces?
Candles can be used as a centrepiece, and silk or fresh flowers in fall colours can be used to embellish the candles on the sticks.
White hydrangea also looks lovely when combined with fall feathers.
There are many ideas, but you must exercise carefulness because they can be expensive depending on your preferences and budget.
Q3. What are some unique wedding table decorations and centrepieces?
Wedding centrepieces are a wonderful way to enhance the decor of your event.
Numerous themes will enhance the appearance of your visitors' dining tables perfectly.
Also read: Fall Decor Ideas | Fall Fireplace Mantel Decor Ideas | Halloween Mirror
Conclusion:
There are many important holidays and get-togethers throughout the fall.
Every occasion offers a fresh justification for creating a seasonal table centrepiece that embodies the essence of fall.
The abundance has been discovered by entertainers looking for innovative fall centerpiece ideas.
The ideal way to decorate for the fall is to make the most of your money by choosing one style that will work throughout the tailgating,
So go ahead and use these easy decorating ideas to bring the fall colours inside.
If you've done any of these, please comment below!