Are you prepared to begin adding on the fall decorations? Begin with your fall fireplace mantel decor ideas!
The ideal place to begin your fall decorating is on your mantel, fall is an excessive season of the year when we bid scorching summer days goodbye and welcome cooler days of fall!
It is also the nicest season to decorate because of the magnificent foliage, festive gourds and pumpkins, and tempting scents of cinnamon and nutmeg.
You probably know there are lots of enjoyable things you can do with a mantel if you have ideas, new ideas are introduced with each season and holiday to keep it looking its finest.
The mantel is frequently the centre of attention in living or dining rooms, so while you're having fun, it's crucial to show off your lovely mantel.
Always start with my mantel because I admire that it is the first thing guests see when they enter my house because fall doesn't imply that you have to only use orange, yellow, red, and brown in your decorations.
You'll be happy to learn that there are lots of great suggestions that don't use traditional fall colours.
If you are looking for recommendations and ideas on the best decor for your house? Take a look at some of our favourite fall fireplace decorating ideas.
Your imagination will flow more freely after looking at these 13-fall fireplace mantel design ideas.
Let begin!
13 Impressive Fall Fireplace Mantel Decor Ideas:
1. Fall Fireplace Mantle Decor: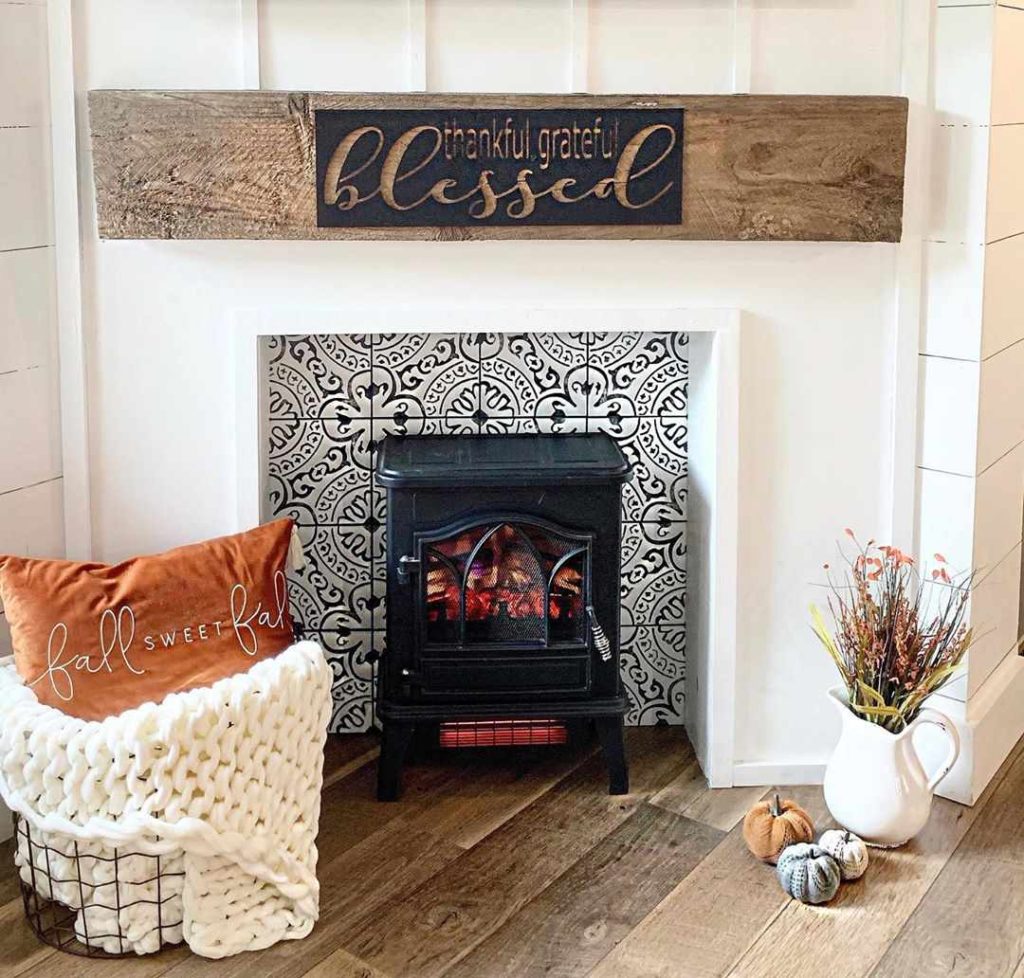 If you prefer a more muted design to orange and black, a simple and neutral fireplace is a perfect choice.
On this white-painted stone fireplace, we adore the green and white pumpkins, eucalyptus garland, and wood accents.
Everything complements the trendy grey floor so perfectly.
2. Fall Metallic Mantel Decor:
Combine natural burlap, dried wheat stalks, and golden details to make autumn magic.
This autumn mantel concept sparkles with pumpkins and nuts that have been partially painted with gold spray paint.
Add string to nuts with hot glue and attach it to branches to create the hanging branch ornaments.
For dynamic heights, select pumpkins and gourds that are roughly one-third the height of your tallest cylinder.
3. Colourful Fall Mantel Decor: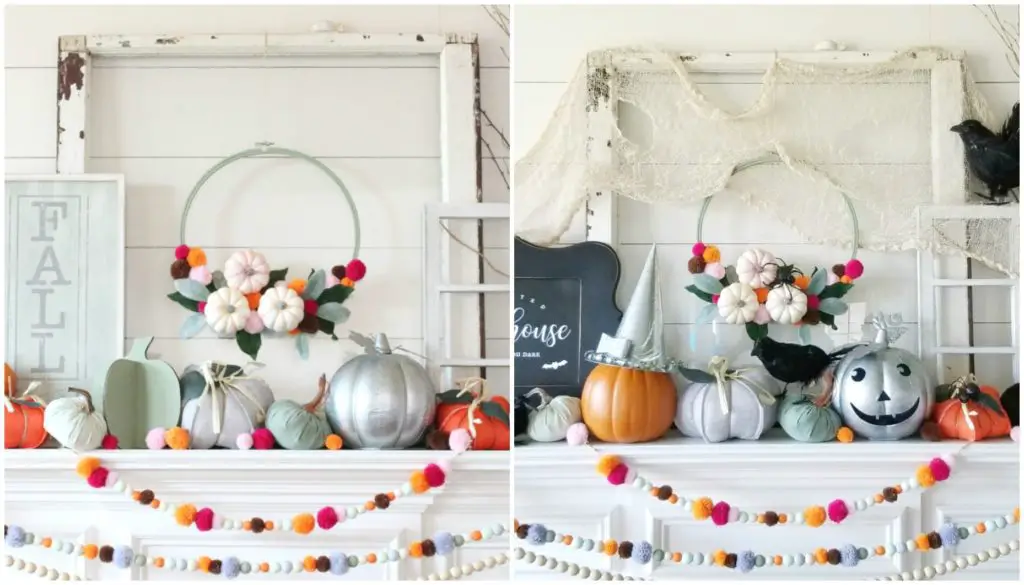 For a vibrant, layered display on your mantel, gather a variety of items.
This arrangement includes miniature pumpkins, gourds, branches with acorns, seasonal flowers, and multi-coloured taper candles.
You may make your fall mantel decor more eye-catching by mixing up the sizes and forms.
Vases, trays, and other containers made of metal offer dimension and a shimmering feel.
4. Simple Fall Fireplace Decor:
When dressing your mantel for fall, don't forget to decorate the remainder of your fireplace.
Utilize a fireplace that isn't in use by decorating it with autumnal elements like a collection of pumpkins of all sizes and shapes.
Instead of buying actual pumpkins, choose realistic-looking faux, ones so you can reuse them year after year.
 To prevent a fire hazard, keep the fall decorations off to the side or on the hearth if your fireplace is operable.
5. Scandinavian Autumn Decor: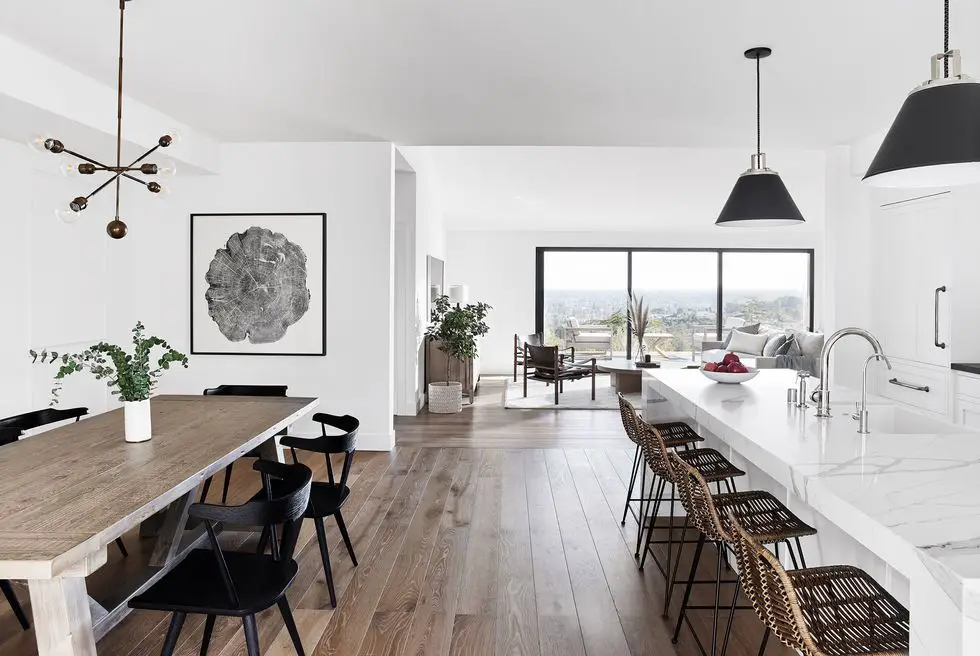 This minimalist Scandinavian fall fireplace decoration is gorgeous!
The white brick fireplace, straightforward pumpkin, flashy red and orange pom-pom garland, white candles, and branches in a white vase all complement the French Oak hardwood flooring from Palmetto Road beautifully.
It is the ideal understated autumn decor that welcomes the stunning tones of the season.
The hardwood flooring installation surplus wood was used to make the fireplace mantle!
A magnificent Scandinavian-inspired fall decoration is this lovely fireplace.
The fall colour scheme is nicely captured with a candid but stunning Persian rug in reds, rubies, gold, cream, and purple, and the leather pouffe almost looks like a pumpkin but is much more useful!
This is a great example to decorate with fall-themed colours while using items that aren't seasonal.
6. Fall Decor in a Rustic Chic Style: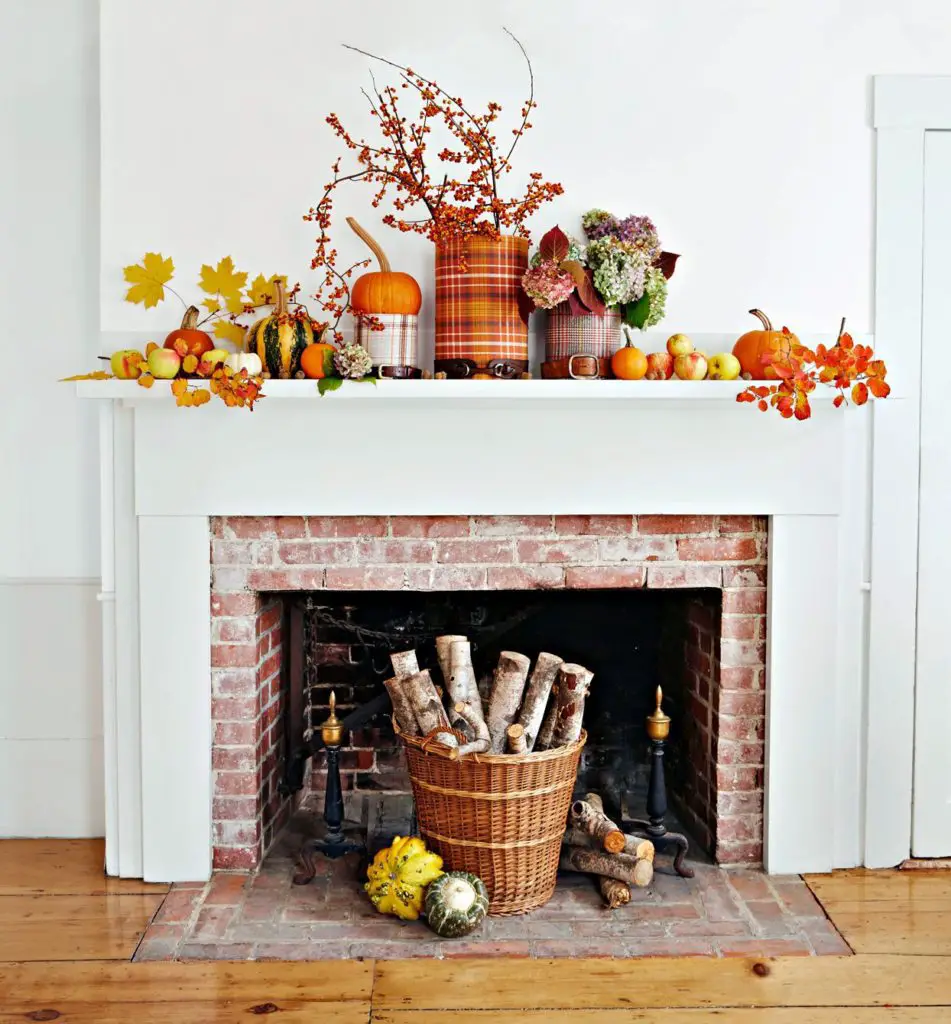 As soon as visitors enter your home, this rustic-chic fall entryway welcomes them with a warm and inviting touch!
Fall-themed decorations such as the cream knit blanket, white pumpkins in a wooden basket, and branches with autumnal leaves help to create a festive and opulent doorway.
We adore this similar laminate flooring choice that is tough, water-resistant and adds beauty to the rustic theme.
7. Traditional Fall Mantel Decor:
Utilize traditional autumnal components to create a beautiful fall mantel.
Start with a basic grapevine wreath and add layers of wheat, fake fall flowers, leaves, berries, and more to create your DIY fall wreath.
Add timeless elements to this traditional fall mantel, such as leaves, pumpkins, and a sweet garland of acorns.
Use LED pillar candles to give off a cosy glow.
8. Fall Gourd's fireplace mantel Decor:
Gourds make for some gorgeous fall fireplace mantel decor ideas.
The proper number of gourds was strategically put around this fireplace mantel.
There are so many various types and sizes, you can place them on the mantel or even in a basket on the floor.
9. Fall Wheat Mantel Decor: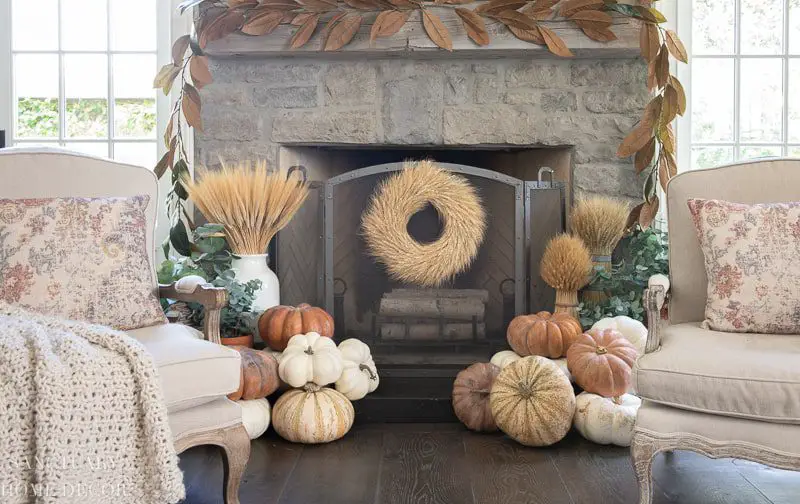 Fall Decorate with a bundle of wheat for a rustic, all-natural touch.
Use a straightforward vase and don't be scared to use actual wheat if you live somewhere where it is available.
If not, get a bundle of wheat from a home good or craft store!
10. Fall Boho mantle Decor:
Due to its simplicity and contrast with the more muted colours that are currently prevalent in-home decor, boho style is in style all year long.
This makes employing fall-inspired hues and textures like this velvet pillow in a jewel tone, ideal for boho fall decor!
 You can combine the greatest elements of fall décor in one place at the entrance by adding festive paper bats to the wall and a vase with a black and white design.
We adore the golden, bright flooring.
11. Fall Farmhouse mantle Decor:
We adore farmhouse design, particularly during the autumn!
Utilizing organic materials like pumpkins, grapevine wreaths, and burlap is quite simple.
In this gorgeous farmhouse kitchen, the muted fall hues just seem to go well with the clean, white cabinetry and dark wood floors.
12. Minimal Fall Decor:
If you want to enjoy the fall season but don't want to overstuff your home with decor, minimalist fall décor is fantastic.
With three tiny white pumpkins in the fireplace, a few plain candlesticks, and seasonal foliage, Cherished Bliss perfectly achieved the minimalist aesthetic.
The aged wood floors are beautiful with everything!
13. Rainbow Pumpkin Mantel Decor:
If you add wonderfully painted rainbow pumpkins to your mantel, you will receive tons of praise.
They seem adorable.
Additionally, I adore the adorable little garland accent below the mantel.
FAQ- 13 Fall Fireplace Mantle Decor Ideas:
Q1. What kind of fall décor works best for a brick fireplace?
To create a focal point, add a few scarecrows or wooden stars.
Use pumpkins and glitter letters to add a festive touch.
Also, keep in mind that pumpkins don't necessarily have to be orange; white or off-white pumpkins look stunning against brick and lend a modern appearance.
Alternately, include a wreath made of autumn leaves or a garland.
Q2. How to accessorize a fireplace in the fall?
Hang a mirror in the centre and two sconces on either side of the fireplace mantel for a simple decoration idea.
In front of the mirror, use a larger vase as an anchor for the mantel, and then add smaller accents like vases, candlesticks, and decorative items.
Take note of the hues and materials used in other parts of the space.
Q3. What should I do to beautify the top of my fireplace mantel?
The fireplace mantel can be simply decorated by hanging a mirror in the middle and two sconces on either side.
In front of the mirror, use a larger vase as an anchor for the mantel, and then add smaller accents like vases, candlesticks, and decorative items.
Take note of the hues and materials used in other parts of the space.
Also read: Fall Decor Ideas | Fall Centerpiece Ideas | Halloween Mirror
Conclusion:
I hope these 13 Fall Fireplace Mantle Decor Ideas have given you some inspiration to enhance your mantel.
You'll feel amazing when you verve into the room and see your new creations.
Happy autumn!