Are you prepared to begin organizing your fall decor Ideas?
September and October are my favourite months of the year, and I adore getting into the spirit by adding comfortable fall decor to our house.
There are many ways to decorate for the fall as it is a season of fresh starts and a chance to enjoy the onset of the holiday season.
Fall decor is terrific ideas to decorate as the weather becomes cooler to make your house cosier.
Traditional to trendy fall decor is available, and it should always be customized to your preferences, way of life, and surroundings.
Decorating outside can be as simple as hanging a DIY wreath made of colourful leaves inside a window, placing a seasonal wreath on a mantle, arranging a pumpkin, or adding extra throw pillows and blankets.
 Rich fabrics and autumn colours on your bed, couch, window seat, or armchair.
Changing seasons can also serve as inspiration for a larger interior design project or makeover such as painting a room a darker colour or using dark florals or plaids in wallpaper or fabric.
These creative fall decor ideas for every room in the house can help you embrace the season and get you in the spirit for it.
Whether you're looking for a small-scale fall makeover or a full-fledged decorating dedication to the season.
23 Fall Decor Ideas to Get You in an Autumnal Mood:
1. Use Dark Florals:
As the days become shorter, use dark florals to create a moodier atmosphere.
The wallpaper in the kitchen seems appropriate for fall but looks fantastic all year long.
For something less durable, try some dark throw pillows with floral designs in monochromatic tones or more dramatic jewel tones.
2. Warm Lighting and Fall-Coloured Linens: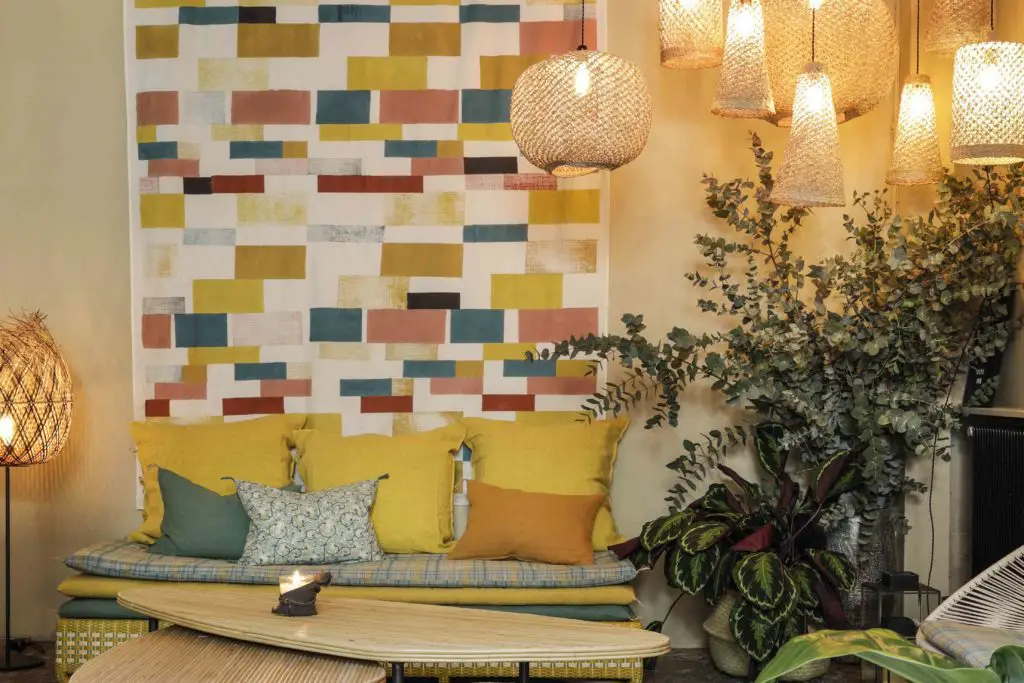 For a unique spin on fall decorating, create a seating area with linen pillows and a fabric wall tapestry in mellow tones of rust, yellow, and green.
 Baskets of plants and foliage bring the outside in, and a collection of cosies, warm-glow pendant lights made of natural materials creates a tranquil atmosphere.
3. Style your bar cart for fall: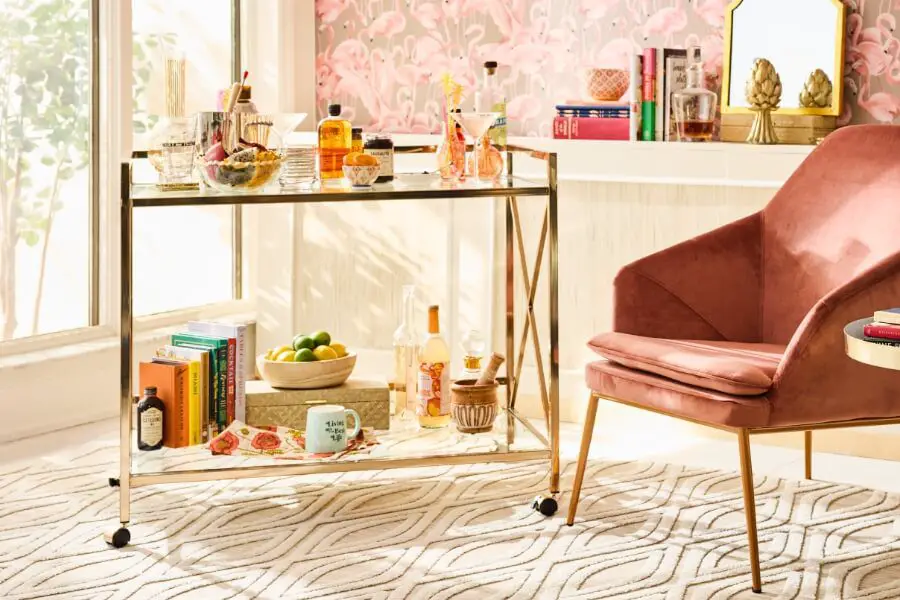 To get into the holiday spirit, you don't need to decorate your entire home.
As an example, consider this cheerful, festive bar cart decorated with votive lights, white antlers, and a polished copper ice bucket.
4. Create a Halloween shrine to the grape harvest on your mantel:
Wine corks can be recycled into a stunning mantel display stacked in a glass cloche to commemorate the fall grape harvest.
A tall candlestick, some antique books, and a vase filled with dried flowers, berries, or leaves will finish the setting.
5. Monochromatic Decor:
With the space's neutral, modern, rustic farmhouse table style, this subtle interpretation of autumnal decor.
With white pumpkins, splashes of brilliant copper, and fur throws to cosy up the translucent seats, the large wood dining table is elevated for fall decor ideas.
6. Use What You Have:
Fall is about simple pleasures, so utilize your creativity to decorate for the season.
For a blazing metallic accent that works all year long but feels more resonant in autumn, place your set of copper pots and pans on a rack in the kitchen.
To liven up the counter in your all-white minimalist or country kitchen, add bowls of seasonal fruit or a particularly tall vase of autumnal branches.
7. Add Some Plaid:
The bright blue colour keeps this adorable twin room fresh, and the plaid blankets at the foot of each bed add a warm cool-weather tone.
A straightforward plaid throw cushion in any colour will look great on the sofa in the living room, the bench in the kitchen, or the seat in the entryway or mudroom.
8. Make an edible still life for a table: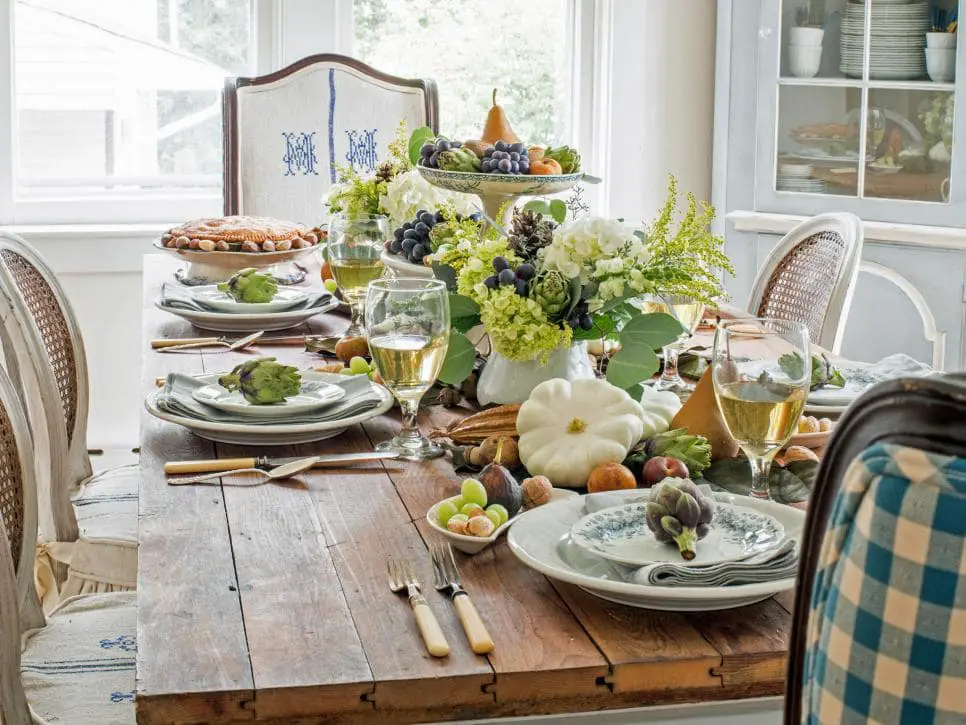 Make your own delicious still life to commemorate the harvest's richness.
Use seasonal foods like apples, pomegranates, tiny pumpkins, purple grapes, etc.
It may be made to look like an oil painting by adding a few candles here and there.
To change height and intrigue, arrange your delectable still life on a variety of platters and pedestal supports.
Use a chic wooden box or other repurposed containers you can find around the house to store fruit.
9. A Whole Fall Mood: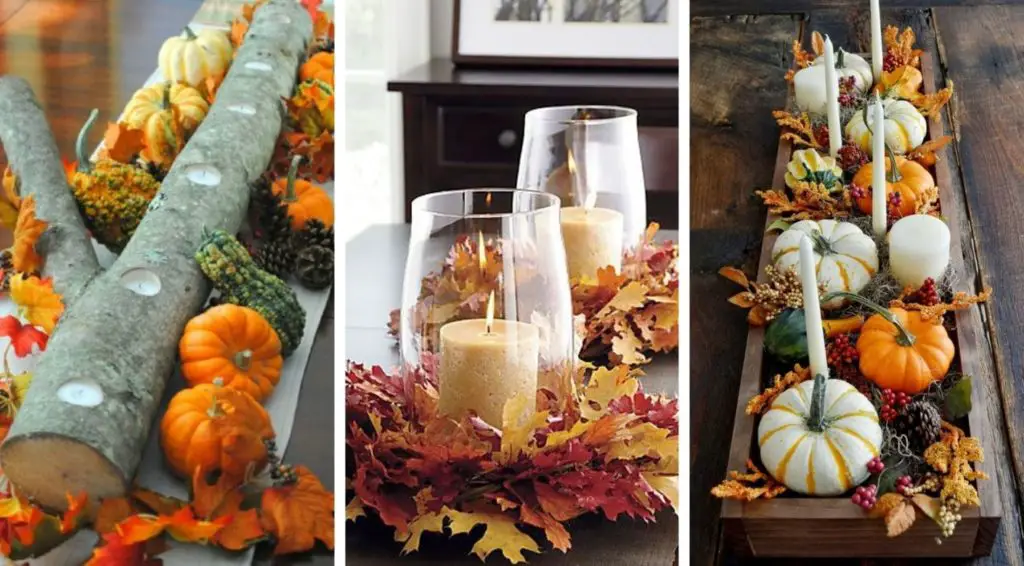 With its wood panelling, chairs covered in black floral fabric, tufted leather ottoman, and velvet couch in the colour of pumpkin.
This wealthy sitting room offers a sophisticated interpretation of fall decor ideas.
10. Layer Cozy Textures on Your Bed: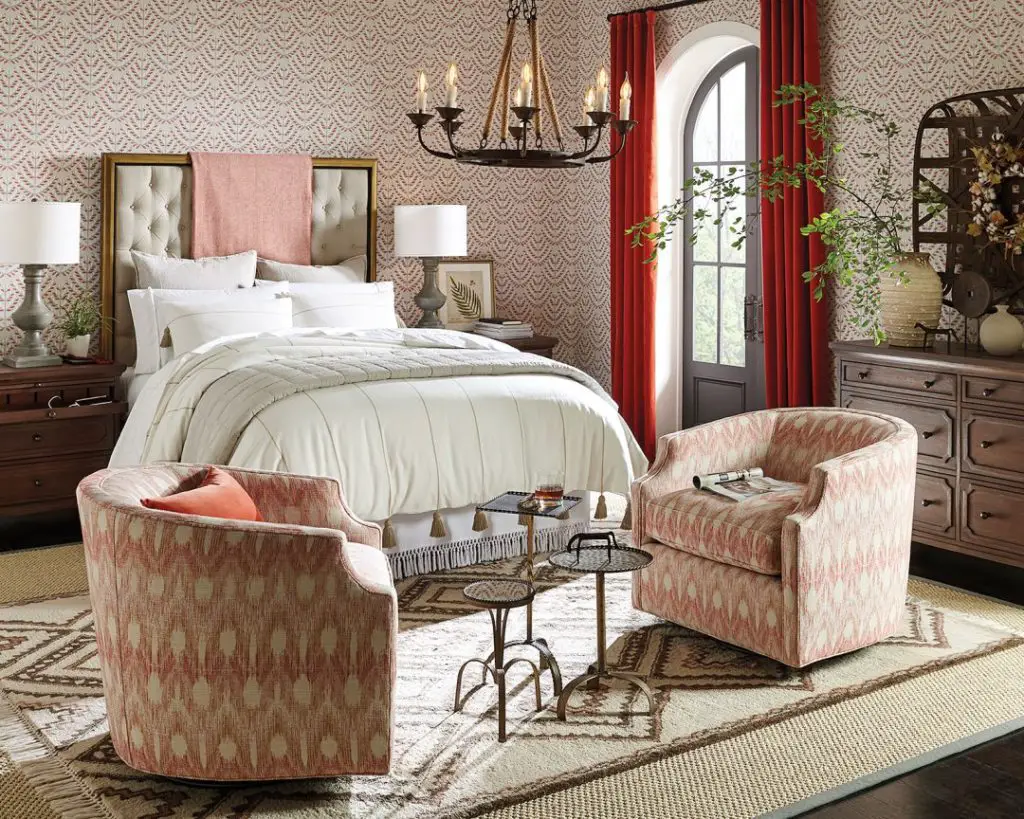 Fall is the ideal time to store your light sheets and cover your bed with luxurious textiles.
 This monochromatic colour scheme will get you through the winter with cream-coloured linens, a camel-coloured throw, a sheepskin throw, and a wild sheep hair pillow to help you count sheep before sleep.
11. Seasonal Swap:
Fall is velvet weather, so why not give your neutral-toned, year-round living area a simple, inexpensive seasonal makeover?
 Change summertime toss cushions for cotton velvet in rust, mustard, and green hues.
Replace light summer curtains with heavier fall drapes.
12. Golden tones with Neutrals: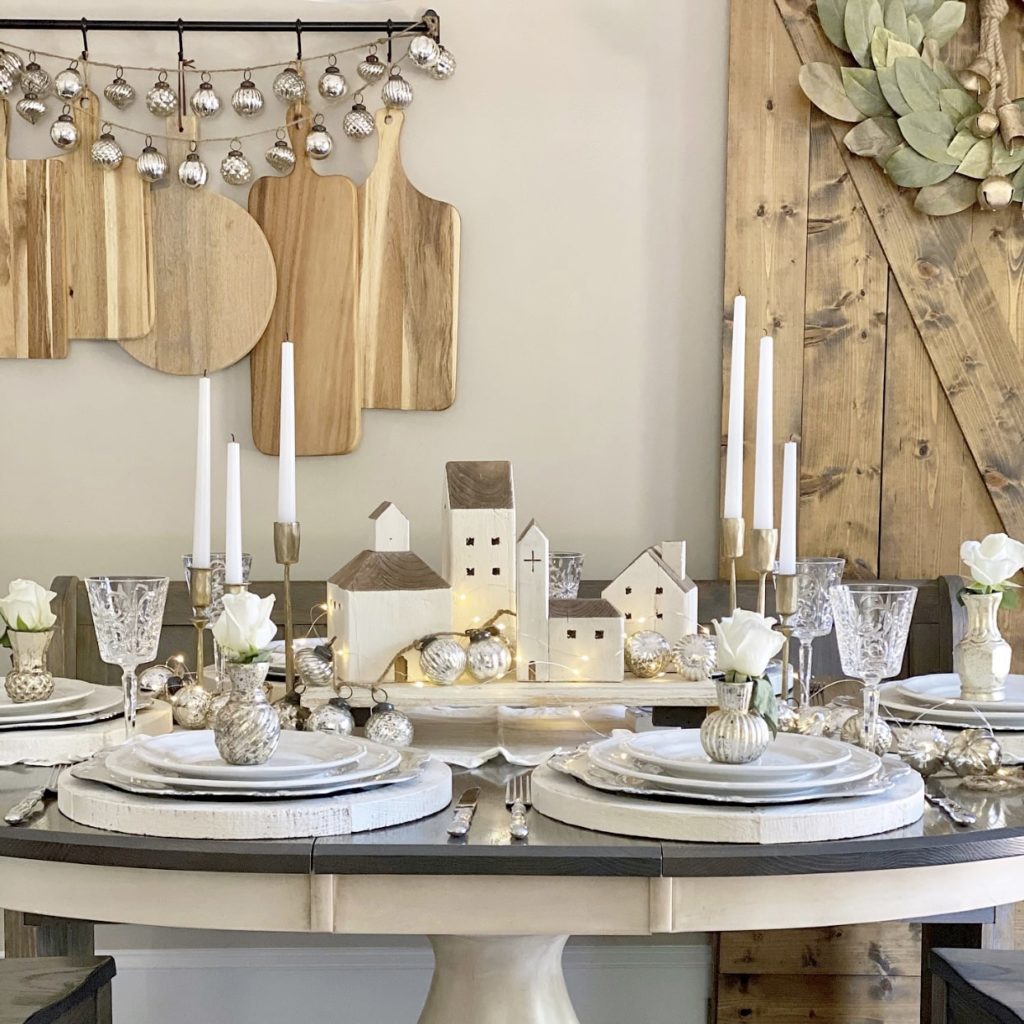 The all-season fall decor in this black-and-white dining area makes each meal feel festive and works well for the entire season.
 Starting with a neutral backdrop helps minor details such as a wreath made of wheat stalks and a mixture of golden and white pumpkins stand out.
13. Vintage Fall Leaves: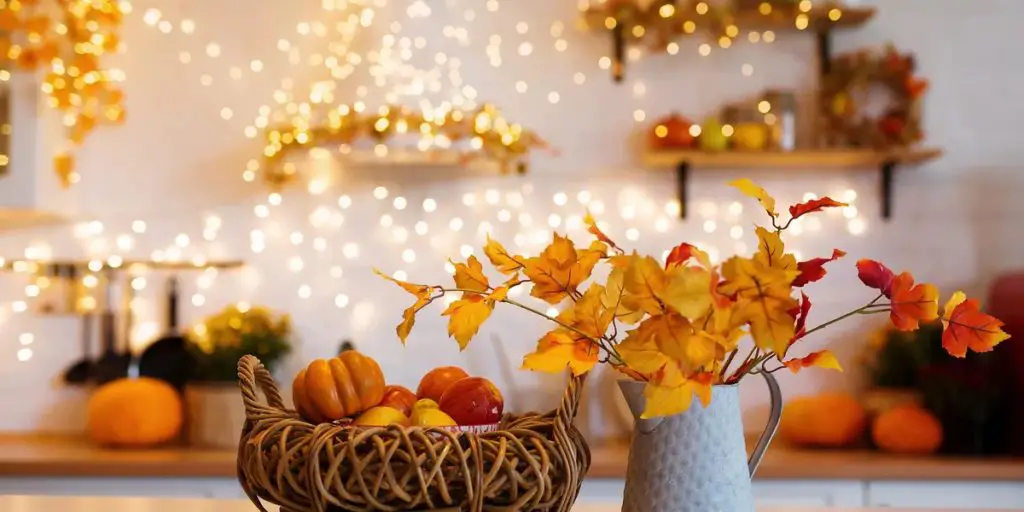 In this gorgeous bathroom, a wall sconce from the Mid-century Modern style features a leafy pattern that mimics the brass hardware on the sink.
It also adds a touch of history and charm.
14. Make a Cosy Indoor-Outdoor Reading Nook:
Create a comfortable indoor-outdoor reading nook with a padded armchair, layered rugs, a blanket, a side table for your mug of hot cider, and a selection of seasonal flowers and pumpkins before it gets too cold to read outside.
If you don't feel like moving any furniture with some hurricane lanterns and additional blankets on your outdoor furniture.
15. Replace Your Bed's Throw Pillows: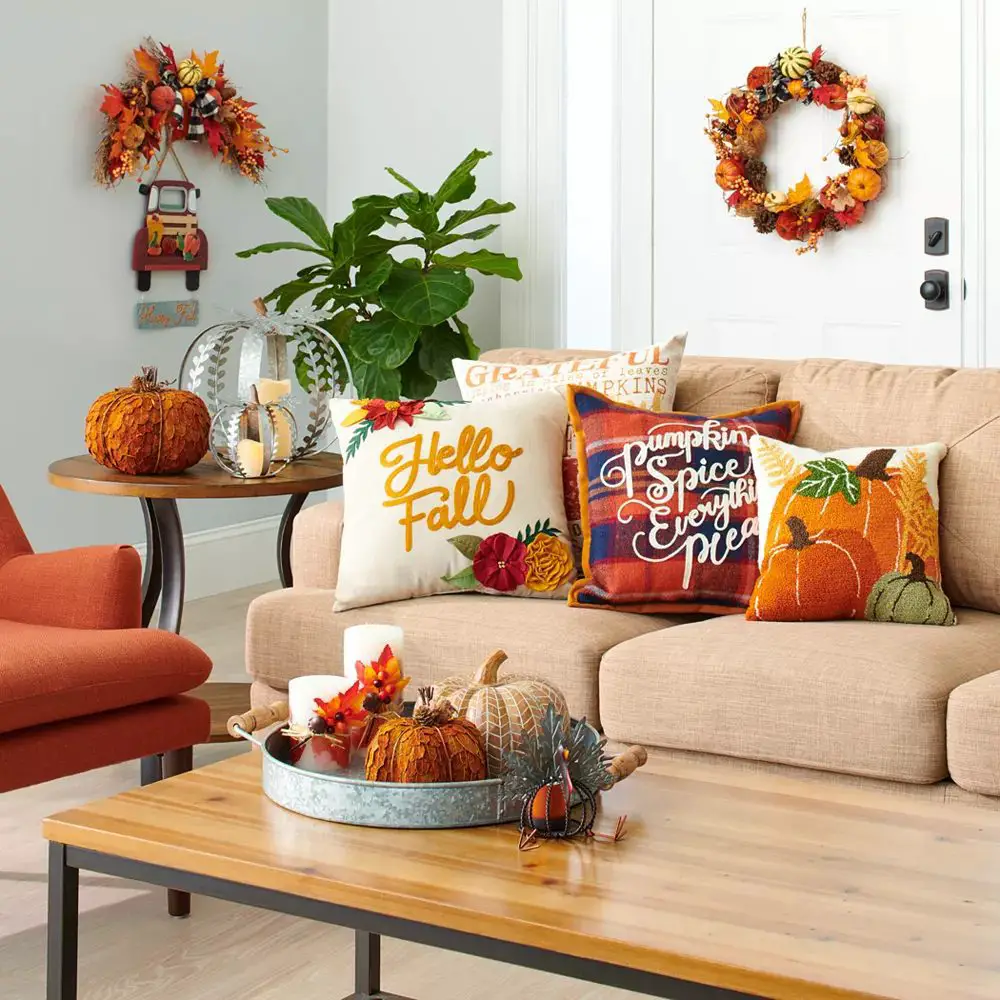 You may transition a neutral bedroom from summer to fall by adding natural elements like simple vases filled with dried leaves and throwing throw pillows across your bed in the rust and scorched gold tones of changing leaves.
16. Rustic Chic: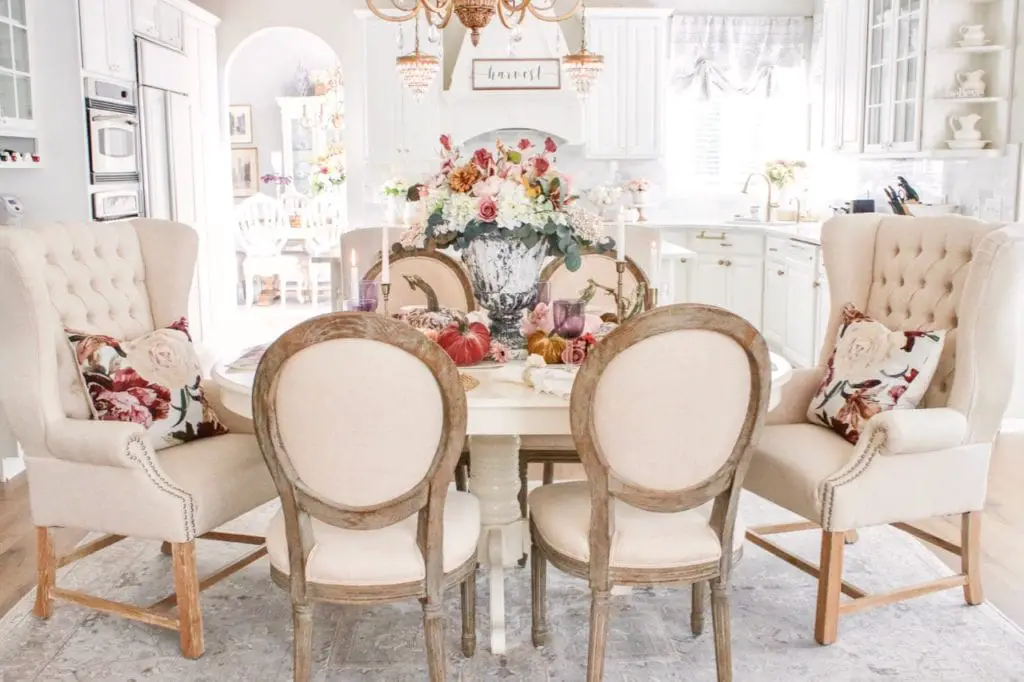 The rustic chic accents in this inviting living area scream autumn.
Even without wood-panelled walls or wood-burning fire, you can incorporate some fall elements into any room with a few small additions.
To keep it fresh and contemporary, consider adding scented candles, vases filled with colourful autumnal branches or leaves, and velvet accent cushions in a combination of creamy neutrals and deep jewel tones.
17. Fall Fashion Vignette:
Occasionally, you already have everything you need to give your home a little autumnal flair.
Autumnal attire and accessories in burnt orange and brown tones are on display in this foyer.
You can create your very own waste-free, cost-effective fall decor ideas with a few affordable pumpkin figurines placed casually on a seat and some seasonal branches in a vase.
18. Natural Centrepiece:
An easy way to honour the autumnal season is a vase loaded with branches that match the natural tones of this eat-in kitchen.
19. Fall Walls:
If autumn is your favourite season, a mural of barren trees can give your bedroom an autumnal feel all year long.
The woodland theme is continued with a bed frame and side table made of wood.
The organic, natural style is finished with an accent pillow in olive green, which works all year long but feels especially fitting in the fall.
 There are several peel-and-stick removable wallpaper solutions available if you don't want to commit mural.
These options are simpler to apply than traditional wallpaper that has more impact and are simple to replace if you decide you want something novel.
20. Fall Guest Room Refresh:
The guest room receives a simple fall refresh with the addition of pillowcases and extra blankets in hues of royal blue and mustard that bring colour, texture, and pattern and create a cosy, welcoming atmosphere.
The room's neutral foundation makes seasonal changes as easy as switching out the throw cushions and blankets, adding some seasonal foliage, and lighting a candle with an autumnal smell.
21. Fairweather Fall:
Traditional autumnal shades are not required for every fall refresh.
With the addition of neutral materials such as a huge knit blanket, the Florida bedroom was given a cool-weather refresh that blended with the home's climate and location.
22. Autumn Bathroom:
A vintage rug, an old wooden bench, and a bouquet of dried flowers next to the bathtub give the bathroom a fall-inspired vibe.
 This example shows how you can incorporate autumnal decor into any room in your home as long as you keep it understated and cohesive with the rest of your decor.
23. Neutral Fall:
White pumpkins and hydrangeas are arranged in antique French urns as a neutral salute to autumn.
This concept is throughout the house by using recycled containers and sprinkling in greenery like eucalyptus occasionally for extra dimension.
 It's a simple, doable style that adds a feeling of occasion without being bound by convention and works nicely with neutral colour palettes.
Also read: How to Choose Rug Size for Queen Bed?
FAQ- Fall Decor Ideas:
Q1. What are the most popular fall decorations?
Pumpkins, gourds, and faux greenery are the obvious choices for fall mantel decor.
If you want to get creative, drape festive cloth tablecloths over the edge for added texture.
Q2. Is it too early to start planning Halloween decorations in September?
The most common period to begin Halloween decorations is during the first two weeks of October.
You can begin putting up decorations as early as late September.
Also read: Fall Centerpiece Ideas | Fall Fireplace Mantel Decor Ideas | Halloween Mirror
Conclusion:
Friends, I wish this article had been inspiring for you, which of these fall decor ideas do you like the most?
Please share your opinions in the space provided below.