The accent wall in the modern dining room ideas is very popular that can elevate any type of space.
The dining room is a space in our dwellings where we can gather with family or friends to eat and having a dining room idea for cosy and attractive is essential.
An accent wall is one way to add interest to your dining room, but what exactly is it?
If you want to implement an accent wall in your room but aren't sure where to begin, keep reading for interior designer recommendations.
Prepare to completely transform your dining room and impress all of your guests!
It indicates that your accent wall will become the room's central focus and it will also contribute to making the space more dynamic and interesting.
So, if you are looking for a way to spruce up your dining room, you should read the whole article because I've shared 9 modern dining room accent wall ideas in this article.
I also discussed some tips and why you should redesign your dining room.
So, let us begin!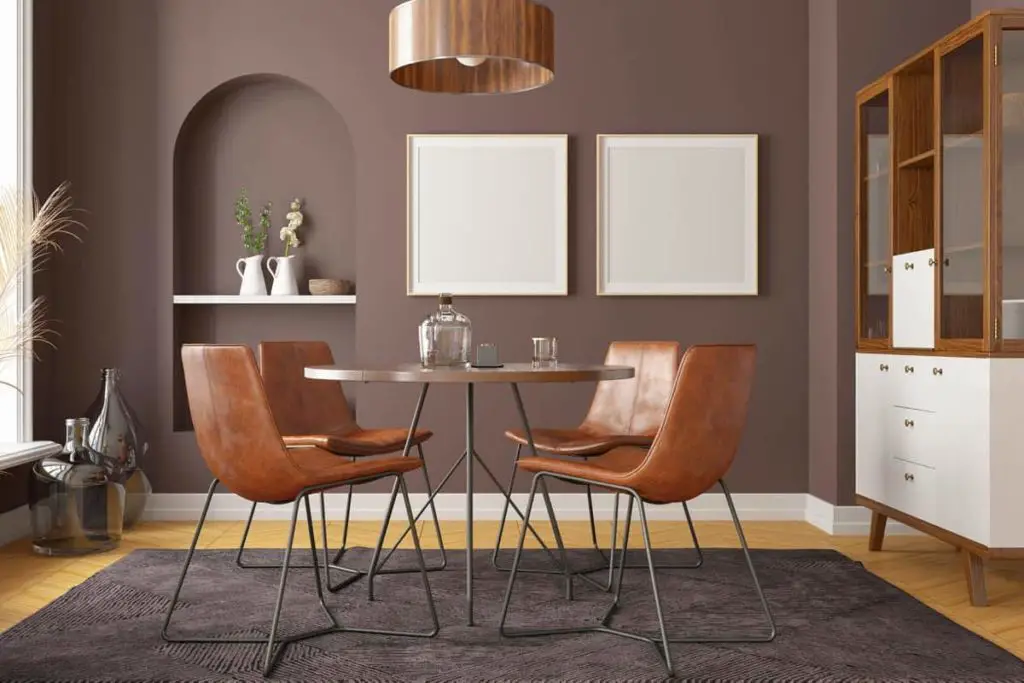 Why You Should Renovate Your Dining Room Wall?
Dining room walls are regularly belongings that individuals notice once they enter a home.
 The style of your dining room wall can have a big impact on the overall look and feel of the interior, whether you have a formal dining room or an eat-in kitchen.
In addition, your dining room wall is an excellent place to display your style and leave a lasting impression.
If your dining room wall is looking tired or outdated, it may be time for a redesign.
Here are some of the reasons why you should redesign your dining room wall:
Give the space a brand-new look:
A new dining room wall design can completely change the room's appearance and atmosphere.
Modern wall design can give the space a much-needed facelift if your current one feels a little dated.
Increase Visual Interest:
A redesign can add much-needed visual interest to a dining room wall starting to look a little flat.
Create an eye-catching design by experimenting with various colours, textures, and patterns.
Add Personal Finishing touch:
The dining room wall is the ideal place to incorporate unique elements into your home's design.
A dining room wall is an ideal place to put on display any favourite artwork or family photos.
Make a Statement:
A fresh wall design is a great way to make a statement with your dining room furnishings.
Try experimenting with varying shades and designs to produce a truly one-of-a-kind design.
9 Modern Dining Room Accent Wall Ideas to Make Your Space More Pleasant!
A modern dining room can be given life with the help of an accent wall.
This is the ideal way to infuse the space with personality and style without going overboard.
Here are 9 modern dining room accent wall ideas to improve the decor of your room.
1. Paint an Accent Wall a Vibrant Colour to Stand Out: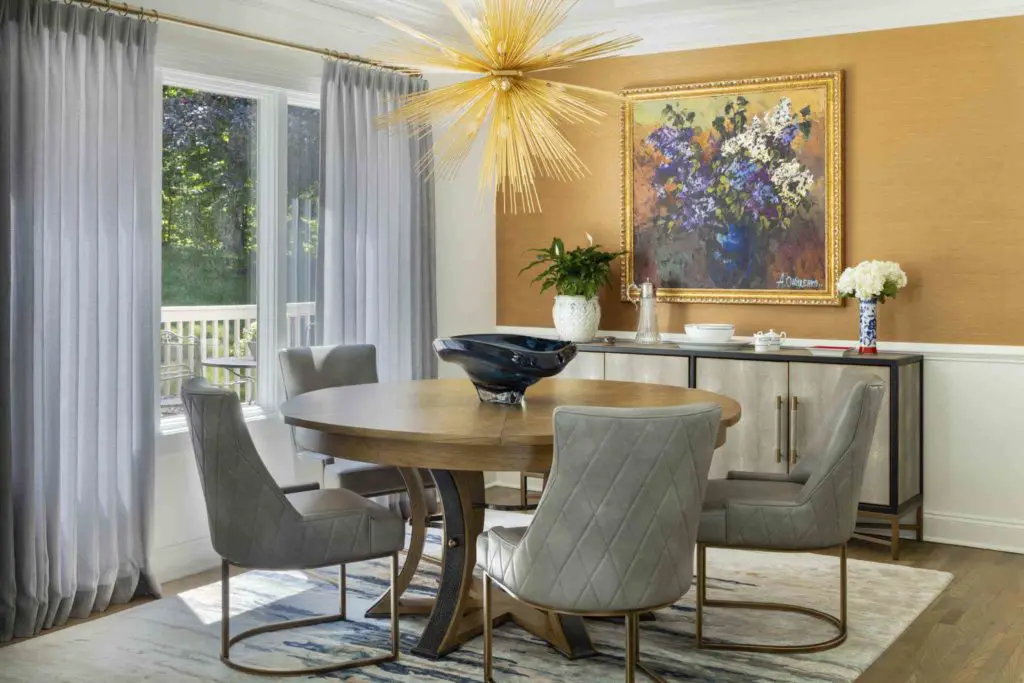 Sometimes all it takes is a can of paint to make a bold statement in your home—it doesn't have to be expensive or time-consuming!
Painting an accent wall is one of the simplest ways to give any room a splash of colour and personality.
Bold, vibrant colours will give space energy, while soothing colours can produce a more relaxing atmosphere.
Last but not least, don't be reluctant to experiment!
You can try a different colour or even a different pattern; Enjoy it and experiment to see what suits your environment.
2. Hang Wallpaper or A Tapestry to Add Texture and Visual Interest:
Decorating your dining room accent wall with wallpaper or a work of art is a great way to give the room more texture and visual interest.
You can easily find wallpaper or tapestries that match your style as they both derive from a variety of patterns and designs.
If you're working with a tight budget, you can DIY this project because wallpaper is also fairly simple to install.
While installing tapestries requires a little more effort, they can have a significant aesthetic impact on your dining room.
If you have decided, be sure to accurately measure your wall space and use a strong adhesive to fix the tapestry in place.
3. Create A Rustic Look with Reclaimed Wood or Other Natural Materials:
Reclaimed wood and other natural materials are ideal for creating a rustic look in your dining room.
This wood has a distinctive personality that can bring cosiness and charm to any space, it can be used to build a table, a window frame, or even an accent wall.
Use organic components like stone and moss for a more natural appearance.
Moss can be used to make a hanging planter, and stone can be used to build a fireplace surround or backsplash.
These materials can be used to create a unique dining room that will be the envy of all your friends with a little imagination.
4. Put up shelves or cabinets to display your favourite dishes and serving ware:
The ideal place to display your favourite serving pieces and dishes in your dining room is the accent wall.
You can make a lovely display that will give your space interest and personality by installing shelves or cabinets.
This is also a great way to keep your dining room organized and clutter-free.
Make sure to select shelves or cabinets that go well with the design of your dining room.
Choose metal or wood shelves for a more traditional appearance or choose glass or acrylic shelves for a more contemporary look.
Mirrors reflect light and give the impression that a room is larger, making them ideal for small dining rooms.
Whatever shelving or cabinetry don't forget to accessorize with things that showcase your style.
Your dining room will feel more like home if you put some of your favourite items on display.
5. Decorate the Space with Art, Photos, or Plants:
Since dining rooms are frequently among the most formal areas of the home, they occasionally come off as a little impersonal and cold.
An accent wall is one way to give the space a little warmth and personality.
Accent walls are a wonderful way to display artwork, pictures, or even live plants.
A piece of art or a mirror can be hung on an accent wall to add a pop of colour and visual interest and another option is to add a few potted plants to the area to add some life.
Anything you choose, adding an accent wall to the dining room is a quick way to add your personality and make it feel cosier.
Choose an accent wall that matches the room's overall design as well.
6. Hang A Chandelier or Pendant Light for Additional Glamour: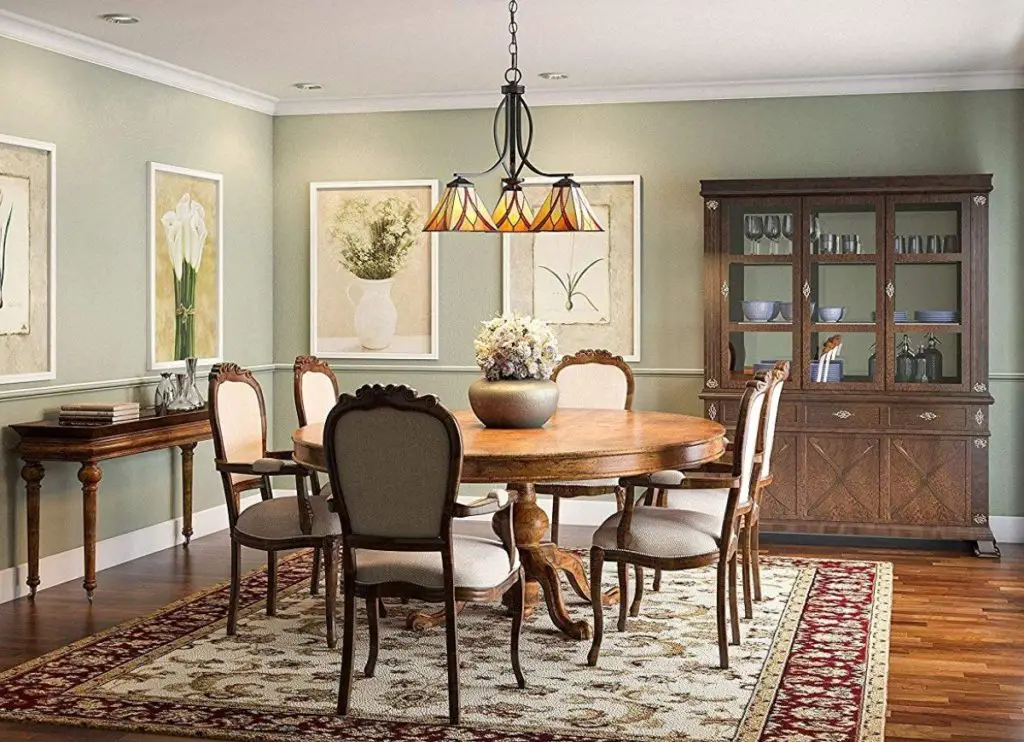 A chandelier or pendant light is a fantastic way to increase the level of glitz on the accent wall in your dining room.
These lights typically hang from the ceiling and are available in different shapes and sizes.
You can pick a simple yet elegant chandelier or you can also go with something more ornate and dramatic.
Contrarily, pendant lights are a great alternative for illuminating the dining room accent wall which is also a fantastic way to add interest.
These lights are frequently suspended from the ceiling as well, but compared to chandeliers, they are significantly more compact.
Additionally, pendants are available in a range of designs and hues, so you ought to be able to find that match the furnishings in your dining room.
Chandelier and pendant lights are both excellent choices if you want to give your dining room a touch of glitz.
7. Use rugs, curtains, or pillows in complementary colours to complete the look: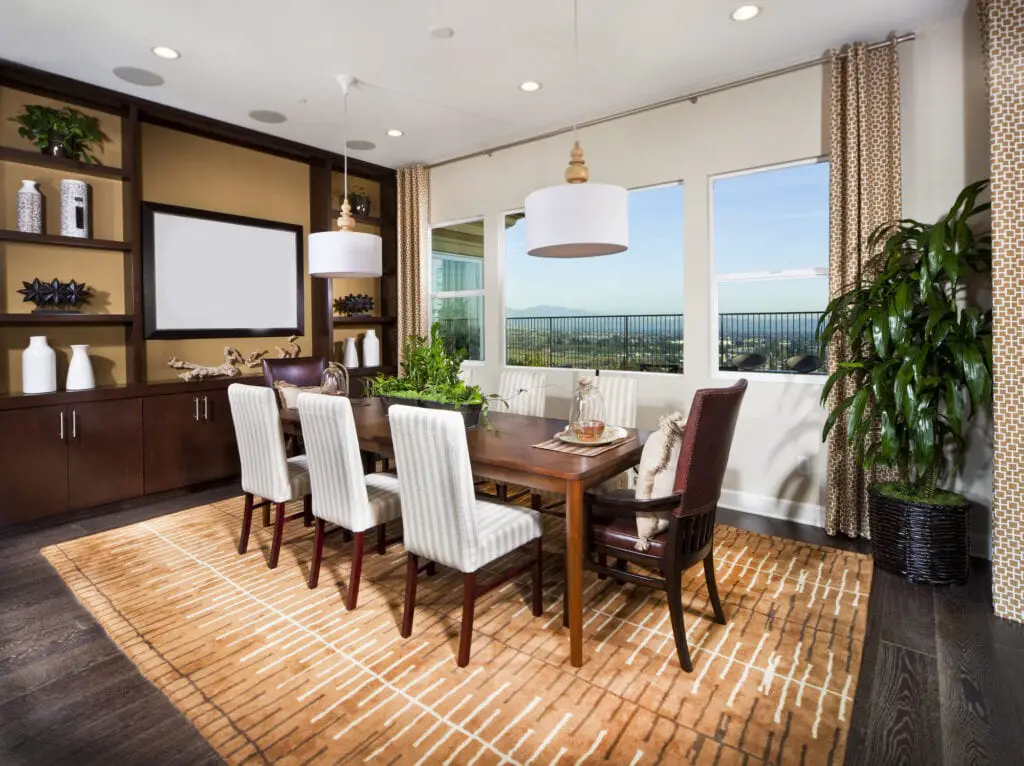 You can use rugs, curtains, or pillows to add a contemporary accent wall to your dining room.
The key is to use one or two complementary colours throughout the entire space.
A dark blue curtain and a light blue pillow would go well with a cream-coloured rug to give the room a unified appearance.
You could also use a rug with a geometric pattern and then carry that pattern with pillows or curtains that have a related design.
You can design an elegant and trendy accent wall that unifies the entire space by carefully selecting colours and patterns.
8. Pick Furniture That Fits Your Style and Budget:
When it comes time to buy new dining room furniture, be sure to pick pieces that match both your style and your budget.
Consider using glass or metal tables and chairs for a more contemporary look.
Wood furniture is a traditional choice if you prefer a more conventional look.
Regardless of your taste, it is essential to choose furniture that enhances the overall look of your dining room.
Your furniture should be classy in addition to being cosy and long-lasting.
After all, you'll want to spend a lot of time in your lovely dining room having meals with loved ones and friends.
Choosing furniture for your dining room that can also serve as accent pieces is a final piece of advice.
Both a storage space and a striking focal point for your dining room can be achieved with a buffet table or hutch.
9. Add Accessories Like Books, Vases, or Candles to Coffee Tables:
There are countless design options available for accent walls.
However, why not try accessorizing with coffee table books, vases, or candles if you're looking to give your dining room a little extra something?
In addition to adding colour and texture, vases and candles can also add a touch of class.
The best part is that these furnishings are simple to replace whenever you want to give your room a fresh look.
Therefore, if you're looking for a way to give your dining room a little bit of style, think about accessorizing your accent wall.
But don't exaggerate; you only need a few thoughtful additions to have a significant impact.
Also read: Awkward Living Room Layout Ideas!
Some Decorating Ideas for A Dining Room Accent Wall:
Accent walls for dining rooms are a fantastic way to give your dining room decor; here are some ideas for accent wall decoration in a dining room as follows:
An accent wall should have a central focus that you can work around, this could be a piece of furniture that stands out, a mirror, or even a piece of art.
Pick a colour that complements the other decor items in your dining room, it shouldn't be unsettling or out of place for the accent wall.
Do not be afraid to experiment when adding texture to your accent wall.
Tile, fabric, or even wallpaper can be used.
An accent wall should serve a purpose, this implies that it shouldn't be overly active or crowded.
It shouldn't reduce the room but rather make it better.
You should be able to design a stunning and unique accent wall for your dining room using these suggestions.
Enjoy yourself and showcase your personality!
Also read: How to Build a False Wall for TV and Fireplace?
FAQ- Modern Dining Room Accent Wall Ideas:
Q1. How much will it cost to redesign the accent wall in the dining room?
The size and design of the room influence how much it will cost to redesign the accent wall in the dining room.
Some ideas can be found for under $250, but if you want a lavish, imposing design, the price will be higher
Q2. Which wall in a dining room should be the accent wall?
A big painting or mirror on the wall is a common feature in dining rooms; it serves as the room's focal point and draws the eye right away.
The wall across from the entrance, if there is only one wall you see, makes it an obvious choice for accentuating.
Q3. Are accent walls outdated?
In the world of decorating, accent walls are still very much in style.
The versatility of these simple and fashionable colour accents will ensure their continued popularity.
You have countless paint choices for your accent wall in addition to other surfaces and equipment.
Also read: How to Decorate a Slanted Wall Bedroom?
Conclusion:
When it tends to accent wall decorating for a dining area, there are many choices available, but which one is best for you and your dining area depends on the design of your dining room.
The best choice for a more formal look might be an accent wall in a striking colour or pattern.
A more muffled accent wall might be preferable if you're going for a more laid-back and informal appearance.
I hope this gave you the inspiration you needed to decorate your dining room's accent wall!